Just days remain before the 2014 Preakness Stakes, and the excitement is swelling in the horse racing world.
Much of that intrigue comes from one horse—California Chrome. The colt put on a masterful performance at the Kentucky Derby and is already being penned by some as the first Triple Crown winner since 1978.
Those expectations shine through in the most recent odds for the second jewel of the Triple Crown. With the Art Sherman gelding topping the list of favorites yet again, the California colt appears to be in line for another win at Pimlico.
Let's take a look at the Preakness Stakes' current field and glance at the pedigree information for each horse set to trot out in Pimlico.
2014 Preakness Field (As of Tuesday)

| | | | |
| --- | --- | --- | --- |
| Horse | Odds | Sire | Mare |
| California Chrome | -155 | Lucky Pulpit | Love the Chase |
| Social Inclusion | +600 | Pioneer of the Nile | Saint Bernadette |
| Ride On Curlin | +800 | Curlin | Magical Ride |
| Dynamic Impact | +800 | Tiznow | Featherbed |
| Bayern | +1000 | Offlee Wild | Alittlebitearly |
| General A Rod | +1200 | Roman Ruler | Dynamite Eyes |
| Kid Cruz | +2000 | Lemon Drop Kid | Layreebelle |
| Pablo Del Monte | +2000 | Giants Causeway | One Hot Wish |
| Ring Weekend | +3000 | Tapit | Free the Magic |
| Ria Antonia | +5000 | Rockport Harbor | Beer Baroness |
OddsShark/Preakness.com
* Odds courtesy of OddsShark.com.
Lineup Predictions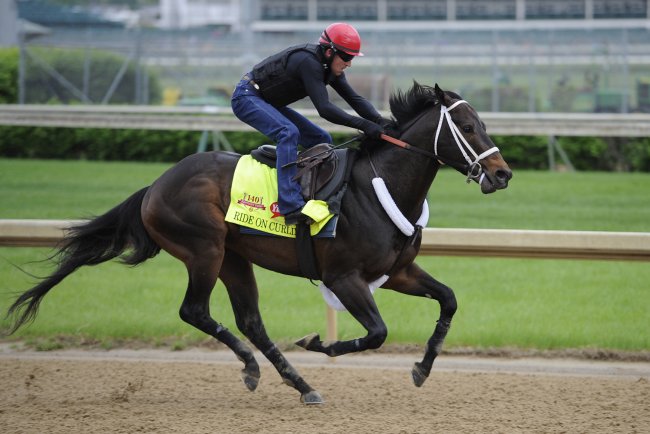 USA TODAY Sports
Affirmed was the last horse to win the Triple Crown over three decades ago. If California Chrome can pull off a victory at the Preakness, that might be affirmation of his excellence on the big stage.
Does he need a Triple Crown to prove he's great? No, but that's certainly not stopping owner Steve Coburn from putting high expectations on the horse, per Beth Harris of the Associated Press.
"I told people this colt will go down in history," Coburn said. "When he wins the Triple Crown, he will be the first California-bred to ever win a Triple Crown. That's where we're going."
In order to take the Preakness, Cali Chrome will have to overcome a strong field. While not many of the names look familiar, several have a chance to edge the colt in Baltimore.
One colt near the top of that list is Social Inclusion, currently sitting second in the odds. The colt has been at Pimlico for much longer than other horses and looked strong, per Marcus Hersh of Daily Racing Form:
Caught last 5/16ths of Social Inclusion work. Track must be quick cuz he was going easy for a 47 flat half. #preakness

— Marcus Hersh (@DRFHersh) May 12, 2014
While Social Inclusion and Ride On Curlin might look like the only contenders to California Chrome's crown, another horse is emerging late thanks to a recent change.
Ria Antonia comes in as only the 54th filly to start at Preakness. Though she finished sixth at the Kentucky Oaks, a new jockey gives the young filly hope, as the Lexington Herald-Leader notes:
Calvin Borel will have mount on Ria in Preakness.

— horseracinghl (@horseracinghl) May 12, 2014
Calvin Borel is a three-time Kentucky Derby winner and rode Rachel Alexandra, another Filly, to win the 2009 Preakness Stakes. With his track record in stakes races, Borel might be the wild card in the entire field.
Trainer Tom Amoss also issued a challenge to Cali Chrome following the announcement:
Said Tom Amoss re Ria Antonia in the Preakness "If for some reason it's not California Chrome's day, there are a number of opportunities."

— horseracinghl (@horseracinghl) May 12, 2014
As the field begins to fill with 14 horses ultimately racing on Saturday, it's likely that several other horses will emerge as contenders.
If California Chrome cruises to another victory, expect the cries for a Triple Crown to only get louder. With the window still wide open, the stage is set in Pimlico for more history to be made.
Follow R. Cory Smith on Twitter.