Arsenal are targeting Manchester United central midfielder Tom Cleverley, per the Metro, but a suggested transfer alternative is Montpellier utility player Benjamin Stambouli, so here is a scouting report on the 23-year-old French midfielder.
Buuuuuuuuuuut !!!!!!!!! @BenjiStambouli !!!!!! pic.twitter.com/jJf5xIz4kn

— MHSC (@MontpellierHSC) April 5, 2014
Saving Cleverley's Career
Cleverley has a solid technical base and is an accurate ball-playing midfielder, completing 89.4 percent of his passes in the Premier League.
But he has become a maligned figure at United for not being able to consistently "beat three or four people and stick it in the top corner or go round tackling people like Roy Keane," per Oliver Holt at the Mirror.
The Class of 92 reunite at Man Utd training and immediately replace Fellaini and Cleverley in the squad for the weekend's game.

— Paddy Power (@paddypower) April 23, 2014
Remember kids! Clocks go forward tonight! Unless you're Tom Cleverley, in which case they go sideways!

— Nooruddean (@BeardedGenius) March 29, 2014
United - No Cleverley 2 game, 5 goal score, 0 goal concede United - with Cleverley 43 second goal concede THIS WHAT CLEVERLEY DO!!

— Evil Kagawa (@evilkagawa) March 26, 2014
Everton manager Roberto Martinez, who coached Cleverley during his loan spell at Wigan Athletic, believes the hate campaign mounted against the English international is unfair.
"He [Cleverley] is as good a talent as we have in the English game," Martinez said, per Paul Wilson at the Guardian. "It is ridiculous to put someone so young in the spotlight then knock him down. We as a public are to blame if we allow that to happen."
Should Louis van Gaal be appointed the new permanent manager of United after talks with management, per James Ducker at the Times, there are four Dutch Eredivisie midfielders who would be an instant upgrade over 24-year-old Cleverley.
Adam Maher (PSV Eindhoven; 20)
Daley Blind (Ajax; 24)
Jordy Clasie (Feyenoord; 22)
Tonny Vilhena (Feyenoord; 19)
Even a rough diamond like Anouar Kali (Roda; 22) playing on the worst Eredivisie team this season is outperforming Cleverley.
| | | |
| --- | --- | --- |
| League Only | Cleverley | Kali |
| | | |
| Assists | 0 | 3 |
| Key Passes Per Game | 0.5 | 1.0 |
| Passes Per Game | 51.6 | 61.4 |
| Pass Completion Percentage | 89.4 | 88.2 |
| Tackles Per Game | 2.1 | 3.0 |
| Interceptions Per Game | 1.6 | 2.5 |
| | | |
In a hypothetical situation with Van Gaal managing United, you can envision Cleverley being discarded, and it would not be the first time United opted for quick money in selling an English player.
Arsenal manager Arsene Wenger revitalised the careers of Aaron Ramsey, Emmanuel Adebayor, Patrick Vieira, Robin van Persie and Thierry Henry, so Cleverley might be viewed as another ugly duckling with beautiful swan potential.
That said, Cleverley could be sold to Everton, per Greg O'Keeffe at the Liverpool Echo.
"Roberto Martinez is considering a summer move for Tom Cleverley as a long-term replacement for Leon Osman," O'Keeffe wrote. "A deal [with United] could be done for the 24-year-old if a bid of around £8 million was tabled."
A suggested transfer alternative to Cleverley for Arsenal is Montpellier's Stambouli.
What Stambouli Brings to Arsenal
Stambouli is a 5'11", 176-pound dynamic and forceful footballer who is primarily a defensive midfielder, but can slot in at centre-back and left-back.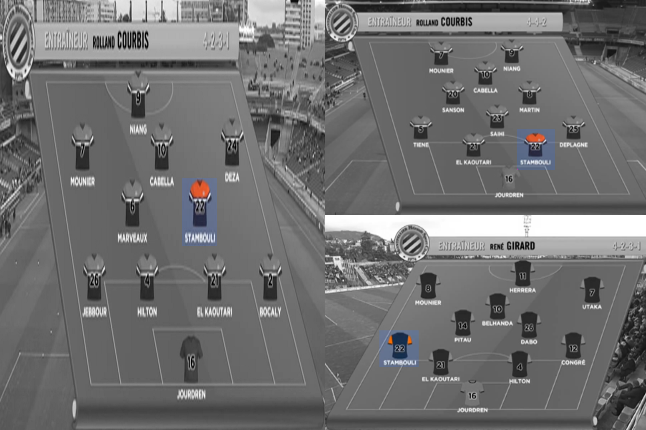 Source: Ligue1.com.
Stambouli has only played 12.1 percent of his games at centre-back this season, yet Sports.fr rank him as the 10th-best defender in Ligue 1, while according to France Football he is the 19th-best player overall.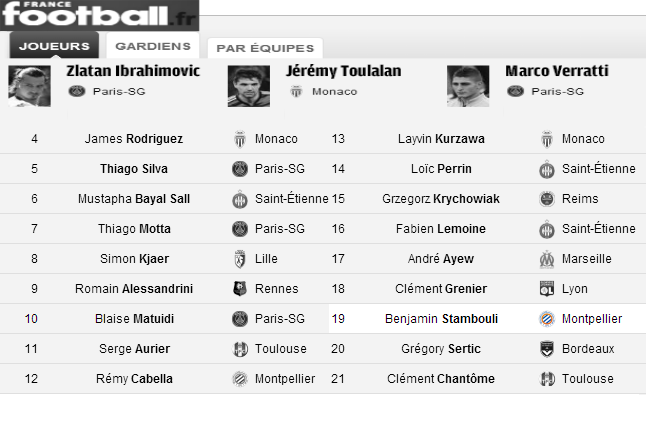 Source: FranceFootball.fr.
Philippa Booth at French Football Weekly detailed how strong Stambouli's intangibles are.
"[Stambouli] has come up through the ranks, plays wherever [and] never stops," Booth wrote. "He is Montpellier's most-used player and he encapsulates a much-needed never-say-die attitude."
Stambouli's zeal to help his team, like making a goal-line clearance with his chest to deny Lyon centre-back Bakary Kone from scoring, contributes to an elite ball-recovery productivity.
Stambouli has registered 105 tackles in 33 Ligue 1 games with high-yielding displays against Toulouse (6-of-8 tackles, per Squawka.com), Ajaccio (5-of-7 tackles, per Squawka.com) and Lille (4-of-5 tackles, per Squawka.com).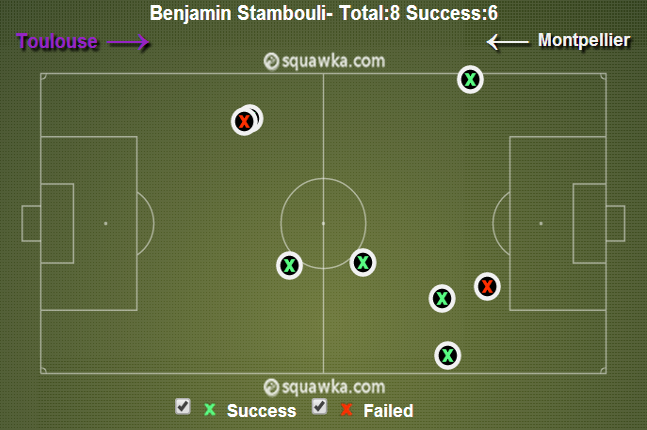 Source: Squawka.com.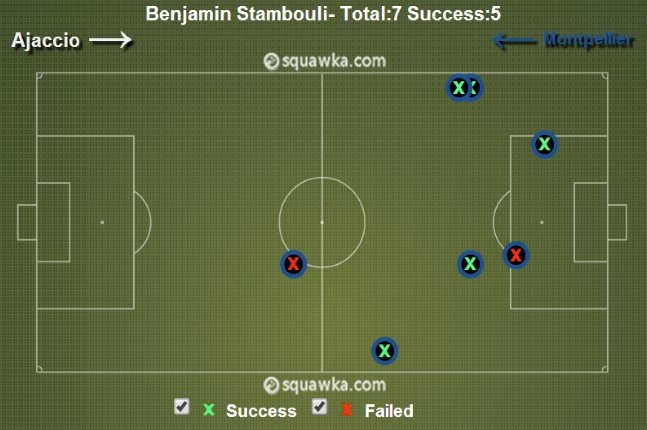 Source: Squawka.com.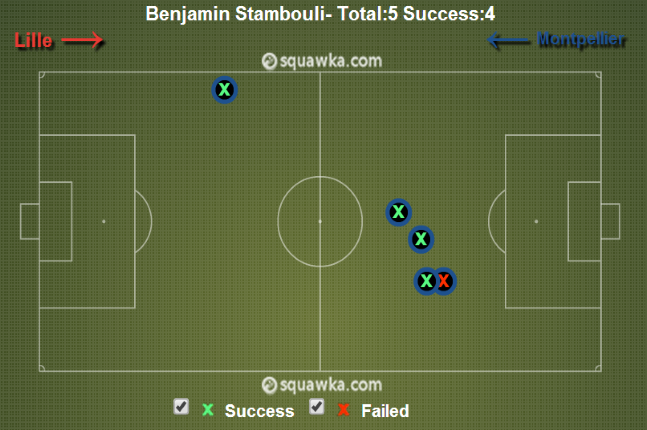 Source: Squawka.com.
Stambouli has also intercepted 51 passes, and one play against Nantes showed his forward-thinking.
He cut off Nantes defensive midfielder Lucas Deaux's pass and had the presence of mind to deflect the ball to Montpellier teammate Souleymane Camara.
Stambouli will transition into a world-class tackler, but he can develop into an all-round midfielder.
He is a nuisance in attacking the loose ball from set pieces and he is a solid passer.
His through-ball to play in Montpellier central attacking midfielder Remy Cabella against Sochaux and his perfectly weighted cross to Montpellier centre-forward Victor Hugo Montano against Monaco were passes you expect from a No. 10 or a No. 11, not a No. 6.
Bottom Line
Here is a quote from Wenger regarding a signing he made in 2000.
"He is a versatile player, comfortable in both defence and midfield," Wenger said, per Adam Sills at the Guardian. "He possesses strong, physical power as well as great stamina."
Who was Wenger talking about?
Lauren, who went on to become an invaluable member of the Invincibles.
You have seen many of our celebations at Islington, but at the dressing room?... pic.twitter.com/1r3N7YyDaw

— Lauren Etame Mayer (@Lauren12arsenal) March 28, 2013
Like Lauren, Stambouli is versatile, tough and a team-first player.
Stambouli would be a better fit at Arsenal than Cleverley.
Statistics via WhoScored.com