What happens if Chelsea do not sign Atletico Madrid centre-forward Diego Costa in the summer transfer window? One suggested alternative is Lorient No. 9 Vincent Aboubakar, so here is a scouting report on the 22-year-old Cameroonian international.
Affichez vos encouragements sur les écrans du Moustoir via #MonTweetAuMoustoir. Soyez originaux, on compte sur vous! pic.twitter.com/fMAF47Nhwm

— FC LORIENT Officiel (@FCLorientOff) February 28, 2014
Why Chelsea Must Target Aboubakar
Atleti manager Diego Simeone believes Costa signing with Chelsea is a realistic scenario.
"We understand that Chelsea have huge financial power," Simeone said, per Spanish radio station Onda Cero (h/t Richard Martin at the Telegraph). "If he [Costa] wants to live off football for the rest of his life, I will have no problem in him going [to Chelsea]."
¿Es BAJA Diego Costa ante el Barça o una ESTRATEGIA de Simeone? La PREVIA de Champions, a las 3 en @JugoneslaSexta pic.twitter.com/PFJ3Ft8mFx

— El Chiringuito TV (@elchiringuitotv) April 1, 2014
The imperative word is "if," so if Chelsea do not succeed in signing Costa, Aboubakar should be a backup option.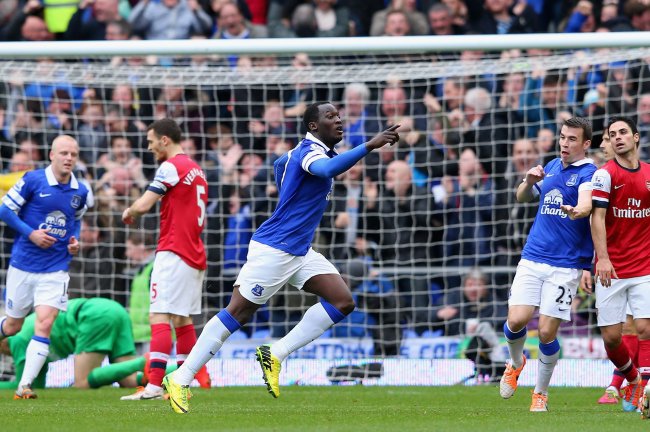 Alex Livesey/Getty Images
Well, what about Romelu Lukaku returning to Chelsea after a loan stint at Everton?
It is a convoluted situation.
Everton manager Roberto Martinez treats Lukaku with kid gloves and talked about his "happiness" at Goodison Park, per Sky Sports, as if to imply going back to Chelsea would lead to unhappiness.
Roberto Martínez urges Romelu Lukaku not to risk his "football happiness" by joining anyone but Everton (£) http://t.co/W76peMCFjV

— Tony Barrett (@TonyBarretTimes) April 12, 2014
Perhaps Martinez was making a veiled reference to Chelsea manager Jose Mourinho calling Lukaku out for lacking sincerity, per Tom Cary at the Telegraph.
Selling Lukaku will only happen if he develops irreconcilable feelings towards Chelsea management.
His agent Christophe Henrotay disclosing that Tottenham Hotspur are open to signing Lukaku, per David Hytner at the Guardian, is a red flag.
Why? It is an indication that Lukaku's relationship with Chelsea management is at a crossroads.
Lukaku is not the only Chelsea centre-forward whose future is undetermined.
The multitude of reasons are why Chelsea should consider signing Aboubakar from Lorient.
Vincent #Aboubakar nominé au Prix Marc-Vivien Foé 2014 ! http://t.co/gm4y8KOeYN pic.twitter.com/p4Yc7qxI47

— FC LORIENT Officiel (@FCLorientOff) April 4, 2014
Why You Shouldn't Scoff At Aboubakar
The attacking output of Aboubakar (Lorient), Ciro Immobile (Torino), Costa (Atleti) and Daniel Sturridge (Liverpool) have all exponentially increased compared to last season, so these are examples that footballers can make the next step up within 12-18 months.
League Only
Games
Goals
Assists

Aboubakar

2012-13 (

Valenciennes

)
28
2
1

Aboubakar

2013-14
32
14
6
Immobile 2012-13 (Genoa)
33
5
3

Immobile 2013-14

29
19
2

Costa 2012-13

31
10
7

Costa 2013-14

31
26
3

Sturridge

2012-13 (Chelsea/

Liverpool)

21
11
3

Sturridge

2013-14
26
20
7
Costa, a 25-year-old Brazilian-turned-Spaniard, entered this season as a sideshow. His productivity had yet to eclipse his antics on the field.
When you watched him on loan at Rayo Vallecano with Michu during the 2011-12 season, you knew once Costa developed into a more consistent goalscorer in a post-Radamel Falcao Atleti team, you would "find it hard to deny his [Costa's] standing as one of the best forwards in the game," per Bleacher Report.
Aboubakar has potential for greatness, but he is not there yet, just like Costa wasn't last season at Atleti, or the season before that at Rayo.

Aboubakar is a 6'0", 181-pound centre-forward blessed with tremendous athleticism.
Being physically dominant forces opposing teams to double-team Aboubakar, which allows him to make incisive passes to wide-open teammates.
This explains why he has registered six assists in league play, which is more than every single Chelsea player except Eden Hazard (seven).
50% - Vincent Aboubakar has scored/assisted 50% of Lorient's goals, highest ratio in Ligue 1 this season. Hero.

— OptaJean (@OptaJean) April 5, 2014
Aboubakar's technical ability complements his physicality.
The way he changed direction to leave Nice defensive midfielder Nampalys Mendy on his backside, who has a low centre of gravity, speaks to how tight Aboubakar's ball control is.
Nice left-back Timothee Kolodziejczak could not cope with Aboubakar's dribbling.
Another example of Aboubakar's technical brilliance was when he perfectly cushioned a pass which teed him up to lash the ball past Lyon goalkeeper Anthony Lopes.
Aboubakar can finish in a variety of ways: right foot, left foot, header and even off the knee.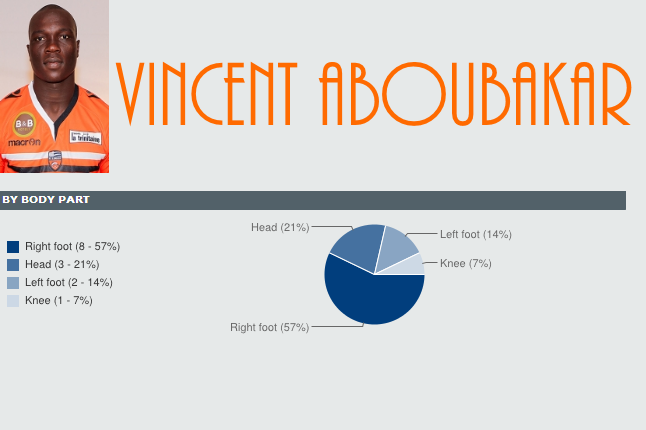 Source: Ligue1.com.
Aboubakar has extraordinary vision as exemplified in two cases: when he scored from an acute angle against Evian Thonon Gaillard and when he clipped the ball over Ajaccio goalkeeper Guillermo Ochoa and headed home.
Bottom Line
Aboubakar is a centre-forward with world-class upside.
Not only does Aboubakar have the physical and technical tangibles to succeed in the Premier League, he has great intangibles by continuing to play at a high level until the final whistle.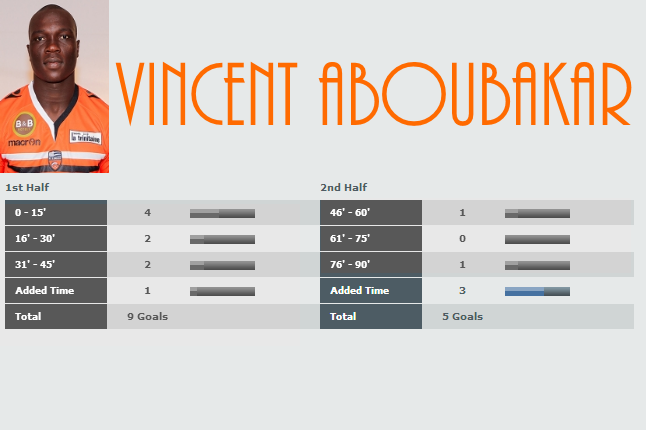 Source: Ligue1.com.
If Chelsea do not sign Costa, Aboubakar should be targeted in the summer transfer window.
Statistics via WhoScored.com.