It took the "Track Too Tough to Tame" to turn Kevin Harvick's fortunes around.
An early season win at Phoenix, one that assured him a place in the 2014 Chase, appeared to justify Harvick's move to Stewart-Haas Racing after 13 seasons with Richard Childress Racing—the only team he had ever driven for in Sprint Cup competition.
After Phoenix, Harvick's season turned sour and into one of "if it weren't for bad luck, he wouldn't have any luck at all."
As Ed Hinton from ESPN.com put it, the rest of the field benefited from Harvick's bad luck this season:
It is well, for all the rest of NASCAR, that Kevin Harvick's luck has been so lousy this season. Otherwise he might have been unbeatable. His win in the Southern 500 might have been more than just his second of 2014. There might have been nowhere near seven different winners in seven races before he blasted open the parity streak Saturday night.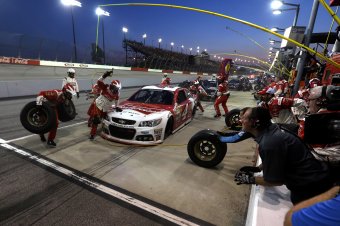 Jerry Markland/Getty Images
But a smart call on Saturday night by crew chief Rodney Childers, to take four fresh tires on the final pit stop, gave Harvick the advantage over the cars in front of him in a first and then second attempt at a green-white-checkers finish.
"I needed those green-white-checkers," said race winner Harvick in a post race television interview. "I knew that if I could get close enough to the 88 (Dale Earnhardt Jr.) I could make it stick."
Harvick powered around Earnhardt Jr. and remained in control all the way to the checkered flag, becoming the first repeat winner in the Sprint Cup Series this season and at the same time, breaking an ugly string of bad luck races.
He also became the first pole winner to win the race since Dale Jarrett in 1997.
It was as sweet a victory as they come, as Harvick emerged from under a dark cloud that has followed his race team since Phoenix.
The team went through a miserable slump following the Phoenix win, plagued by parts failures and misfortunes at every race, situations that might have caused a weaker group to fall apart. Yet this team and its driver hung in there and fought back at the whispers of "snakebit" in the NASCAR garage and questions about team leadership.
"I think this shows the character of the people in Stewart-Haas Racing to keep focused," said Harvick. "It was a real test to see if things would implode.
"We kept looking at the positives. We knew we had fast race cars."
On Saturday night at Darlington Raceway, Harvick once again dominated the race, in the same way he did when he won at Phoenix. But too often, the driver who leads the most laps at Darlington, isn't the same driver in Victory Lane.
On this night, after leading 238 of 374 laps, Harvick's No. 4 Chevy was still the car at the front when the checkered flag fell.
The race winner wasn't about to hide the smile of satisfaction on his face in the post race press conference when asked how it felt to finally win at Darlington after 18 attempts by Jeff Gluck of USA Today Sports.
"This is one of those places you circle every year," Harvick told reporters. "I told Rodney before the start of the season that if we only won one race, it had to be Darlington. This is one of the crown jewels of our sport."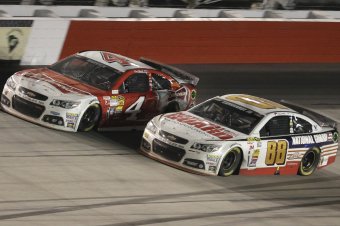 Chuck Burton
Harvick's win at Darlington solidifies a future place in the NASCAR Hall of Fame for the Daytona 500, Coca Cola 600, Brickyard 400 and now Southern 500 winner.
Crew chief Childers admitted during the post race press conference that had the last caution not come out, they probably wouldn't have won the race.
"After the pit stop, I saw how many guys went out in front of us that took only two (tires). But I knew it was the right call," said Childers.
"I'm a four tire guy," added Harvick, with a smile on his face.
The problems this team dealt with might have destroyed any other group. It was the determination to move forward, past the problems that hit them week after week, that put them where they are right now—celebrating in Victory Lane at Darlington Raceway.
Up next for the Sprint Cup Series' only repeat winners this season is a well-deserved first weekend off since Daytona.
Then, it's another Saturday night shoot-out, this time on the short track at Richmond International Raceway, a place where Harvick already has three wins and could easily become the first three-time Sprint Cup winner this season.
For Harvick and his teammates, life doesn't get much sweeter than this.
Follow me on Twitter @BobMargolis