How Does Greg Robinson Compare to NFL's Best Offensive Tackles?
April 11, 2014

AP Images
Comparing draft prospects to successful NFL players is dangerous. A prospect might be a carbon copy from a size perspective to a successful NFL player but never perform at the same level.
It's a bit different when comparing the biggest men in football—offensive linemen. There are only so many men on the planet that big and athletic. It is part of the reason why drafting an offensive lineman in the first round is considered a safe pick.
Greg Robinson is projected to be a top-five pick in the 2014 NFL draft next month, which means he should be expected to become one of the elite left tackles in the game within a couple years. For that to be true, we need to see how Robinson stacks up with the NFL's best left tackles.
The easiest comparison to make between Robinson and the cream of the left tackle crop is the size comparison. Robinson is 6'5" and 332 pounds, which will make him one of the biggest offensive linemen in the NFL.
However, the best offensive linemen in the league may not necessarily be the biggest ones. In theory, there could be a point where size becomes a detriment to production on the left side.
Size and Athleticism
Using the five best left tackles as graded by Pro Football Focus (subscription required) last year, the five highest-paid left tackles by average salary per year and guaranteed money on Spotrac, and the five top left tackles as determined by B/R NFL 1000, 10 left tackles were selected. In no particular order, they are Jason Peters, Trent Williams, Tyron Smith, Branden Albert, Jordan Gross, Ryan Clady, Joe Thomas, Duane Brown and D'Brickashaw Ferguson.
In total, this top-10 list of left tackles averages 6'5" height and 314 pounds with an arm length of 34 ¼" and a BMI of 36.7. While BMI is usually flawed when comparing men this big, it is still a good way to compare body mass and height in the absence of body fat percentage.
The NFL's Best Offensive Tackles
Player
Height (Inches)
Weight (Pounds)
Arm Length (Inches)
BMI
Jason Peters
76
328
33.125
38.9
Trent Williams
77
325
34.25
38.5
Tyron Smith
77
318
36.375
37.7
Branden Albert
77
316
33.625
37.5
Jordan Gross
76
305
33.25
37.1
Ryan Clady
78
315
36.75
36.4
Joe Thomas
78
312
32.5
36.1
Duane Brown
77
303
33.25
35.9
D'Brickashaw Ferguson
78
310
35.5
35.8
Matt Kalil
79
308
34.25
34.7
Average
77
314
34.25
36.7
Greg Robinson
77
332
35
39.4
NFL.com
The tallest player is 6'7" and the shortest is 6'4", with the heaviest being 328 pounds and the lowest at 303 pounds. The largest BMI belongs to Peters at 38.9 and the lowest to Kalil at 34.7.
Robinson is average in height compared to the group but on the upper end of the weight range and arm length. Robinson's BMI of 39.4 is higher than any player in the elite left tackle group. That alone doesn't mean he won't be a very good left tackle, but it does merit further investigation.
Are there any larger players playing offensive tackle in the NFL? Sure. Cordy Glenn has a BMI of 40.9, which in the normal population would make him very severely obese. There are also overall bigger men like Bryant McKinnie, who is 6'8" and 352 pounds.
Offensive Tackles with BMI > 39
Player
Height
Weight
Arm Length
BMI
Cordy Glenn
77
345
35.75
40.9
D.J. Fluker
77
339
36.75
40.2
Marcus Cannon
77
335
34
39.7
Greg Robinson
77
332
35
39.4
Leonard Davis (former)
78
355
-
39
NFL.com
McKinnie's BMI is lower because he is tall, and most players with a BMI above 39 tend to get stuck on the right side or inside at guard, which could be why McKinnie's weight has been an issue at times throughout his career.
Leonard Davis had a BMI of 39.0 when he played in the NFL but was mostly stuck inside at guard. Guards like Mike Iupati, Louis Vasquez and Carl Nicks are all the same size as Robinson or larger.
Two of the best left tackles in recent memory, Jonathan Ogden and Orlando Pace, had BMIs more comparable to Clady and Thomas than Robinson. Clady and Thomas are arguably the two best in the league.
None of this dooms Robinson to failure, especially since plenty of the bigger left tackles balloon to a heavier weight at times. It does, however, force us to look at more than just his size.
After all, size is just one component of a player. These men are some of the biggest on the planet, but athleticism and skill is still what separates them from big guys walking the street. Robinson moves like a player much smaller than he is, clocking in at 4.92 seconds in the 40 with a broad jump of 9'5" at the combine.
A lower percentage of Robinson's weight appears to come from fat than many of the players in his BMI range, which combined with his athleticism, could put him in a class by himself. It's this fact that gets people excited about his pro potential, but the tape should also support the excitement.
Run Blocking
When NFL teams scout players, they will often watch the biggest games first. They may also look at the tape from a game in which that player went up against a player with NFL talent. In the case of Robinson, the SEC Championship Game against Missouri would have been high on the list. Robinson had to block Kony Ealy, who is projected to be a first- or second-round pick next month.
Although he wasn't blocking Ealy on every play, the game against Missouri is the perfect game to get an idea of how good Robinson is as a run-blocker. Auburn ran the ball 74 times in the game for 549 yards and seven touchdowns. That's an insane 25 percent of the yards Missouri allowed on the ground all season and 35 percent of the touchdowns.
The entire game was Greg Robinson and the rest of the Auburn line mashing Missouri into the ground play after play. It might as well be Robinson's college highlight tape because it's that good. Robinson was just as impressive in the national championship game, but didn't get as many opportunities.
In the game against Missouri there are examples of Robinson opening up huge holes by pushing back the defensive tackle (3:23) and clearing a single defender out of the running lane (14:29). There are pancake blocks just blocking in-line (4:08) and one on 3rd-and-3 (9:06). There are also several examples of him getting to the second level (4:24, etc.).
Robinson prevents Ealy from shooting the gap (6:00) and on another occasion drives him back four yards (10:17). On one play, Robinson has to re-anchor after Ealy gets a good burst off the line of scrimmage (13:14).
There are many great examples of NFL-caliber blocks by Robinson. It's doubtful anyone will question his ability in the run game. To prove it, we'll compare a block Robinson made at the start of the game (1:16) to a block by Peters in Week 16 of last season.
GameRewind
Peters is up against Julius Peppers, who isn't the best run defender at this stage of his career, but he's no slouch either. Peters stays with Peppers and continues to drive him four yards back for what ended up being a five-yard gain. There may be flashier plays, but this type of edge block in space is one of the toughest.
DraftBreakdown.com
Here, we see Robinson in a similar situation blocking on the edge. Robinson is able to engage his defender and use his raw power to drive him back five yards. It's clear that he should become one of the league's premier run-blockers early in his NFL career.
Pass Blocking
Robinson will need the most work in pass protection. Not only did Auburn not pass that much, but Robinson's technique when the Tigers did wasn't comparable to the elite players in the NFL. Auburn used a lot of play action, which helped keep speed rushers from turning the corner on him.
Robinson has good length and seemingly enough foot speed to become a very good pass protector in time, but he's not a finished product. It wouldn't be surprising if a team played him at right tackle for a year while he worked on technique.
In the final few minutes of the game against Georgia, Auburn was trailing and had to abandon its running game in favor of the pass. These are the toughest situations for offensive tackles because the defense knows there is no threat of a run.
As you can see from the play at 7:30, Robinson has impressive anchor—he isn't easily bull-rushed. Unlike when he's run blocking, his tendency to grab on to defenders hurts him. At 7:30, the only reason he isn't called for a hold is that the play was running away from his side.
On the next play at 7:50, his ability to engage defenders like he does in the run game helps him take the edge defender out of the play. NFL defenders are going to be able to slip his grasp more often, which could result in more holding penalties if he doesn't learn to use his length to push defenders past the quarterback instead of hooking them with his long arms.
The officials missed two blatant holds by Robinson that would have affected the end of the game against Georgia. One was at 8:30 on an incomplete pass, but the worst one was on the game-winning pass at 9:03. Some holding penalties are acceptable, but so many holds in such a short period indicate the need for him to improve in his pass protection.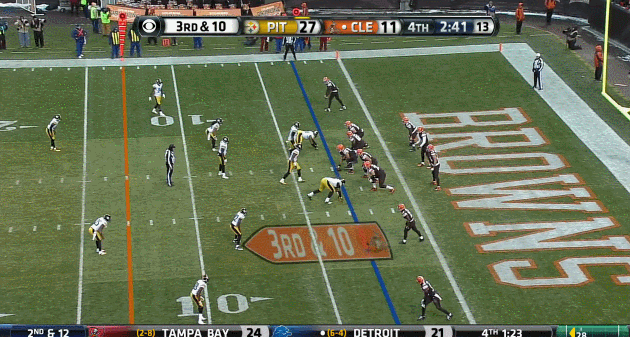 GameRewind
Here's Thomas in pass protection late in the game on 3rd-and-10 backed up in his own end in Week 12 against Pittsburgh. The line stunts and Thomas has to transition from blocking inside to picking up the rusher looping around the edge. Thomas does so flawlessly and is able to push the defender wide instead of letting his get a free lick on his quarterback.
This is what Robinson should strive to be in the NFL. Robinson isn't a finished product, but he certainly has all the traits to be a 10-year starter in the NFL if he can improve in pass protection. While he's working on it, he'll be a huge asset in the run game.