It took over 24 hours from the scheduled start of the race on Sunday afternoon, but Joey Logano finally emerged as the seventh winner of the season during the Duck Commander 500 at Texas Motor Speedway on Monday.
CHECKERED FLAG! @joeylogano wins the #DuckCommander500! pic.twitter.com/hHZ26hbuTv

— NASCAR (@NASCAR) April 7, 2014
After controlling the end of the race before a controversial caution flag was waved with two laps remaining, Logano came to the pits ahead of the green-white-checkered finish.
Logano was third out of the pits but took four tires and easily passed Jeff Gordon at the end, who took only two tires before the restart. The Penske driver spoke about his thoughts following his first victory of the year, per NASCAR on Fox:
.@joeylogano on what he thought when late-race caution came out: "A lot of things I can't say on TV!" #NASCAR

— FOX SPORTS: NASCAR (@NASCARONFOX) April 7, 2014
The win for Logano also helped him make history in two different ways. Since the Chase for the Sprint Cup format started in 2004, seven different winners in the first seven races of the season has never happened, and no racer as young as Logano has ever won at Texas, as NASCAR Stats notes:
With his win, @joeylogano becomes the youngest winner in @TXMotorSpeedway history at 23 years, 10 months, 14 days. #NASCAR

— NASCAR Stats (@NASCARStats) April 7, 2014
Q: Last time there were seven different winners in first seven races? A: 2003, there were nine different winners in first nine races.

— NASCAR Stats (@NASCARStats) April 7, 2014
Rounding out the top five after Logano and Gordon was Kyle Busch, who claimed his second top-five finish of the season, Brian Vickers and Kyle Larson, who finished second at Auto Club Speedway behind Busch.
While Larson is just a rookie, he has been making a lot of noise this season with his strong driving as of late. Darrell Waltrip, a three-time NASCAR Cup Series champion and analyst for Fox, spoke about the young driver, per Kendra Jacobs of Motor Racing Network:
DW: "One thing we haven't called @KyleLarsonRacin yet: Winner. But it's coming." #NASCAR

— Kendra Jacobs (@KendraJJacobs) April 7, 2014
Here's a look at the top 10 finishers and the points standings following the Duck Commander 500. Full Results can be found at NASCAR.com.
Duck Commander 500 at Texas Results

| | | |
| --- | --- | --- |
| Position | Driver | Laps Led |
| 1 | Joey Logano | 108 |
| 2 | Jeff Gordon | 40 |
| 3 | Kyle Busch | 10 |
| 4 | Brian Vickers | 0 |
| 5 | Kyle Larson | 0 |
| 6 | Greg Biffle | 0 |
| 7 | Matt Kenseth | 0 |
| 8 | Clint Bowyer | 1 |
| 9 | Paul Menard | 0 |
| 10 | Tony Stewart | 74 |
NASCAR.com
2014 Sprint Cup Standings

| | | |
| --- | --- | --- |
| Position | Driver | Points/Behind |
| 1 | Jeff Gordon | 259 |
| 2 | Matt Kenseth | -4 |
| 3 | Carl Edwards | -12 |
| 4 | Joey Logano | -24 |
| 5 | Kyle Busch | -28 |
| 6 | Dale Earnhardt Jr. | -31 |
| 7 | Jimmie Johnson | -31 |
| 8 | Brad Keselowski | -41 |
| 9 | Brian Vickers | -54 |
| 10 | Paul Menard | -56 |
NASCAR.com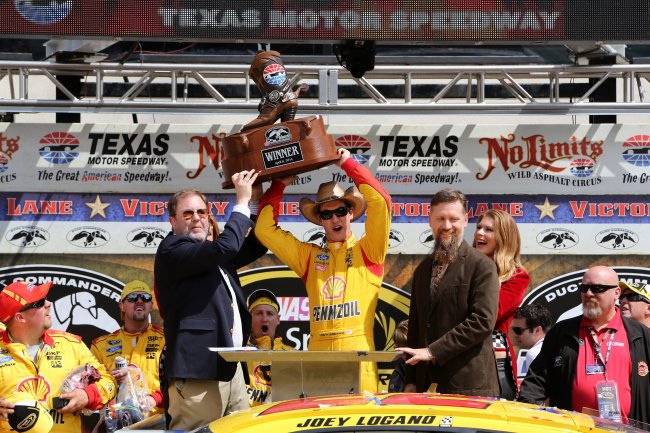 Jerry Markland/Getty Images
After rain postponed the race on Sunday afternoon, NASCAR made the decision to start the first 10 laps under caution with the pace car leading the way.
Despite the fact that cars were not driving at full speeds, the issues didn't stop for many drivers. With the jet dryers out on the track, several cars were damaged.
Brad Keselowski and Ryan Newman were two of the notable drivers that had to go into the pits during the first 10 laps, as Matt Weaver of PopularSpeed.com points out:
Keselowski, Kyle Busch, Danica, Newman and Allgaier are amongst those who had to pit for hood issues. Everyone will get their spots back.

— Matt Weaver (@MattWeaverSBN) April 7, 2014
Following a disappointing race at Martinsville for Keselowski, the No. 2 driver spoke about his frustration with his luck as of late, per Nate Ryan of USA Today:
No. 2 radio: "I guess we've got to build cars that withstand jet dryers. That's our problem. Everything's always our problem." #nascar

— Nate Ryan (@nateryan) April 7, 2014
When the green flag finally waved, only a handful of laps took place before another notable driver experienced issues at Texas. Dale Earnhardt Jr., the Sprint Cup points leader entering the race, cut too close to the grass infield and paid for it by wrecking hard shortly after the race went to full speed.
Earnhardt went into the garage and wouldn't return for the duration of the race. He wasn't able to collect any more points to retain his lead.
Marty Smith of ESPN provides commentary from the No. 88 driver following his exit from the car:
.@DaleJr: "Just ran into the grass on the apron. I was folioing the 43 & just didnt know the grass was down there that close."

— Marty Smith (@MartySmithESPN) April 7, 2014
.@DaleJr: "I just didn't know I was that close to the grass. I made a mistake."

— Marty Smith (@MartySmithESPN) April 7, 2014
The wreck also affected Hendrick Motorsports teammate Jimmie Johnson, who was another potential favorite to win his first race of the season. Johnson had grass and debris fly up into his windshield, which caused it to collapse.
Johnson spoke about the adversity that he faced early on, per Ryan:
Jimmie Johnson: "The windshield just collapsed into the brace." #nascar

— Nate Ryan (@nateryan) April 7, 2014
In the first 40 laps, three Hendrick-affiliated cars have had major problems: No. 88 is out; No. 4 off track, No. 48 3 laps down. #Nascar

— Nate Ryan (@nateryan) April 7, 2014
Kevin Harvick would be yet another casualty of Texas early in the race as Ryan pointed out. The No. 4 machine suffered a blown engine during Lap 28 that would send the Stewart-Haas driver to the garage for good.
It's just the latest issue for Harvick after winning the second race of the season in Phoenix. The plethora of car problems for Harvick has led to four finishes of 35th or worse, including his 42nd-place finish at Texas.
Harvick spoke about the issues he experienced in the Duck Commander 500, per Kenny Bruce of NASCAR.com:
Something happened with the engine right after that restart. The Jimmy John's Chevrolet SS was really fast. It's frustrating. I don't know what else I can say. I didn't get any indication that anything was going wrong.

Hendrick engines are among the fastest and most reliable engines in the garage. We'll take it back to the shop and figure out what happened. But that's a disappointing end to the day.
Following the rough start to the race after the initial 10 laps under yellow, the racing got much smoother for the field. Multiple drivers like Keselowski, Denny Hamlin, Jeff Gordon and Kyle Busch all led laps, but Logano would prove to be the best driver on the day.
Drivers now have a shortened week ahead of them with a Saturday night race at Darlington Raceway for the Bojangles' Southern 500. With an already limited amount of time between races due to the Monday start in Texas, the first Saturday race comes at the worst possible time for teams looking to regroup.
Now that seven different drivers have pulled off a single win on the season, notable names like Johnson, Gordon and Hamlin are all still looking for their first. Heading into "The Track Too Tough to Tame," more history could be made as each of those racers looks to put his stamp on the season.
Follow R. Cory Smith on Twitter. He has grease under his fingernails.