Charles Tillman ended his stint as a free agent by coming to an agreement with the Chicago Bears on a one-year deal.
Thrive Sports' Sean Jensen has the news:
Charles Tillman has re-signed with the #Bears on a one-year deal, I'm told. Somewhat of a surprise but pleasant one, given his legacy there

— Sean Jensen (@seankjensen) March 14, 2014
Greg Gabriel, the Bears' former director of college scouting and current National Football Post writer, also confirmed the report:
Report: Charles Tillman back to Bears

— Greg Gabriel (@greggabe) March 14, 2014
ESPN's Adam Caplan reports on the financial end of the deal:
Charles Tillman's one-year deal with the #Bears is worth just under $3.5 m, per source.

— Adam Caplan (@caplannfl) March 14, 2014
Tillman has been a stalwart member of the Chicago Bears defense for a decade since being drafted in the second round of the 2003 NFL draft. He established himself as an upper-echelon cornerback during that time, reaching two Pro Bowls and being named an All-Pro once.
There were a lot of questions when he hit the open market, though. At 33, he has likely moved past the peak portion of his career and his 2013 season was cut short.
He appeared in eight games before a triceps injury brought a premature end to his campaign. He still posted solid numbers (41 tackles, three interceptions and three forced fumbles), but wasn't performing like the lockdown corner of years past even before the ailment.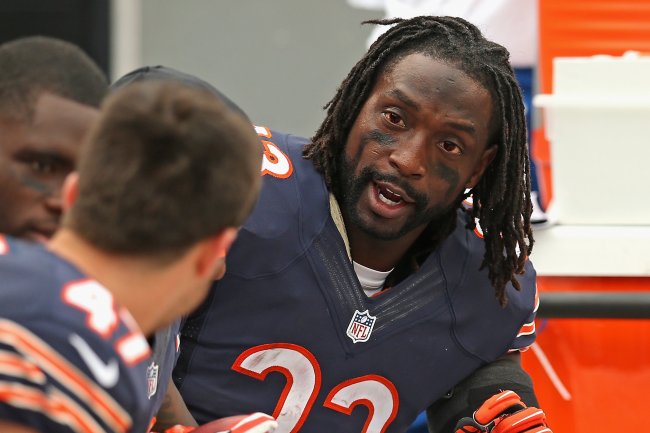 Jonathan Daniel/Getty Images
It was a concern also raised by Pro Football Focus, which still ranked him among the 10 best free agents available following the initial signing surge:
Was 2013 the start of a decline or just a blip? Tillman has been so good for so long we've given him the benefit of the doubt but there's no denying that he looked poor even before his season was ended by injury.
Despite the injury and possible decline, Tillman remained confident, although he was unsure what the future might hold. CBS Chicago provided comments the veteran made on The McNeil and Spiegel Show on 670 The Score, including thoughts on a possible return to the Bears:
My gut is I will be on an NFL team next year. Everyone knows how the process works. It's a business. If I'm here, sweet. If I'm not, that's business … There's no hard feelings. I love Chicago. Chicago's been nothing but great—great owners, great organization, great teammates.
How do you expect Tillman to perform in 2014?
Tillman was right. He was able to secure a new contract and now begins the process of proving his performance last season was not a sign of things to come.
It wouldn't be a surprise if he did bounce back. In the eight seasons prior to 2013, he racked up 29 interceptions and broke the 80-tackle plateau six times. He also had 36 forced fumbles over that time span, highlighting his ability to help in run defense as well.
Whether he will be able to reach the same impact level in terms of all-around contributions is probably a long shot. With that said, he should still have enough left in the tank to remain a valuable member of the defense in the short term.
He will also be a positive veteran influence in the locker room, which further limits any risk associated with the deal.