If you're not familiar with the 2014 Olympics skeleton event, it is a high-octane, adrenaline-packed luge-style race. The twist? The athletes go down head first. This makes their helmets the most prominent accessory on display as they take a head-first plunge.
According to Olympic.org, the sport's earliest origins date back to 16th-century literature, and it can be traced as an activity to the mid-19th century. The website adds:
Men's skeleton made two early appearances on the Olympic programme at its "ancestral" home of St. Moritz in 1928 and 1948. It was then dropped until it reappeared as a men's and women's event at Salt Lake City in 2002.
To get more accustomed to the event, take a look at this video below, courtesy of Time Magazine's YouTube account:
So far in Sochi, we have seen some amazing designs on these athletes' helmets. All are unique in their own way, but let's check out the best ones that we have come across so far.
After all, we aren't the only ones noticing.
The winter Olympics sport you've never heard of - skeleton - has some trippy headgear http://t.co/WjVXRg685h pic.twitter.com/hgWQ4KslOU

— Emily Banks (@emjbanks) January 7, 2014
5. Tomass Dukurs, Latvia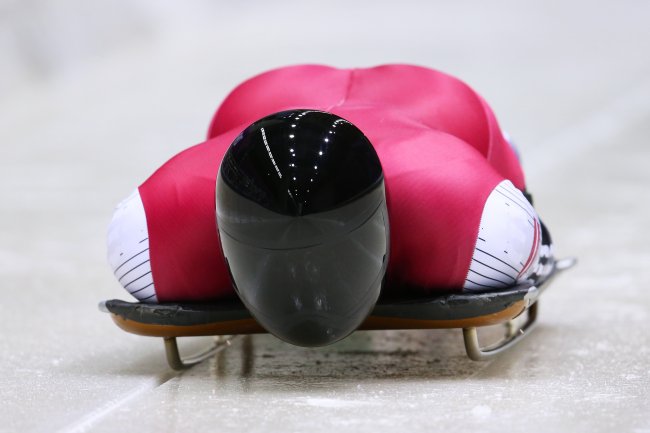 Alex Livesey/Getty Images
There's something so very cool about a solid black monochrome helmet. Even though this look isn't jam-packed with bright or flamboyant designs, it looks suave heading down the icy track.
While other athletes are going over the top with big, bold designs, Dukurs keeps it simple—and it works.
4. Katie Uhlaender, USA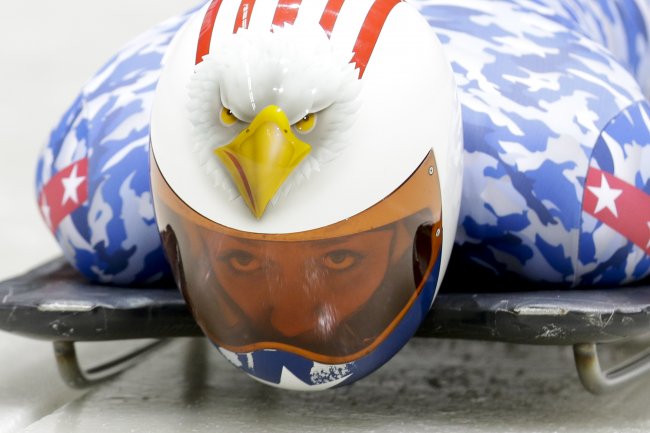 Natacha Pisarenko/Associated Press
A big bonus goes to Uhlaender here, as she sports a helmet bursting with American pride. The bald eagle with the trail of red and white stripes on a white helmet just looks sharp.
An additional print of the flag's stars on the bottom of the helmet really brings the look together.
3. Eric Neilson, Canada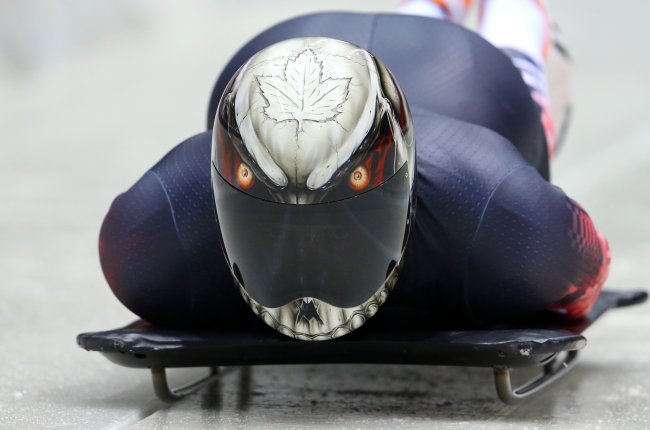 Alex Livesey/Getty Images
One of the coolest helmets at Sochi belongs to Neilson of Canada. He boasts his Canadian pride with a maple leaf on the crown of the helmet; however, the rest of the design is absolutely awesome.
A dinosaur-looking skeleton encompasses the rest of the helmet with its teeth down by the mouth guard. The red eyes embedded into the skull gives it a perfect finish.
Sweet @CDNOlympicTeam helmets: http://t.co/kvJQPoTKB9 pic.twitter.com/wDtmeRs5p3

— Sam Laird (@samcmlaird) January 7, 2014
2. John Fairbairn, Canada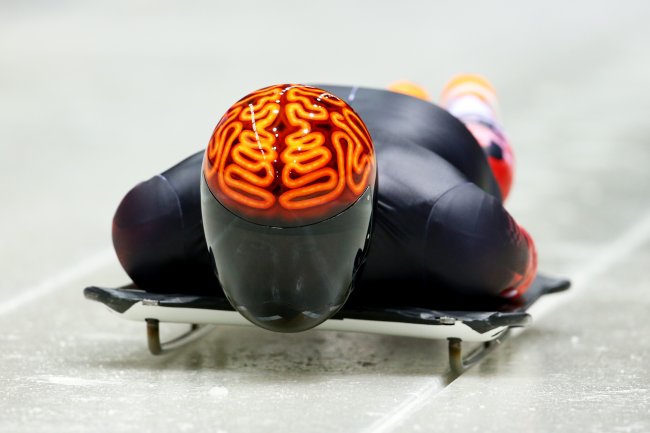 Alex Livesey/Getty Images
Fairbairn nails it here, as he created a helmet that has a bright, neon brain on display. It gives viewers a chic style to look at while reminding everyone just why he wears the helmet in the first place.
This is definitely one of the most original designs in the event.
My FAVORITE Olympic sport. What is yours? #WPXIOlympics RT @Olympics: Skeleton helmets have a new attitude pic.twitter.com/wbHgQepKd2

— Scott Harbaugh (@WPXIScott) February 6, 2014
1. Sarah Reid, Canada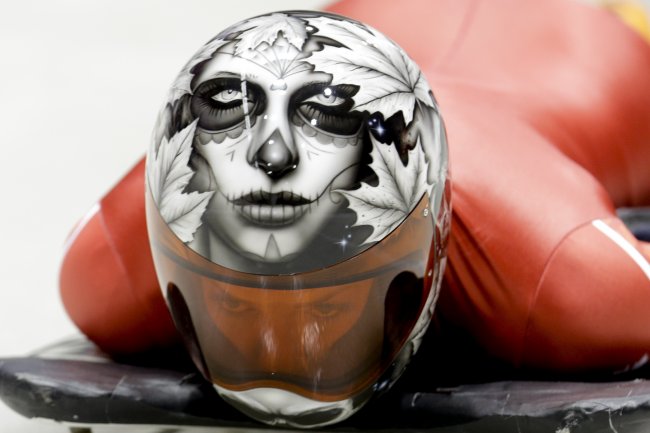 Natacha Pisarenko/Associated Press
The Canadians really have skeleton helmet designs down pat. Reid has a Gothic, Day of the Dead-style helmet that features a zombie-type face on the crown.
The helmet also includes a grouping of maple leafs around the face. The artwork here is impressive, and it gives Reid a mesmerizing look as she propels down the track.