UFC on Fox 10: Preliminary Card Predictions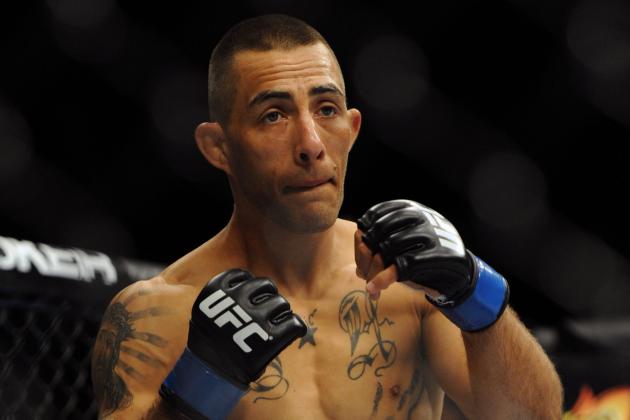 Jayne Kamin-Oncea-USA TODAY Spor

The UFC comes back to Chicago this weekend when UFC on Fox 10 goes down on Saturday. Headlined by former UFC lightweight champion Benson Henderson, the main card looks like it will provide a great show.
Before that, though, we have some fun prelims. A number of up-and-coming prospects, including Sergio Pettis and Mike Rhodes, will strut their stuff before the main card in an attempt to move up the ladder.
After a strong start to the season with a 5-1 record at UFC Fight Night in Singapore, I tripped up big time at UFC Fight Night in Atlanta. We will see if I bounce back with these prelim predictions.
Without further ado, here are the UFC on Fox 10 prelim predictions.
2014 Riley's Record: 7-5
Last Event: UFC Fight Night 35 (2-4)
Begin Slideshow

»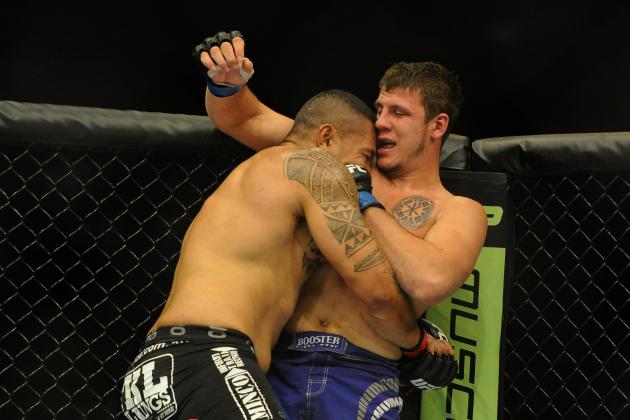 Benny Sieu-USA TODAY Sports

A pair of low-level heavyweights look to move up the ladder on the only UFC Fight Pass prelim, as Ukrainian Nikita Krylov takes on American Walt Harris.
Harris made his UFC debut against Jared Rosholt and looked good early on but was outpointed by the wrestler. That being said, he is a big, athletic heavyweight with fierce power and incredible movement for a man his size.
He is a striker, as showcased by his five knockout wins. He will need to use his quickness and superior gas tank to outwork Krylov in this fight.
Krylov looked very suspect in his UFC debut, as the 15-3 Ukrainian was outmuscled and outgrappled by Soa Palelei. His gas tank was atrocious as well, as he was spent not long into the fight.
Harris is the superior athlete here and showed he has good takedown defense when he's fresh. He should use that to keep the fight upright, where he will end Krylov's night in brutal fashion.
Prediction: Harris def. Krylov via KO
A pair of top prospects at 170 pounds are set to face off on short notice, as Roufusport member Mike Rhodes meets Kurt Pellegrino disciple George Sullivan in the first prelim on Fox Sports 1.
Sullivan is the vastly more experienced fighter, as the New Jersey native has 11 more fights than his opponent. He is a finisher who has put away 10 of his opponents via knockout, showing he has power on his feet.
He has been susceptible on the ground in the past, but working with Pellegrino has tightened up that aspect of his game. He comes into this bout on a six-fight surge, including wins over UFC vets Julian Lane and Greg Soto.
Rhodes is an RFA veteran who was a titleholder with that company. A wrestler, he has drastically improved his striking with Duke Roufus, but he should look to stay away from a striking engagement on the feet with Sullivan.
His only loss at this point in his career came against Brandon Thatch, who has taken the UFC by storm with two brutal, quick knockouts. That should not take away from the skills of Rhodes, who has a chance to make a run at 170.
Sullivan will be dangerous early, but he will have to stave off the grinding style of Rhodes. It will be a close, back-and-forth affair, but Rhodes should eke this one out.
Prediction: Rhodes def. Sullivan via decision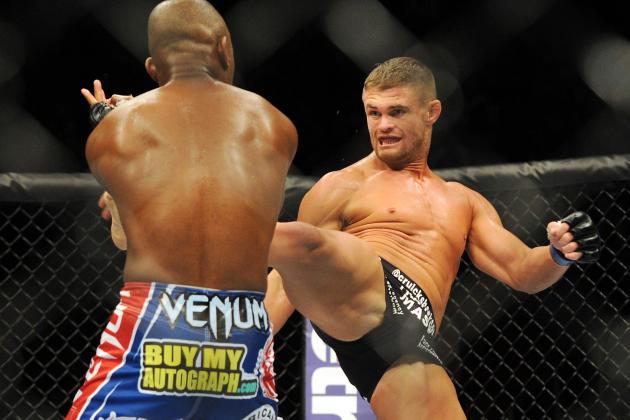 Jayne Kamin-Oncea-USA TODAY Spor

Next up are a pair of The Ultimate Fighter veterans from the only live season in history, as Daron Cruickshank takes on Mike Rio. Cruickshank was a member of Team Faber, while Rio repped Team Cruz.
With a 3-2 record, Cruickshank has experienced his ups and downs since joining the UFC. Though he has looked good in wins over Chris Tickle, Henry Martinez and Yves Edwards, he was outstruck by John Makdessi and submitted by Adriano Martins in his last fight.
He is a wrestler with a striking base, which will make him more versatile here. His athleticism and footwork also help in the cage, making it tough for Rio to ground him.
Rio is a wrestler who is likely fighting for his job in this fight. After tapping out John Cofer in his debut, he was promptly choked out in the first round by Francisco Trinaldo and Tony Ferguson in consecutive fights.
He will have a difficult time dragging Cruickshank to the mat, which means he will be open to a striking clinic at the hands of his opponent. Expect a one-sided beating from "The Detroit Superstar" that sends Rio back to the minor leagues.
Prediction: Cruickshank def. Rio via decision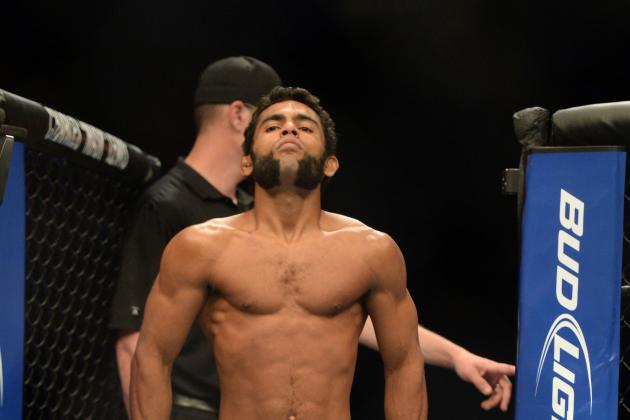 Kyle Terada-USA TODAY Sports

A pair of bantamweights who are looking to make a move up the bantamweight ladder will square off when Hugo Viana of Brazil meets Ramiro Hernandez.
Viana opened his UFC career in impressive fashion, outpointing John Teixeira to ensure a roster spot and brutally knocking out Reuben Duran in the follow up. Unfortunately, he took a late-notice bout with T.J. Dillashaw in his last outing and was promptly put to sleep with a barrage of punches.
He is a grinder who needs to look to put Hernandez on his back. He is at his best when he can tire out his opponents and pummel them with ground-and-pound.
Hernandez looks to erase the memory of his quick UFC debut, where he was put away quickly by Lucas Martins. He wasn't able to show much in that fight, as he was outstruck and choked out in just over a minute.
Hernandez has some solid wrestling that could counter Viana's grinding style, but the Brazilian will be better on the feet. That will set things up throughout the fight, eventually earning Viana the decision.
Prediction: Viana def. Hernandez via decision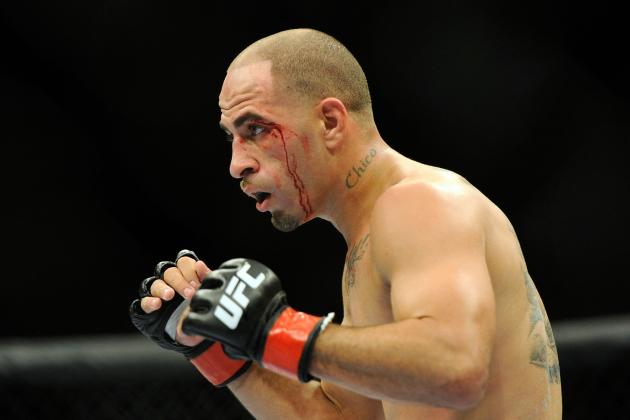 Benny Sieu-USA TODAY Sports

The bantamweights are up in the next fight as well, as Roufusport product Chico Camus takes on Benson Henderson teammate Yaotzin Meza in an intriguing 135-pound affair.
Camus has alternated between wins and losses in his UFC career with a 2-1 record. After beating Dustin Pague in his UFC debut, he was outgrappled and choked out by Dustin Kimura in his next outing. In his last fight, though, he outworked an aggressive Kyung Ho Kang to take a decision.
He has some solid striking and showed improved wrestling in the Kang fight. He will need to use that on Meza, who showed he can be taken down in his last fight.
Meza took a short-notice bout with Chad Mendes in his UFC debut, where he was easily dismantled via knockout. He followed that up with a win, though, weathering the early storm from John Albert to choke him out after he gassed.
Camus will not tire as easily as Albert and should be able to outwork Meza on the ground. That will earn him a decision here.
Prediction: Camus def. Meza via decision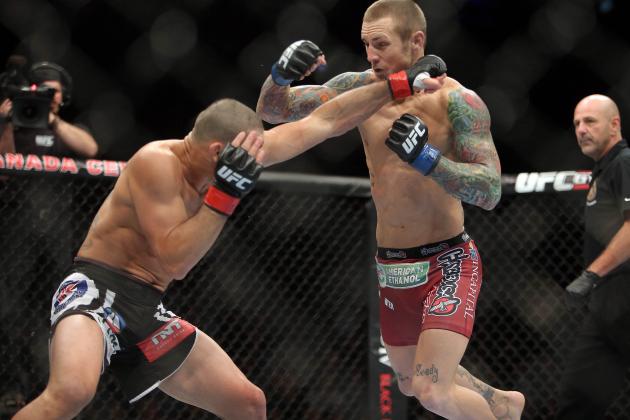 Tom Szczerbowski-USA TODAY Sport

We continue with the parade of bantamweight bouts on the undercard, as recent title challenger Eddie Wineland meets Yves Jabouin in what could be the Fight of the Night.
Jabouin is a flashy striker who is rarely in a boring fight. His style will match up nicely with Wineland's, which is why you could see a barnburner.
Most of Jabouin's wins came via knockout, though he has seen mixed results in the UFC. He is 4-2 with the company, owning wins over Ian Loveland, Walel Watson, Jeff Hougland and Dustin Pague. He still needs to tighten up his grappling, though, which has been his downfall or near downfall in his UFC outings.
Wineland is a good all-around fighter who has revitalized his UFC career. After opening up his UFC tenure with losses to Urijah Faber and Joseph Benavidez, he came back and blasted through Scott Jorgensen and Brad Pickett to earn a title shot at Renan Barao.
After a strong first round, Wineland got caught with a huge spinning back kick that ended the fight. That did not hurt his stock much, though, as he is still one of the top 135ers with the company.
Look for Jabouin to get off to a strong start before Wineland gets comfortable in the pocket. From there, Wineland would wear on Jabouin and score a late stoppage on the feet.
Prediction: Wineland def. Jabouin via TKO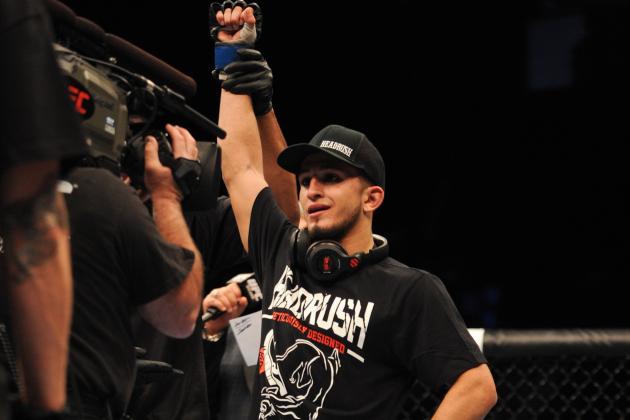 Stephen R. Sylvanie-USA TODAY Sp

Two more bantamweights are set to headline the prelims, as 20-year-old phenom Sergio Pettis makes his sophomore effort in the Octagon against Alex Caceres.
Caceres is not getting a lot of respect coming into this fight despite his solid UFC career to date. After going 1-3 to start his UFC career, he came back to win the next three of four. It would have been a perfect 4-0 if he had not failed a drug test after his bout against Kyung Ho Kang.
He is a good striker with an underrated ground game. Wherever the fight goes with Pettis, Caceres will be comfortable.
Pettis made his UFC debut in November, beating a very game Will Campuzano. At 20 years old, he is very much the future of the UFC 135-pound division.
He is a striker by nature, but like his brother, he has a refined ground game. His style will match up well with Caceres, which could make this an amazing bout.
This will be much closer than fans are giving it credit for. However, when it's all said and done, Pettis should score a decision in his favor in a bout that helps him grow as a fighter.
Prediction: Pettis def. Caceres via decision