Week 17 is shaping up to be a doozy for those trying to follow the 2013-14 NFL playoff scenarios.
Thirteen of the 16 games on the schedule this week have playoff implications, meaning that this year's regular-season finale is highly important for many teams. That being said, keeping track of all the action won't be easy.
Playoff scenarios are difficult enough to wrap our heads around when there are only a few teams involved. With nearly every game meaning something this late in the season, trying to understand what's going on without some sort of organization can be tricky.
Never fear, football fans.
The following overview will help you keep track of who's in and who's out of the 2013-14 NFL playoffs.
NFC
NFC Playoff Scenarios

| | | | |
| --- | --- | --- | --- |
| Team | Clinch Playoffs If... | Or | Or |
| Philadelphia Eagles | PHI Win or Tie | - | - |
| Dallas Cowboys | DAL Win | - | - |
| Chicago Bears | CHI Win or Tie | - | - |
| Green Bay Packers | GB Win | - | - |
| New Orleans Saints | NO Win | NO Tie and ARI Tie | ARI Loss |
| Arizona Cardinals | ARI Win or NO Loss or Tie | ARI Tie and NO Loss | - |
NFL.com
As you can see, the NFC playoff picture is pretty wide open. The only teams currently guaranteed playoff berths from the conference are the Seattle Seahawks, San Francisco 49ers and Carolina Panthers, and all three still have a shot at clinching home-field advantage throughout the playoffs.
The two easiest scenarios to follow are the NFC East and NFC North playoff pictures. Dallas and Philadelphia will play Sunday night to decide the East. To put it simply, the winner will move on to the playoffs while the loser will start making tee times for next week.
In the North, the Chicago Bears just need to tie (or win, of course) to clinch the division. The tie by the Green Bay Packers earlier in the season made the tie scenario possible for Chicago. Green Bay just needs a win to clinch.
Their chances are stronger than ever now that Aaron Rodgers is back under center, and head coach Mike McCarthy told Dan Hanzus of NFL.com that Rodgers will be ready for a full workload.
"We're going to cut him loose and we're going to go play. We're going to play to win."
The final two NFC teams looking to make the playoffs have several different scenarios available for them. The New Orleans Saints have the most opportunities.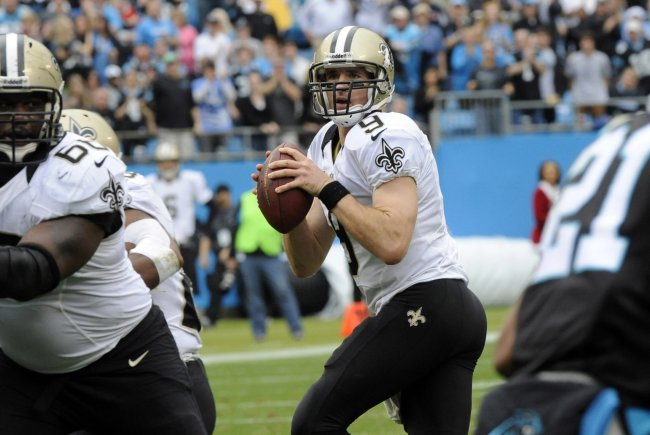 Sam Sharpe-USA TODAY Sports
If they win against the Tampa Bay Buccaneers, they're in. If they tie and the Arizona Cardinals tie against the 49ers, they're in. If the Cardinals lose outright, they're in.
While the Cardinals did just defeat the Seahawks in Week 16, defeating the Niners will be no easy task. They need to win or tie to make the playoffs themselves, and Carson Palmer will have to step up and play a turnover-free game against a team that will take advantage of turnovers.
Thought the NFC was interesting? Just take a look at the AFC.
AFC
AFC Playoff Scenarios

| | | | |
| --- | --- | --- | --- |
| Team | Clinch Playoffs If... | Or | Or |
| Miami Dolphins | MIA win and BAL loss or tie | MIA win and SD win | MIA win and SD loss or tie and BAL loss |
| Baltimore Ravens | BAL win and SD loss or tie | BAL win and MIA loss or tie | BAL tie and MIA loss and SD loss or tie |
| San Diego Chargers | SD win and MIA loss or tie and BAL loss or tie | SD tie and MIA loss and BAL loss | - |
| Pittsburgh Steelers | PIT win and MIA loss and BAL loss and SD loss | - | - |
NFL.com
In the AFC, the Denver Broncos, New England Patriots, Indianapolis Colts, Cincinnati Bengals and Kansas City Chiefs are all locked into the playoffs. Where they are seeded, however, will be decided on Week 17 play.
Denver already clinched the AFC West and a first-round bye. New England, Indianapolis and Cincinnati have all earned their respective division crowns. Several different scenarios will determine the order (Nos. 2 through 4) of these teams. Kansas City is locked into the No. 5 spot as a wild card.
The fight for the final spot will rest on multiple outcomes. Let's go team by team.
If the Miami Dolphins lose, then their chances are over. But a win or tie would give them an opportunity. A win coupled with a Baltimore loss or tie, a San Diego win or a San Diego loss or tie with a Baltimore loss would get them in. Should they tie, they'll need Baltimore and San Diego both to tie as well.
Who do you think wins the No. 6 seed?
Baltimore can actually still make the playoffs if they lose. Aside from the first several scenarios listed on the above table, the Ravens can earn the No. 6 spot on a loss if Miami, San Diego and Pittsburgh all lose as well. Seeing as all three are playing tough divisional games this week, this scenario remains a real possibility.
The most intriguing scenario here is with the Steelers. After starting the season 2-6, the Steelers can clinch the No. 6 seed with a win and losses by the other three teams on the table. Pittsburgh plays the Cleveland Browns this week in a rematch of Nov. 24, when Pittsburgh won 27-11.
Pittsburgh would be a dangerous opponent for the Broncos should it advance. Ben Roethlisberger and Antonio Brown have developed fantastic chemistry this season, and Le'Veon Bell is becoming a rock out of the backfield.
The defense, as usual, has been strong, ranking No. 14 in the NFL in total defense.
Conclusion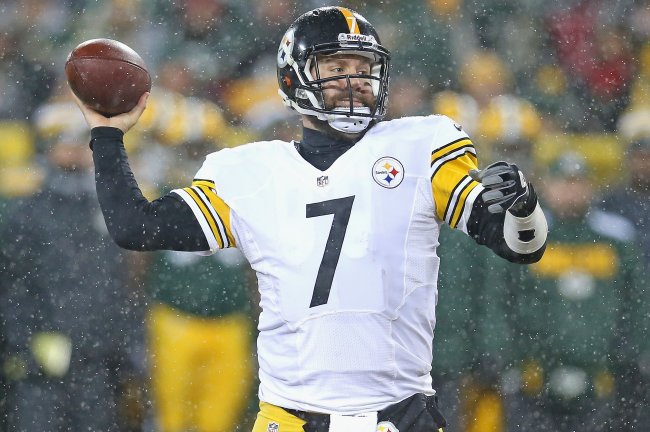 Jonathan Daniel/Getty Images
The AFC is by far the more confusing playoff picture. The NFC's scenarios will easily be decided by mostly head-to-head affairs, while the AFC will rest on the results of four separate matchups from Week 17.
The lack of disparity in the NFL this season speaks to the competitiveness of the league, and if nothing else, that means we're in for a great playoffs.
Be sure to monitor all the action this week and check back if you need a refresher on who's in and who's out.