One week remains in the 2013 NFL regular season, meaning potential playoff teams have one last chance to make a move before it is too late.
Several games in Week 17 feature win-or-go-home situations. The AFC has seeding elements to sort out, as well as one wild-card spot to finalize. Conversely the NFC is a mess but in a good way, with several teams still looking to lock up divisional crowns and the rest vying for the two wild-card spots.
The standings are as follows, with all the confusing postseason scenarios after the graphic.
Note: All playoffs scenarios courtesy of league's official website.
Current Standings

| | | | |
| --- | --- | --- | --- |
| | NFC | | AFC |
| 1 | x Seattle Seahawks (12-3) | 1 | z Denver Broncos (12-3) |
| 2 | x Carolina Panthers (11-4) | 2 | z New England Patriots (11-4) |
| 3 | Philadelphia Eagles (9-6) | 3 | z Cincinnati Bengals (10-5) |
| 4 | Chicago Bears (8-7) | 4 | z Indianapolis Colts (10-5) |
| 5 | x San Francisco 49ers (11-4) | 5 | x Kansas City Chiefs (11-4) |
| 6 | New Orleans Saints (10-5) | 6 | Miami Dolphins (8-7) |
| 7 | Arizona Cardinals (10-5) | 7 | Baltimore Ravens (8-7) |
| 8 | Dallas Cowboys (8-7) | 8 | San Diego Chargers (8-7) |
| 9 | Green Bay Packers (7-7-1) | 9 | Pittsburgh Steelers (7-8) |
| 10 | Detroit Lions (7-8) | 10 | New York Jets (7-8) |
| 11 | St. Louis Rams (7-8) | 11 | Tennessee Titans (6-9) |
| 12 | New York Giants (6-9) | 12 | Buffalo Bills (6-9) |
| 13 | Minnesota Vikings (4-10-1) | 13 | Oakland Raiders (4-11) |
| 14 | Atlanta Falcons (4-11) | 14 | Jacksonville Jaguars (4-11) |
| 15 | Tampa Bay Buccaneers (4-11) | 15 | Cleveland Browns (4-11) |
| 16 | Washington Redskins (3-12) | 16 | Houston Texans (2-13) |
z=clinched division; x=clinched playoff berth
AFC Wild Card and Seeding Scenarios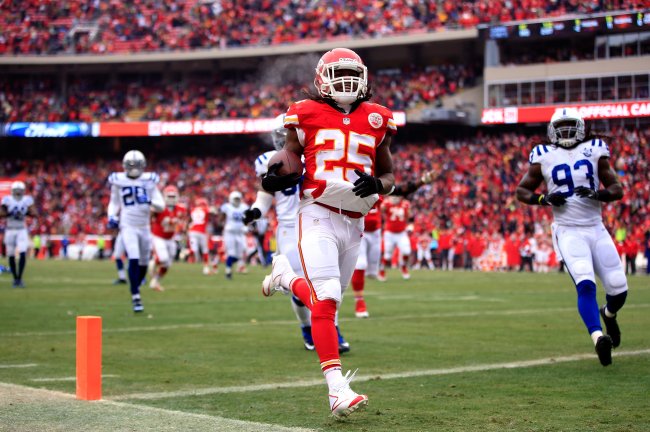 Jamie Squire/Getty Images
Good news! The AFC is simple to digest.
First up: Kansas City. The Chiefs are locked in as the No. 5 seed. Even better, all four division winners have been crowned.
As far as seeds go, the Denver Broncos claim the No. 1 seed with a win over the Oakland Raiders in Week 17 or a New England Patriots loss. The Patriots need a win over the Buffalo Bills paired with a Denver loss to claim the No. 1 seed. They clinch a first-round bye with a win or losses by Cincinnati and Indianapolis.
Cincinnati and Indianapolis are right behind New England and can steal the No. 2 seed, too. The Bengals need a New England loss and a win over Baltimore to steal it. As Jeff Zrebiec of The Baltimore Sun illustrates, the Bengals will not be resting their starters against the defending champions:
Bengals, who haven't lost at home all year, have plenty to play for next Sunday. They can still get the No.2 seed and a first-round bye.

— Jeff Zrebiec (@jeffzrebiecsun) December 23, 2013
Andrew Luck and the Colts need both the Patriots and Bengals to lose while they take care of business against Jacksonville at home. Coach Chuck Pagano believes the team built serious momentum with its Week 16 win in Kansas City, per the team's official site:
To go back-to-back, especially this one, on the road, we all know how tough it is to play at Arrowhead and how loud it is, the elements and all that stuff, not to mention how good of football they have and what a great coach they have in Coach (Andy) Reid. For our guys to be able to go out and win that football game, win it the way that we won that football game can only help us moving forward.
Which team will win the AFC's No. 6 seed?
Now for the No. 6 seed, for which four teams are still in serious contention. Miami currently holds the spot, but cannot retain it with just a win in Week 17. The Dolphins need a win or tie paired with either a win by the San Diego Chargers or a loss by the Baltimore Ravens. That, or losses or ties by both while Miami ties will do the trick.
Baltimore simply needs a win paired with a loss by either the Dolphins or Chargers, or a loss by all, which gives the Ravens good 'ole tiebreakers. For Pittsburgh, the formula is pretty simple as NFL Network's Ian Rapoport details:
To make the playoffs, #Steelers need to win and have #Dolphins, #Ravens & #Chargers all lose. That last happened Week 13, 2012. Not crazy

— Ian Rapoport (@RapSheet) December 23, 2013
San Diego simply needs a win or tie and losses by Baltimore and Miami.
NFC Wild Card and Seeding Scenarios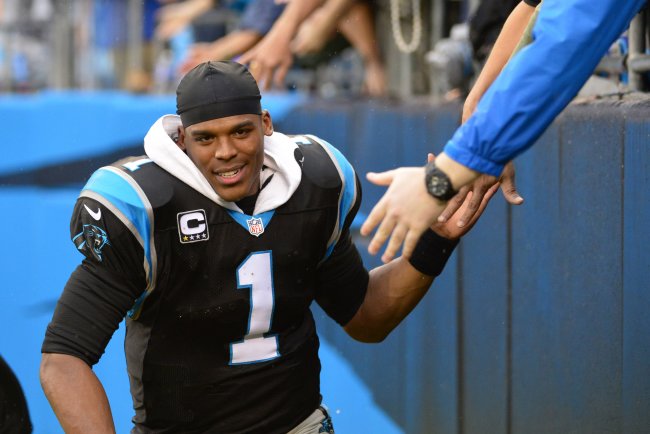 Bob Donnan-USA TODAY Sports
Where to start? The Chicago Bears host the Green Bay Packers in their Week 17 game that will crown the NFC North champion. The Dallas Cowboys and Philadelphia Eagles will determine the NFC East champion on the final edition of Sunday Night Football. The losers of each miss the playoffs.
That's it as far as the simplistic scenarios go.
The Seattle Seahawks can win the NFC West with a victory or San Francisco loss; the inverse is true to give the 49ers the crown. For now, the 49ers hold the No. 5 seed. But to further exemplify how wild the NFC truly is, remember that San Francisco can steal the No. 1 seed with a Week 17 win and a Seattle and Carolina loss.
Perhaps NFL.com's Gregg Rosenthal put it best:
NFL in nutshell: 49ers could still be anywhere from No. 1 seed to out of playoffs.

— gregg rosenthal (@greggrosenthal) December 23, 2013
Joe Person of The Charlotte Observer has a nice breakdown as to how the Carolina Panthers can wrap up the NFC South:
Panthers clinch first playoff berth in 5 years, and can clinch NFC South win a win at ATL or a loss by Saints vs. Tampa Bay.

— Joe Person (@josephperson) December 22, 2013
This leaves the New Orleans Saints in the No. 6 slot. The Saints simply need an Arizona loss or a win over the Tampa Bay Buccaneers in Week 17 to ensure a playoff berth. Of course, the Saints are praying for that outcome plus a Carolina loss to give them the NFC South crown and a first-round bye, as Katherine Terrell of The Times-Picayune details:
Sorry, that tweet came across poorly worded. Dallas is still in the mix. SAINTS would get a bye with win + Panthers loss.

— Katherine Terrell (@Kat_Terrell) December 23, 2013
Then there is Arizona, which needs the Saints to lose for the first time at home all year in Week 17 plus a win over San Francisco to sneak into the picture.
Suffice to say, the final week of the 2013 regular season is going to be wild. Not every team is going to emerge happy, especially if they do not control their own destiny entering the weekend.