MANCHESTER CITY TRAINING COMPLEX - CARRINGTON
Manuel Pellegrini has expressed concern over the Premier League's winter scheduling, describing it as "incredible" and "not a good thing." City are set to play four games in the space of 11 days, and Pellegrini believes it places too much strain on players' bodies.

City travel to Craven Cottage tomorrow for their match with Fulham, before taking on Liverpool on Boxing Day, Crystal Palace on December 28 and Swansea on New Year's Day. Speaking at his weekly press conference at Carrington, Pellegrini said:
Richard Heathcote/Getty Images

We have to play on December 26 and December 28, less than 48 hours, it is incredible that two games are so near to one another.

I think that to play two games in less than 72 hours is not a good thing. The players have not recovered in less than 72 hours normally. Playing after 48 hours is a very bad thing. That's a lot of games and I think that in this case it does not put us in a very bad situation.
Asked whether a winter break, much like the one Sven-Goran Eriksson argued for when he was in charge of the England side, would be of benefit to players, the Chilean added:
I don't know because it is a very important time in the Premier League, with the Christmas period and Boxing Day but all the other countries always stop.

It is better for the players to have a winter break, because they are playing too much and too many games. But the rules are the rules, it has always been the same in the Premier League so we must play.
Pellegrini's concern is well founded. Players need recovery time, and too many games in a short period is thought to cause niggling injuries that can accumulate and cause problems over a season. In a World Cup year, those concerns are exacerbated.
Traditionally, the Christmas period in England has always seen a lot of matches in a short amount of time. Clubs make extra revenue in ticket sales and the likelihood of change is remote, as Eriksson found out when he campaigned for a new approach.
However, if any side in the Premier League can cope with an intense period of matches it's Manchester City—a club with an excellent squad of international players at almost every position.
Even this weekend at Fulham, where City will be without Sergio Aguero, Matija Nastasic, Pablo Zabaleta, Micah Richards and Stevan Jovetic, they will still have more than enough quality players to beat the West London side.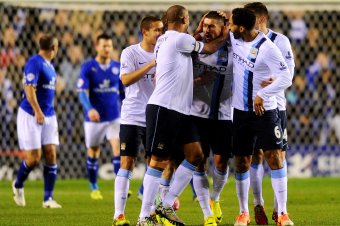 Mike Hewitt/Getty Images
Rotation is key, and Manuel Pellegrini has so far utilised his squad exceptionally well. Qualifying for the next phase of the Champions League allowed him to play a second-string side in the final two matches in Group D, and he has made wholesale changes in the League Cup too.
With such a packed schedule, City now face important games every few days. It's a period which could define their season, and making good use of their squad may well set them apart from their rivals.
Rob Pollard is Bleacher Report's lead Manchester City correspondent and will be following the club from a Manchester base throughout the 2013-14 season. Follow him on Twitter here @TypicalCity.