If you were looking to categorize Kobe Bryant's return on Sunday, the only proper term—at least one we can print at a family publication—is "event."
From the moment Bryant entered Staples Center to the moment the clock struck zero on the 106-94 Toronto victory, everything was rife with Hollywood excess. Fans were subjected to a spectacle appropriate only for the Second Coming—and to some in attendance it felt just that way. There was the video montage. The raucous, Beatles-like reaction when he came out for warm-ups. And, finally, the inferno-featuring introduction.
First, an admission: I have never seen a Star Wars movie. Space, weird creature things that talk in gibberish sentences and science fiction just aren't my bags. But when "The Imperial March" started playing from the speakers, it was hard not to get lost in the moment. We weren't watching a basketball game between two thoroughly mediocre (at best) teams; we were watching an event. One no different from the Grammys, Oscars or MTV Video Music Awards.
Here's the thing about events, though: They tend to be scrutinized and picked apart like your average episode of Mad Men. Every slow step will be noted. Every shot will be Vined, tweeted and thrown on social media. Every turnover will be mocked. Every everything will be everywhere.
It's unfortunate, then, that Bryant's return often felt like it was being hosted by Anne Hathaway and James Franco.
The event before the game was replaced with a sense of quiet awkwardness. Bryant finished with just nine points in 28 minutes, going 2-of-9 from the field. His biggest highlights of the night involved some nifty passes, though those even had diminishing returns, as Bryant had a game-high eight turnovers. Kobe had eight rebounds—I joked on Twitter that his highlight reel would only have rebounds—but the whole thing felt like a major bummer.
Bryant looked at least a step slow. He was unable to get clean shots off even when using his patented series of pump fakes, and then there were a few blow-byes—only they were happening to Bryant on the defensive end rather than him taking it to the rack.
The Lakers were minus-16 with Bryant on the floor, ranking ahead of only Steve Blake, who has been terrible this season among starters. We, at least for one night, lived in a world where the Lakers were better off with Nick Young and Xavier Henry than Kobe Bryant.
Bryant initially gave himself an "F" grade, but backed off a day later and gave himself a "D." But right after the game, he gave what I felt was his most honest quote yet about his recovery, per Sam Amick of USA Today.
"I don't feel normal at all," Bryant admitted. "I couldn't wait to start watching film and start criticizing every little thing (after the game), you know what I mean? I'll go home tonight and I'll watch it all over again, but that's the exciting part...I feel very optimistic, like I know exactly what I need to do. That part is exciting."
There are a few ways to look at that quote. One, if you're the pessimistic type (or just like trolling Lakers fans), is to overreact and say Kobe's inability to feel "normal" is a sign of things to come. Another, if you're looking at everything through purple and gold glasses, is to beam at the rah-rah get to work quotes and have faith that he'll return to his old heights.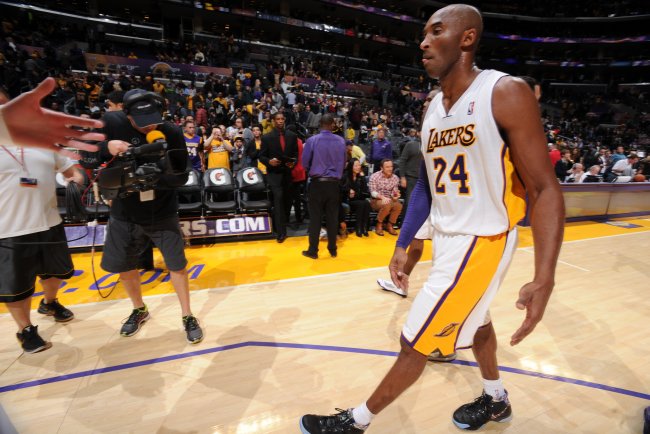 Andrew D. Bernstein/Getty Images
I doubt Kobe will ever reach even the heights he did last season again, where he essentially ignored anything related to defense. I'm pretty sure that Bryant will work himself to figure out how to be effective post-injury.
But I'm positive that we learned absolutely nothing about what's to come on Sunday night. Yes, Bryant looked slow. He looked as if someone tried to create a Kobe clone, only they forgot to put on the finishing touches. He looked like Kobe and acted like Kobe, but this wasn't the same player who came into the league when I was still playing on a Nerf hoop.
And you know what? That's exactly what we should have expected. The overreacting is what makes sports events so cringe-worthy. You see it at the beginning of every regular season, every Christmas and every other one of these mini-events we have on the schedule. Everyone had to have a #hottake on Kobe, because we all need clicks and eyeballs and paychecks.
That's fine, in some respect. Thanks for helping me cash my check with your click. But in our rush to judgement following these huge moments, we craft narratives, cast aspersions and create worry in fanbases that are totally unneeded.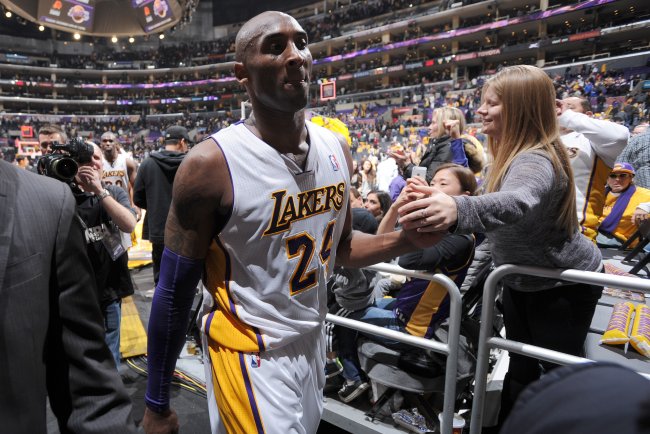 Andrew D. Bernstein/Getty Images
Kobe looked every bit like a 35-year-old dude coming back from perhaps the worst possible injury for a basketball player short of a leg amputation. He looked that way because that's exactly who he is. You can have the silly music from the silly movie, the excessive videos that are just asking for mockery and all the bloviation about shattering the recovery process you want.
None of that matters.
Kobe Bryant is a 35-year-old man. He is coming back from an Achilles rupture. The history of NBA players coming back from that injury is so bad that it led to an appropriately titled Deadspin column, "How An Achilles Tear Affects NBA Players (Or, Why Kobe Is Screwed)." There are success stories—Dominique Wilkins is the most oft-cited comparison for Kobe—but there's no guarantee Bryant will become one. An Achilles tear ended Isiah Thomas' career.
There's also no guarantee Bryant becomes a failure. This was just the first night on what will be a multi-month process.
I'll probably never see Star Wars, but I'm sure Kobe Bryant's return wasn't worthy of the "The Imperial March" hype. He was bad, the Lakers lost and there was a whole lot of staring at the ground at the Staples Center.
But it was one night. So let's not act like it was the beginning of his death march, either.
Follow Tyler Conway on Twitter: