It is amazing, to me, the level of hypocrisy that has been associated with the reaction to Shawn Thornton's mugging of Brooks Orpik in Saturday's tilt between the Pittsburgh Penguins and Boston Bruins. For all of the outcry against Thornton for violating Orpik's right to be a healthy human being, there is a frustrating lack of consideration for Thornton's right as a human being to be overcome by emotion.
An important disclaimer, which you should read and take to heart before continuing: This isn't going to be a defense of what, specifically, Thornton did, because there is no defense for injuring the defenseless. Yes, what Thornton did was assault off the ice, and perhaps only borderline assault on it because the veil of sport-induced adrenaline can alter human behavior.
But the word "human," as used right there, serves as the key defense of Thornton's decision to react. (To emphasize, there is a difference between deciding to react in a general sense and deciding to react in the way that Thornton did; this is a defense of the former, not the latter.)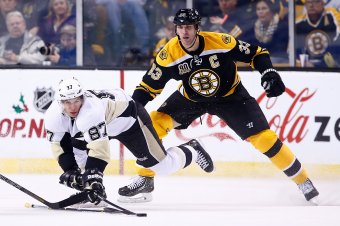 Jared Wickerham/Getty Images
Pittsburgh and Boston are both hated franchises in the National Hockey League for some reason or another. In Boston's case, the hate stems from a perception of thuggery that comes with the employment of players like Zdeno Chara, the tallest skater in NHL history; Milan Lucic, the lumbering left wing who has been known to drop the gloves from time to time; and Thornton, the team's designated enforcer, but a player who, it should be noted, had no history of supplemental discipline before this week.
Pittsburgh, meanwhile, draws hate for a host of other reasons. It will always be difficult for the Penguins to fight the perception, as is the case in the NBA with players like LeBron James, that the referees are attempting to defend Sidney Crosby, widely considered the face of the NHL.
But Pittsburgh's other major knock against it is a history of injurious play, and one that has affected the Bruins since many of both teams' players were still in diapers. I refer to the 1991 Wales Conference Final, where Ulf Samuelsson delivered a vicious knee-on-knee hit to Cam Neely that started the eventual ruin of the star forward's knee.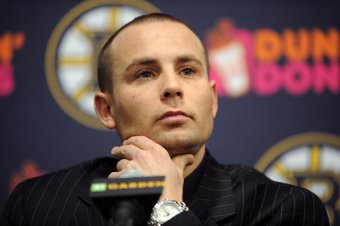 Brian Babineau/Getty Images
Also involved in that history is Matt Cooke's elbow to the head of Marc Savard in March 2010; Savard was clearly never the same player after that, and is now out of the league. On Saturday, the Penguins added two more entries to the ledger, with Orpik's high hit on Loui Eriksson on the first shift of the game and James Neal's knee to the head of a prone Brad Marchand. (A third, a nasty slash by Pascal Dupuis that broke the ankle of Chris Kelly, came after the Thornton-Orpik fracas.)
Thornton went after Orpik to fight and defend his actions at the 5:44 mark of the first period. Orpik, whose latest of 10 career regular season fights came in 2008-09, refused, leading Thornton to draw a two-minute minor for roughing and set up the Penguins with a power play. Shortly thereafter, Pittsburgh's Deryk Engelland and Lucic squared off, but that also came before Neal's knee to Marchand's head.
With the context of the rivalry now firmly established, let's re-examine Thornton's berserker move.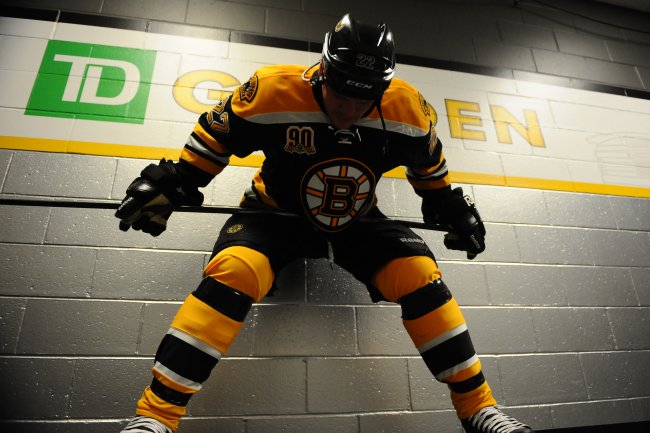 Steve Babineau/Getty Images
Of particular importance in this re-examination is that word, "human," that I used earlier. Remember, hockey players are not robots or mercenaries, they are human beings. They can suffer very real, and human, emotions on the ice, and make very human mistakes. These mistakes can come as a result of seeing their teammates—people they spend every day with for months on end—injured at the hands of their opponents, whether the play is considered "dirty" or not by the pundits who have never set foot on the ice.
I have never been a professional athlete myself, and I have never been put in this position. But I have worked in a job that requires me to travel the globe quite frequently with a band of brothers and sisters who did become my road family. When your colleagues become the people that you see more than your blood relatives, they become your family in an adoptive, yet very real, sense.
They become people that mean a lot to you, and people that, if put in danger, you feel the need to protect.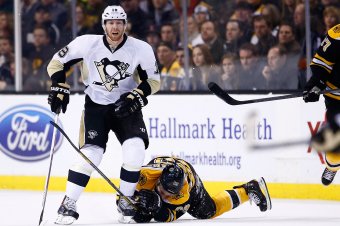 Jared Wickerham/Getty Images
Shawn Thornton had just seen two members of his road family go down to perceived cheap shots. (Perhaps the height of Orpik's hit is arguable, but the intent of Neal's, plus his damning post-game comments, are not.) Combine that with the memory of Savard's injury at the hands of Cooke, and the inability of referees Brad Meier and Gord Dwyer to harness the emotions of both teams, and something finally snapped in the 36-year-old forward's mind in a way that it never had before.
Once again, that is not a defense of Thornton's actions—merely an explanation as to why he felt the need to take action. The two concepts are very different and should not be confused.
There are two schools of thought in the resulting debate about fighting and other violence in the sport, belonging to idealists on one side and realists on the other. No, there is no place for a beatdown of Thornton's nature in the National Hockey League—that much idealists and realists can agree upon. But whether in war or in a mere game, physicality and adrenaline can be prone to human emotion and vice versa, and regardless of the nature of the rivalry, from life or death to a pickup game, that cannot be trivialized.
Idealists can call for harsher penalties against muggings, which would be completely justified. They can also call for the eradication of fighting from the game, but what would that solve?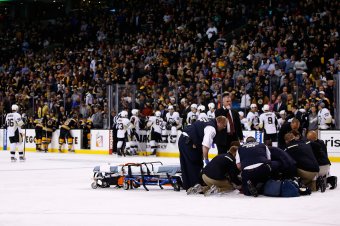 Jared Wickerham/Getty Images
How many roughing penalties can we hand out before more players would snap and replicate the kind of goonery that Thornton committed, knowing that the valve of fighting was no longer available to let off steam for both sides?
In fact, does any of this even happen if Orpik answers the bell against Thornton, who has been a skating partner of his in more than one offseason?
How can anybody argue for the eradication of fighting when the lack of structured violence (and it's even a stretch to call the clutch-and-grab tactics of most hockey fights "violence") is precisely what begot the presence of actual violence?
No, the realists have it right. Hockey is an emotional game, and sometimes its players will let those emotions overcome them. Regulating said emotions would be like trying to keep the lid on an overfilled popcorn popper—at some point, it's going to fail spectacularly. Instead of preparing for a small mess, we'll have a big one on our hands.
So let Thornton take his suspension, for however many games he receives. Don't argue against it, because it's impossible to do so. But don't dismiss the emotional context of why he acted in the first place, and don't attempt to regulate the emotions present in the game. After all, it was the lack of an emotional pop-off valve that put us in this position in the first place.
Chris Leone has written for Bleacher Report since 2008 in multiple capacities. Follow him on Twitter @christopherlion.