Liverpool Transfer Rumours: Valmir Berisha Would Bring Star Quality to Anfield
Use your ← → (arrow) keys to browse more stories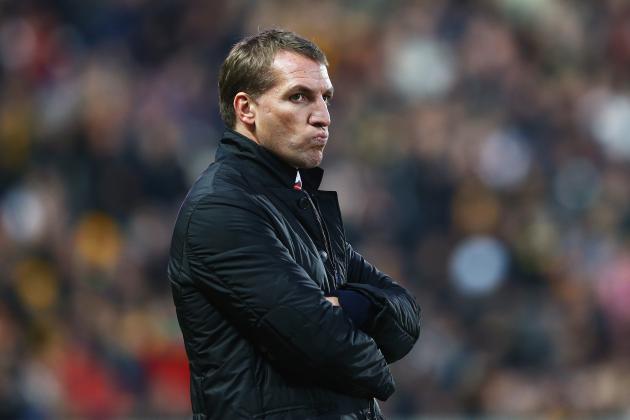 Matthew Lewis/Getty Images
Brendan Rodgers is looking to the future by acquiring Valmir Berisha.
Valmir Berisha has been dubbed "the next Ibrahimovic," and the skills he displayed at the recent Under-17 World Cup would make him a star at Anfield under Brendan Rodgers.
According to David Maddock at the Mirror, Liverpool have offered him a fast progression through the ranks that could see him make a first-team debut very soon. Maddock opines that this offer is what will seal the deal for the 17-year-old Swedish striker.
Speaking to Maddock, Berisha spoke of his plans for the future:
The most important is the football education; I believe England would be the best option. I have rejected clubs like Arsenal and Manchester United, who have invited me for trials.

There is Real Madrid now, the club of my dreams - I am keen to go there, but I think I will turn it down, unfortunately.
Transfer news: check out five amazing goals from a Liverpool and Spurs transfer target http://t.co/SYeGvvTA0U #lfc #thfc

— talkSPORT (@talkSPORT) December 4, 2013
Rodgers has been committed to bringing in young players and building a solid foundation for the future. Berisha would fit this mould perfectly and easily slot in to the tight passing style that has been a feature of Rodgers' teams.
If Rodgers were to secure the services of the young Swede, he will get a player who has an incredibly bright future. Berisha notched up a hat-trick in Sweden's World Cup third-place playoff triumph over Argentina and ended the tournament as the top scorer.
Watching him play, it's easy to see where the Ibrahimovic comparisons originated. Berisha's close control is excellent, and he's strong in the air with a clinical finish on the ground. Like his countryman, he is also deadly with his back to goal and possesses the ability to make the extraordinary seem routine.
Liverpool and Spurs target Valmir Berisha's agent confirms strong Premier League interest (via @Daily_Star) http://t.co/Ec1XVMb0BY

— Rickard Bergquist (@sportblogg) November 13, 2013
Berisha's current club, Halmstads, is seemingly resigned to seeing him go, and the teenager is believed to have turned down offers from Arsenal and Manchester United because they couldn't offer him regular first-team football.
His ideal position would seem to be on the left side of a two-man attack, and the prospect of Berisha, Daniel Sturridge and Luis Suarez on the same team is an exciting one for the Kop.
Although a transfer fee is yet to be disclosed, a recent scouting report by Sky Sports assessed his current value at £2 million. That same report assessed his potential future worth at £70 million.
We're looking way ahead here, but if Berisha goes to Liverpool and reaches his potential, that move to Real Madrid will always hover over the horizon. A £2 million outlay for such a large return would represent an incredible investment for a Liverpool side that already looks clinical in attack.