The Los Angeles Lakers will have a chance to participate in the 2014 playoffs provided that they follow a very specific blueprint.
The Purple and Gold were projected in ESPN.com's "Fall Forecast" to finish 12th in the Western Conference standings, but they have a chance to make the postseason as long as everything breaks just right for them.
A healthy Kobe Bryant
It goes without saying, the Los Angeles Lakers' season will heavily hinge on the status of Kobe Bryant. He is the team's best player and its best offensive weapon. Consequently, the Lakers need a healthy Bryant playing at a level close to the one he enjoyed in 2012-13.
The main reason why the two-time Finals MVP's status is crucial for the Purple and Gold is simple: the Lakers offense is bad. They are in the league's bottom third in offensive efficiency, a rank that is by far their lowest of the past decade.
Since the 2002-03 campaign, Los Angeles has finished with a top-10 offense in every single season save for 2009-10, where they finished 11th.
Their futility through approximately the first quarter of the season can be traced to the fact that Mike D'Antoni has a team of jump-shooters incapable of creating their own scoring opportunities.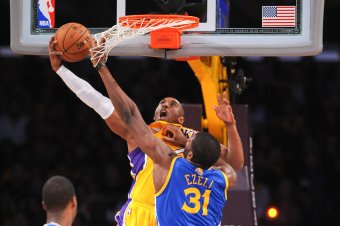 Noah Graham/Getty Images
Furthermore, the Lakers have gone away from post-ups because they have not been great on this front in 2013-14. Per Synergy Sports (subscription required), they are only converting 34.5 percent of their field-goal attempts that originate from these situations.
Given the lack of success here, they are only using post-ups in 9.2 percent of their possessions that end up in a foul, turnover or shot attempt. For the sake of context, the Lakers have gone to the post on roughly 15 percent of their possessions in previous seasons.
With a healthy Bryant on board, the offense will take a different turn. He is one of the most potent scoring weapons the league has ever seen and, also, Bryant has a knack for creating high-quality looks.
Rob Mahoney of the Point Forward offered this take on the matter:
Scoring this inefficiently is somewhat understandable, given Bryant's absence, Nash's injury and the prevalence of cast-off players in the rotation, but having Kobe around changes that dynamic considerably. He'll free up his teammates for open looks simply by being on the floor, should still be able to pump-fake his way to the free-throw line (he averaged eight attempts last season, particularly relevant as the current Lakers are one of the league's worst foul-drawing teams) and is a better funnel for possessions than the likes of Nick Young or Xavier Henry.
Synergy Sports tells us that the Lakers' all-time leading scorer was one of the most devastating low-post players prior to his Achilles tear last season. Indeed, he converted a ridiculous 55.3 percent of his shots in these situations and, consequently, defenses were forced into sending some help his way.
This is one of the many ways Bryant will help an offense that simply cannot consistently manufacture great shots. In addition, his ball-handling is a huge asset for this team because he can break down opponents off the dribble and create plays from the perimeter.
Small sample size, but in the 10 minutes of the 5-on-5 scrimmage we've been privy to, Kobe has yet to take a shot #facilitatormode

— Dave McMenamin (@mcten) December 3, 2013
In essence, he will operate as the de facto point guard without necessarily being forced to defend them as D'Antoni shared with Eric Pincus of the Los Angeles Times:
He doesn't have to guard them ... [Henry] can guard them, Wes can guard them ... we can match up on the defensive end. [Bryant is] a point guard anyway, in the sense of he's going to have the ball in his hands -- whether you call him a point guard or not, he's doing that anyway.
The absences of Bryant and Steve Nash have robbed the Lakers of this dynamic and, as a result, the team has struggled offensively. With Bryant back into the fold and playing at a high level, Los Angeles will do a better job scoring the ball.
Throughout the 2-guard's career, his teams have produced 112 points per 100 possessions according to Basketball Reference. If the Lakers as a whole come anywhere close to that figure, they will morph into one of the best scoring units in the league.
Average defense
The Los Angeles Lakers have been a very average team defensively this season, and that's a great thing. It would be quite difficult to make the postseason if they were somewhere near the bottom of the league in this facet, given that the offense has been subpar in 2013-14.
One must assume Bryant's return will also have an impact on the defense.
The Lakers are as close as its gets to vanilla in terms of protecting their basket. They do not have a dominant interior anchor, nor do they have great perimeter defenders.
Instead, they get by on this end by essentially conceding the rim area and nothing else. The Purple and Gold defend the paint at a bottom-five rate per NBA.com. Whether it's via post-ups or drives, teams have consistently scored on the interior against the Lakers through the early portion of the 2013-14 campaign.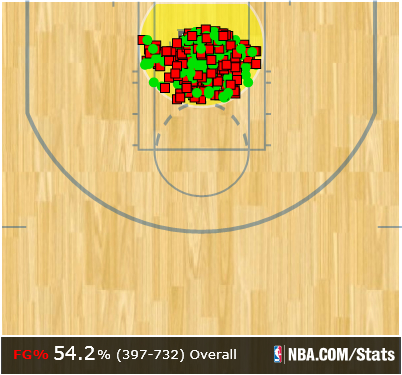 NBA.com/Stats
Per Team Rankings, they are among the Association's worst teams when yielding points in the paint. The lack of stoppers at every respective position explains why it is that teams have an easy time waltzing to the basket for scores against the Lakers.
Mike D'Antoni's group mitigates this weakness by making every other shot a bit more difficult. Los Angeles players close out on mid-range jumpers as well as three-point attempts.
They are not great by any stretch of the imagination in these settings, but they do a good-enough job that their defense does not completely fall apart. This trend must continue for the remainder of the season in conjunction with a prospective improved offense for the Lakers to make the playoffs.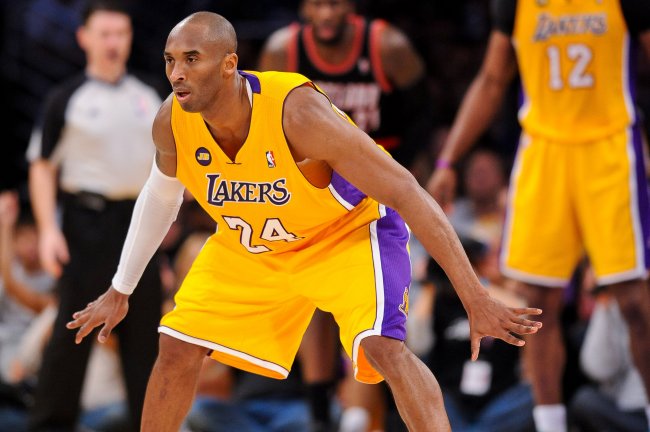 Noah Graham/Getty Images
That may prove easier said than done, though. Bryant was only occasionally invested on the defensive end in 2012-13 and, thus, the Lakers felt the repercussions. Grantland's Zach Lowe witnessed his shortcomings and offered this assessment in March 2013:
Bryant, as the whole Internet (including this corner of it) has noted repeatedly, has been an irresponsible off-ball defender all season. He gambles out of scheme whenever he feels like it, often turning his back completely to his man, and several of Washington's 11 3s during the Lakers' home loss to the Wiz on Friday were the direct result of Bryant deciding he didn't want to play team defense any longer.
Bryant's lack of effort and inattention to detail were tolerated last season, but the four-time All-Star Game MVP will have to step it up considerably. Given his age and unclear physical status, it would be ludicrous to expect elite defense from the superstar, mind you.
Instead, the Lakers simply need their leader to play with discipline. He will probably get beat off the dribble, but there is no excuse for him to avoid contesting shots out on the perimeter.
He cannot take possessions off where he rests and allows his man to cut to the hoop unimpeded. Bryant's teammates are already entrenched in the team's defensive principles and hence, it's important that the status quo remains.
As long as Bryant does not sabotage the defense with lazy efforts, the Lakers will defend well enough for the team to have a shot at a playoff berth once mid-April rolls around.