The New York Yankees are spending like it's 2009 all over again. Too bad they need the outcome to be the same for the payout to pay off.
Five offseasons ago, fresh off a playoff-less 2008, the Yankees went on a massive spree, signing stars CC Sabathia, Mark Teixeira and A.J. Burnett for a total of $423.5 million.
The ensuing season, a restocked, motivated Yankees squad went on to win title No. 27.
At the outset of this year's free-agent period—with the Yankees once again coming off a season sans the "post-"—the first two major contracts handed out came from New York's vault, with $85 million going to catcher Brian McCann at the end of November and now $153 million being stuffed into center fielder Jacoby Ellsbury's pockets, as Jeff Passan of Yahoo! Sports reports.
And it seems the Yankees are far from done, meaning they could still ink a third big-name, big-money star to complete the parallels to 2009's masterstroke maneuvers.
Here's Passan's scoop on that:
Sources told Yahoo! Sports the Yankees will continue to pursue the other pricey outfield client of agent Scott Boras, Shin-Soo Choo, along with the top free agent on the market, second baseman Robinson Cano. The Yankees believe they can sign one or the other, sources said, still have room to pursue a starting pitcher and stay within the $189 million luxury-tax threshold.
Passan's colleague at Yahoo!, Tim Brown, added this:
Also, according source, even with McCann and possible Ellsbury, Cano still in play for Yanks.

— Tim Brown (@TBrownYahoo) December 4, 2013
The hope, obviously, is that championship No. 28 will follow next October. Alas, it's likely to remain just that—hope.
That's because, in reality, the Yankees are, ironically, setting themselves up for failure, not success. It's not that spending tens and hundreds of millions on player acquisitions can't work—in fact, they proved that it can only five years ago. It's just that it's not a guarantee of anything, let alone a World Series. And in this case, another ring is the only outcome that makes it all worth it on the field.
For evidence, just spin back to October, when five of the 10 playoff teams were in the bottom half of the league in payroll and only three of the top 10 made it.
But, wait, you're screaming, the Red Sox just won it all after bringing aboard a bunch of free agents last winter and ranking as the fourth-highest-salaried squad in the sport.
They sure did. But at the same time, only one single, solitary Boston player entered last season making more than $15 million. (For the record, it was barely north of $15 million at $15.25 million, and of all players, you might have guessed, it was...John Lackey.)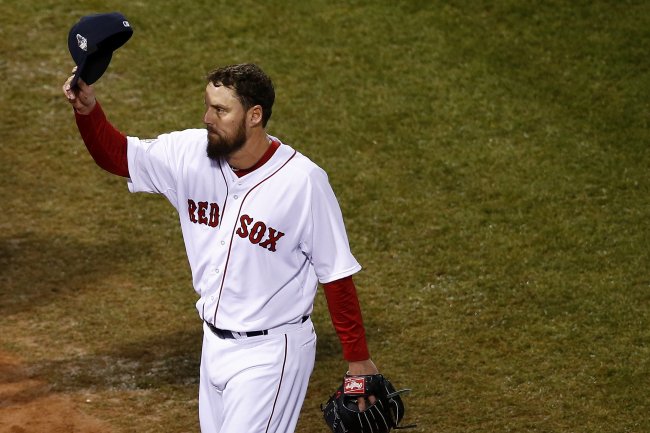 Jared Wickerham/Getty Images
The 2014 Yankees? With McCann and Ellsbury now in tow, they'll have to pay at least that much to four players—and that's not counting Alex Rodriguez, whose base salary of $25 million may or may not be reduced, depending on the result of the appeal of his 211-game suspension.
And remember, that's also not counting the fact that the Yankees still could add yet another very large contract to the payroll pot. As mentioned above, indications are that the club is not finished, but that's in part because they can't be.
Not when there's still a need for another starting pitcher or three, a second baseman, a couple of bullpen arms and another option for the left side of the infield.
As for McCann and Ellsbury themselves, well, the former is a soon-to-be 30-year-old catcher with a shoulder surgery in his recent past and the latter is a same-aged, injury-prone speed guy, the kind that tends to decline once the legs start to lose some burst in the early 30s.
For those who see the other side of the spectrum and think the McCann and Ellsbury signings look good now as a spark during the upcoming winter months and in the longer term that consists of three, maybe four, seasons, there are two very real problems with the Yankees' approach.
First, there's nothing preventing this year's McCann, Ellsbury and whichever other massively contracted player they've yet to obtain from, sooner than later, turning into what Sabathia, Teixeira and the since-outcast Burnett became as their Yankees years dragged on—aging, broken-down, injury-riddled, overpaid problems.
(By the way, this isn't even taking into account the now less likely possibility of the Yankees remaining under the $189 million luxury-tax threshold in order to reset their ever-increasing penalty for surpassing it.)
The second, even bigger, harder-to-solve problem, and the very reason the team has to spend this much in the first place? An ongoing failure in recent years when it comes to drafting amateur talent and molding those young players into major league-ready talent to supplement the 25-man roster on the cheap.
By the way (again), the acquisitions of McCann and Ellsbury, both of whom had draft-pick compensation tied to them, mean the Yankees will forfeit a first- and second-round pick in next June's draft. Yes, they could gain up to three picks if the players who rejected their qualifying offers—Robinson Cano, Curtis Granderson and Hiroki Kuroda—sign elsewhere, but losing the highest selection (No. 18) they would have had since 2005 is a tough pill to get down.
Will this Yankees' spending spree turn out as well as the last one?
Could this all work out just swell for the Yankees? Sure, it's possible. And hey, they certainly have a better chance at making the playoffs now than they did a few weeks ago. Would another World Series be so shocking? No, not really.
But there should be a real concern within the organization that this is just another spin on the merry-go-round, the vicious cycle of coughing up cash for a quick fix that ultimately hurts more than it helps in the end, rather than a change in approach that gets to the root of the problem.
It seems impossible that the Yankees wouldn't have learned from the monstrosity that is the Rodriguez contract—not to mention, those handed out to Albert Pujols, Prince Fielder, Adrian Gonzalez, Carl Crawford and Josh Hamilton.
The only other explanation, then, for going this route is the it-worked-once-before-so-why-not-again mentality.
Only this time, what if it doesn't?