LA Lakers Making the Strongest Case for More Minutes
Use your ← → (arrow) keys to browse more stories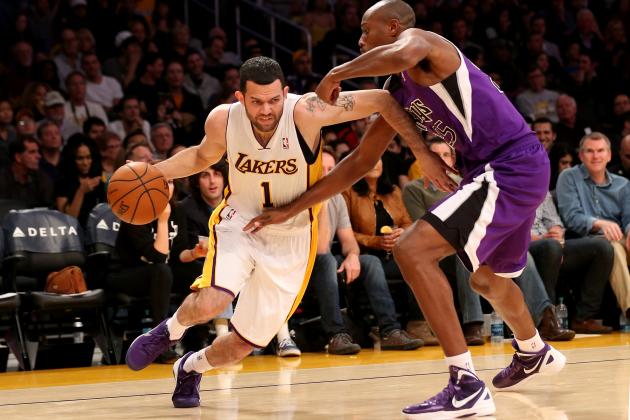 Stephen Dunn/Getty Images
Jordan Farmar's recent play makes him worthy of more playing time.
One of the pleasantries of watching the Los Angeles Lakers play this season is seeing so many different guys step up at one time or another.
It's like getting to witness a new underdog story every night.
The players comprising the Lakers' roster have come from all corners of the basketball world. Each journeyman carries a unique backstory and they have banded together to form a gritty, scrappy bunch.
No Laker has led the team in scoring outright in consecutive games so far this season. It's been a total team effort, as guys who have spent their entire careers on the fringes of NBA rotations look to stake their claim to an expanded role.
Here are the three guys making the strongest case for a bump in playing time.
Before leaving Sunday night's contest early with a hamstring strain, Jordan Farmar was really heating up.
Over his previous five games, Farmar was averaging 14.6 points and five assists per contest on a sizzling 58.3 percent from the field and 54.2 percent from three-point range.
The UCLA product has been a catalyst for the Lakers, quickly blossoming into the team's best offensive creator.
He can work the pick-and-roll to create for himself and others, and has the ability to knock down open looks from the outside.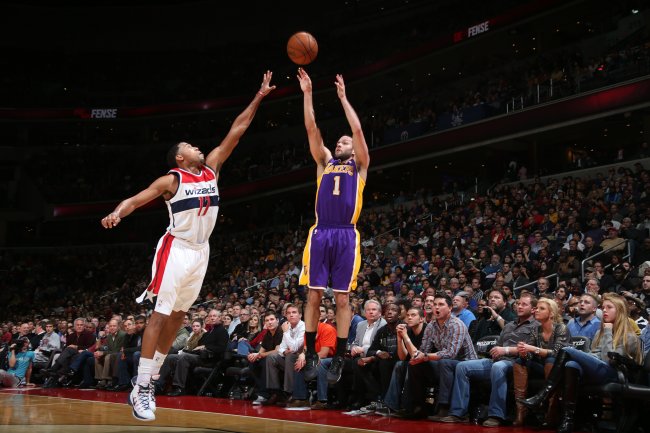 Ned Dishman/Getty Images
Farmar has expressed his desire for more minutes, explaining that his game benefits from the flows and rhythms of sustained play.
"I think the more opportunity I get to play and the more I'm on the floor, the guys respond to me differently and let me lead them," Farmar told ESPN LA's Dave McMenamin after a brilliant performance in Brooklyn against his former team.
"I'm a rhythm kind of guy," Farmar said. "Once I get a feel for the game, it's much easier for me to make shots at a consistent level."
McMenamin noted how vastly different Farmar's production was based on a threshold of 20 minutes of action.
In the nine games Farmar has reached the 20-minute plateau, he has averaged better than 13 points per contest while shooting nearly 49 percent from the floor.
When he fails to play 20 minutes, he has averaged less than six points a night on 37 percent shooting (not counting Sunday's tilt, which he exited after notching just one minute).
Farmar is L.A.'s most dynamic point guard in years. If his body allows him to get back on the court quickly, he deserves more minutes—especially if the Steve Nash of old never makes another appearance.
Nick Young
Nick Young struggled in the starting lineup to begin the year, but since moving back to the bench full time, he's been terrific.
Young has averaged 16.4 points per game over his past 10 contests while connecting on almost 42 percent of his triples over that span.
During that 10-game stretch, the Lakers have outscored their opponents by 42 points with Young on the court.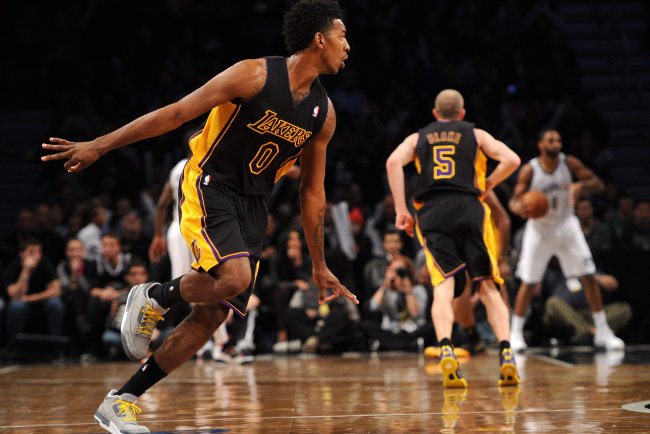 Maddie Meyer/Getty Images
The Southern California native has always had the ability to get buckets, but his efficiency has been at an all-time high lately.
His free-throw rate is the best of his career by a wide margin and he's turning the ball over at a lower rate than ever before.
Los Angeles' offense can be punchless and stagnant for long stretches. Young can turn that around in a heartbeat. He's making a push for more run with his new-found consistency.
Wesley Johnson
Wesley Johnson had a rough go of it coming out of the gate.
Through his first 11 games, the newly acquired wing averaged just 7.4 points a night on an abysmal 34 percent from the field.
Over the past two weeks, though, Johnson has played with more confidence on both ends, and it's really shown in his production.
In L.A.'s last seven tilts, Johnson is averaging double figures in scoring while shooting an unreal 62 percent from the field and knocking down exactly one-half of his treys.
Johnson has brought a level of athleticism to the team that the Lakers aren't accustomed to having. He's been on the receiving end of some highlight reel lobs and made some stunning defensive plays.
His length, athleticism and all-around game conjures up images of Trevor Ariza circa 2009.
The former No. 4 overall pick is even contributing some rim protection as a small-ball 4, averaging 1.6 blocks per game during this hot streak and leading the team in swats on the season.
If he keeps this up, Johnson will be permanently entrenched in the starting lineup and could see 30-plus minutes more routinely.