Second-half goals from Radamel Falcao and Victor Ibarbo saw Colombia to a 2-0 win against Belgium on Thursday and maintained the side's unbeaten record in friendly matches under manager Jose Pekerman.
FULL-TIME: Belgium 0-2 Colombia. Falcao and Ibarbo score as the South Americans win the battle of the fancied World Cup underdogs.

— Eurosport.com EN (@EurosportCom_EN) November 14, 2013
Both Pekerman and his Belgian counterpart Marc Wilmots deployed strong starting lineups at King Baudouin Stadium, with the likes of Marouane Fellaini, Eden Hazard and Christian Benteke lining up for Belgium with Colombian stars such as James Rodriguez, Luis Muriel and Falcao opposite them.
It was Benteke, the Aston Villa striker, who had the first chance to open the scoring after just six minutes when Thomas Meunier picked him out with a cross, only to head the ball well over the crossbar from a good position.
Belgium were the first of the two sides to settle into the encounter, but nevertheless they failed to test 42-year-old goalkeeper Faryd Mondragon with a single shot on target in the opening period, although defenders Thomas Vermaelen and Toby Alderweireld did exceptionally well to keep the likes of Muriel and Falcao at bay.
HT Belgium 0-0 Colombia. Home side on top at the break with Villa man Benteke wasting their best chances. Colombia yet to find their rhythm.

— Carl Worswick (@cworswick) November 14, 2013
Colombia were a different side following the restart, however, and took the lead in the 51st minute through Falcao.
Having had Vermaelen draped over him much of the first half, on this occasion the Monaco striker timed his run perfectly to avoid the offside trap, ran onto James Rodriguez's superb through ball and rounded goalkeeper Simon Mignolet before stroking the ball into the gaping net.
Falcao's opener for Colombia.
Belgium, desperate for a reply, started to make their substitutions—Kevin Mirallas and Romelu Lukaku replacing Steven Defour and Kevin De Bruyne in the 58th minute.
But it was Colombia who continued to bring the game to their hosts, and shortly after the hour mark they were up 2-0 thanks to Ibara—a substitute of their own.
Luis Perea did well to head the ball back into play from a set-piece situation in the attacking third, and after controlling it with his right foot Ibara slipped the ball to his left and then slammed a convincing effort past Mignolet from nine yards.
But Belgium had more than a little left in the tank, and with 14 minutes remaining Fellaini—finding himself on the end of Vermaelen's long, arching ball—smashed his shot against the upright with Mondragon well beaten.
Dries Mertens then hit the same post in the 83rd minute in what would prove to be the Red Devils' final opportunity of the night.
Key Player Grades
Radamel Falcao: A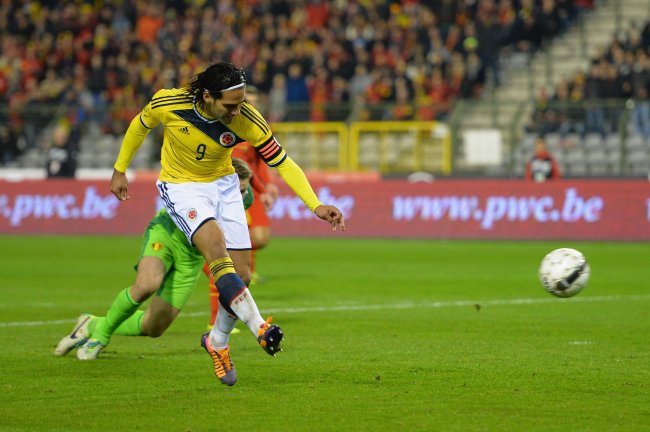 Christopher Lee/Getty Images
He was quiet for the whole of the first half and then found the back of the net with one of the few chances he got in the second. It was his 20th goal for Colombia, and going into the World Cup Pekerman will no doubt be pleased to have one of world football's form strikers available to him.
James Rodriguez: A+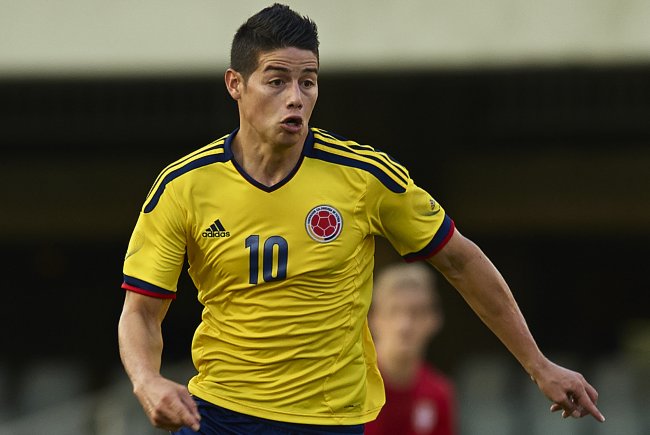 Manuel Queimadelos Alonso/Getty Images
The Monaco man's exceptional pass to spring Falcao just after the restart proved to be the play of the game, but over the 90 minutes he pulled all the strings for Colombia, whether from a central position or from a role slightly to the left of the buildup.
Marouane Fellaini: A-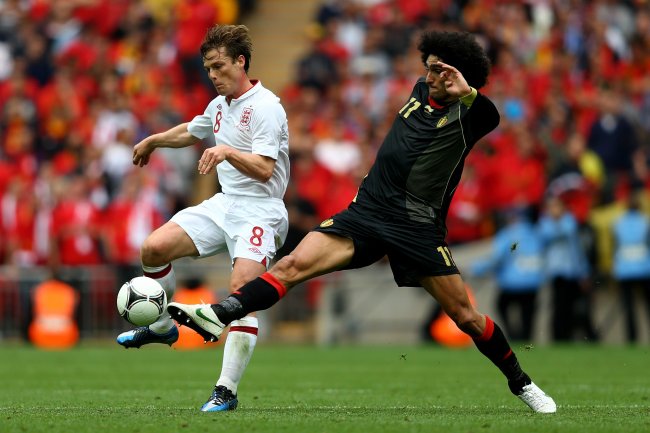 Clive Mason/Getty Images
He formed one-third of what was, for 51 minutes, a dominant midfield trio alongside Steven Defour and Axel Witsel. More than once he muscled his opponent off the ball, and had he found the back of the net in the 76th minute when the post got in his way, the final result of this contest could have had a much different look.
Belgium Player Grades

| | |
| --- | --- |
| Player | Grade |
| Mignolet | C |
| Meunier | A- |
| Alderweireld | B+ |
| Vermaelen | A- |
| Vertonghen | B- |
| Witsel | A- |
| Fellaini | A- |
| Defour | A- |
| De Bruyne | B+ |
| Benteke | C- |
| Hazard | B+ |
| Substitutions | |
| Lukaku | C |
| Mirallas | C+ |
| Mertens | B+ |
| Dembele | B- |
BR UK
Colombia Player Grades

| | |
| --- | --- |
| Player | Grade |
| Mondragon | A- |
| Arias | A |
| Perea | A |
| Zapata | A |
| Armero | A |
| Cuadrado | B+ |
| Sanchez | B |
| Ramirez | B+ |
| Rodriguez | A+ |
| Muriel | C+ |
| Falcao | A |
| Subsitutions | |
| Torres | B |
| Mejia | B |
| Guarin | B |
| Aguilar | B |
| Martinez | B |
| Ibarbo | A |
BR UK
What's Next?
Next up for Belgium is Tuesday's friendly against Japan, and they also have a match scheduled for March 5 against Ivory Coast. Colombia, meanwhile, will face the Netherlands on November 19.