Michigan Wolverines vs. Nebraska Cornhuskers: Complete Game Preview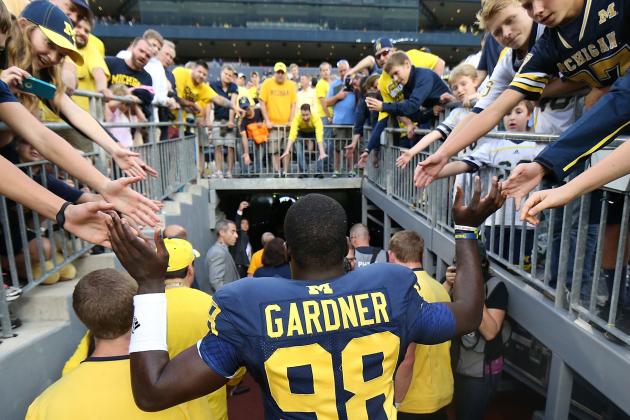 Leon Halip/Getty Images
Devin Gardner returns home to Michigan Stadium after taking a beating against Michigan State.
The Michigan Wolverines (6-2, 2-2 Big Ten Conference) host the Nebraska Cornhuskers (6-2, 3-1 Big Ten Conference) at Michigan Stadium.
Michigan is coming off a 29-6 loss to instate rival Michigan State, while Nebraska prevailed against Northwestern on a 49-yard pass touchdown pass as time expired.

Date: Saturday, November 9, 2013
Time: 3:30 PM ET
Place: Michigan Stadium (109,901), Ann Arbor, Mich.
Series vs. Nebraska: U-M leads 4-3-1
Television: ABC
Radio: Michigan IMG Sports Network
Spread: Michigan by 6.5, via TheSpread.com
Live Stats: MGoBlue.com
Last Meeting vs. Nebraska: Nebraska 23, Michigan 9 (Oct. 27, 2012)

U-M was unable to find the end zone, falling to Nebraska, 23-9, on Saturday, Oct. 27, 2012, at Memorial Stadium. Senior quarterback Denard Robinson compiled 46 yards rushing and 55 yards passing before leaving due to injury late in the opening half. Quarterback Russell Bellomy added 38 yards through the air in relief, while running back Fitzgerald Toussaint rushed for 38 yards.


* Information according to University of Michigan Wolverine game notes
Begin Slideshow

»
Highlights from last year's meeting between Michigan and Nebraska. Quarterback Denard Robinson was injured during the game while the Wolverines continued their pattern of struggling away from Michigan Stadium.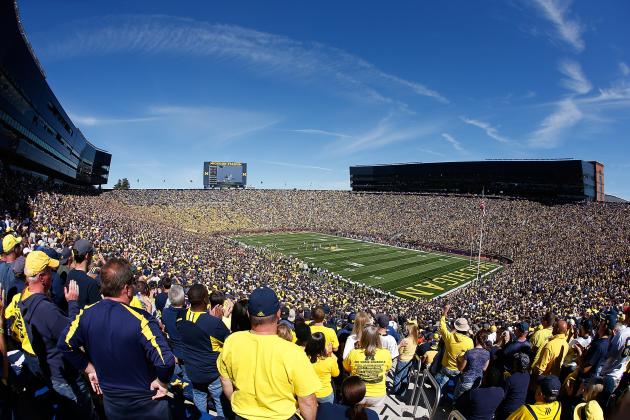 Gregory Shamus/Getty Images

Michigan returns home to Ann Arbor to face Nebraska, desperately needing its offense back on track. After this game, Michigan has road games versus Northwestern and Iowa before returning to Ann Arbor to face Ohio State.
While Michigan's decisive loss to Michigan State has made a run for the Big Ten title unlikely, a strong finish will quiet the growing discontent in Ann Arbor.
Home, sweet home
Michigan is undefeated under Brady Hoke at Michigan Stadium. The Wolverines not only play better at home, but they have more than their share of good luck there. A return to the Big House is exactly what they need after last week's disappointing loss to the Spartans.
Control the line of scrimmage
The Michigan offensive line has struggled all season. Last week, quarterback Devin Gardner paid a steep price, getting sacked seven times and taking a physical beating. Somehow Michigan needs to protect Gardner better in this game.
Help wanted running the ball
Somebody needs to run the ball better from the Michigan backfield. It's time for other running backs to get an opportunity.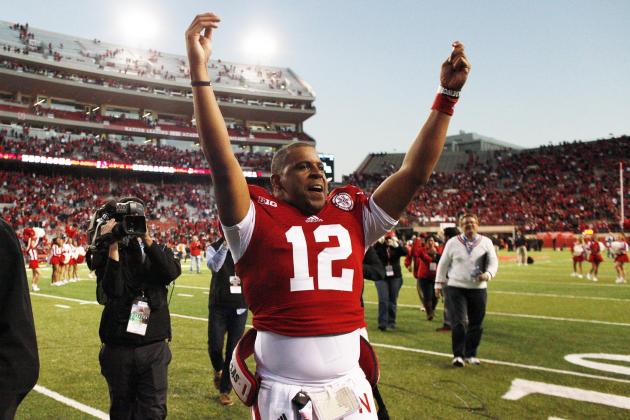 Bruce Thorson-USA TODAY Sports

Michigan's flaws are well-documented by this point in the season. The Wolverines have vulnerabilities on offense and defense—can Nebraska exploit these weaknesses and snap the Wolverine home unbeaten streak under Brady Hoke?
Pass the ball
The Michigan defense has been unable to pressure opposing quarterbacks or cover receivers downfield. If Nebraska can give redshirt quarterback Tommy Armstrong time to pass, he'll have opportunities to gain yards.


Flood the Michigan offensive line with stunts
The middle of Michigan's offensive line has been ineffective in protecting Devin Gardner this season. Add some blitzing linebackers to the mix, and teams have been able to stifle the Wolverine running game.


Harass Devin Gardner
Gardner is the heart and soul of Michigan's offense. Contain him and the Wolverine offense falls apart.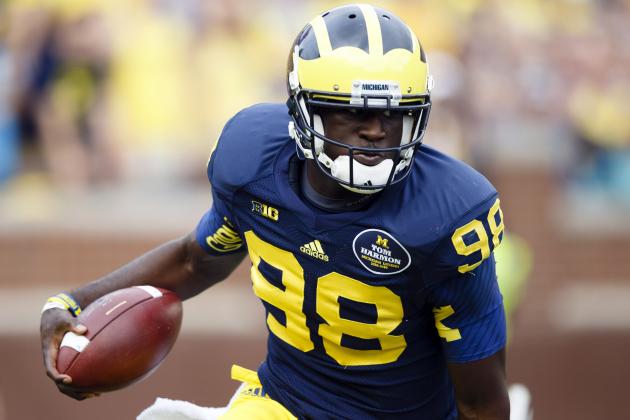 Rick Osentoski-USA TODAY Sports

Quarterback Devin Gardner
Can Devin Gardner recover from the beating he took last week against Michigan State? The rest of season depends on him doing so. Gardner is a tough competitor; expect him to bounce back with a big game versus Nebraska.

Cornerback Raymon Taylor

Taylor had 12 tackles, an interception and a pass breakup versus Michigan State. Nebraska quarterback Tommy Armstrong has been careless with the ball with six interceptions this season. Taylor has an opportunity for another big game this week.

Kick returner Dennis Norfleet
With the Wolverines offense sputtering, field position will be critical as Michigan heads into the back stretch of the season. Norfleet has been very close to breaking some long returns, so he's due for a huge game.
Here is Michigan's depth chart.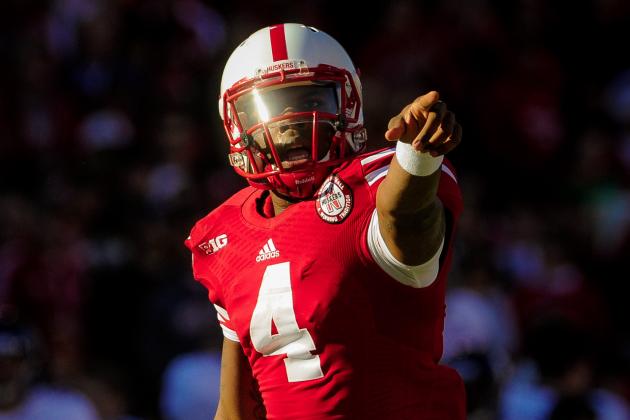 Eric Francis/Getty Images
Redshirt freshman Tommy Armstrong
Quarterback Tommy Armstrong
With veteran quarterback Taylor Martinez out due to injury, Armstrong is the latest QB with an opportunity to make a name against the Michigan defense. If he can limit his interceptions, Nebraska has a chance to beat the Wolverines.

Running back Ameer Abdullah
Abdullah is possibly the best running back Michigan will face all season. He's averaging 138 yards per game and 7.1 yards per carry. If he can maintain those numbers against the Wolverines, Nebraska can control the clock and dictate the pace of the game.


Defensive tackles Thad Randle and Vincent Valentine
Randle and Valentine are latest players tasked with attacking the middle of the Michigan offensive line. They will be for gunning Devin Gardner and looking to shut down the Michigan running attack.
Here is Nebraska's depth chart.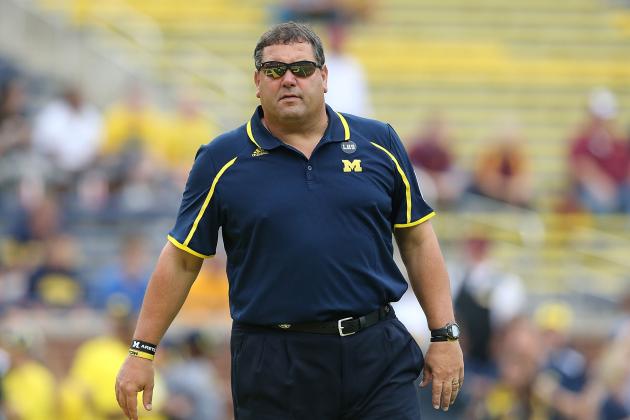 Leon Halip/Getty Images

Michigan offensive tackle Taylor Lewan, via mgoblue.com:
Obviously, we don't control our fate anymore in the Big Ten. We need to play four more games and win four more games. That's what we need to focus on. As long as players know that we all believe in each other, we're a family, we're best friends. If we keep believing, we'll be all right.


Nebraska head coach Bo Pelini via Huskers.COM:
I've played in Ann Arbor before and they've got a good fan base. The place will be loud. It's 110,000 people so obviously that gives them an advantage at home. We have to understand that going in. We have to play that much better to come out of there with a win."


Nebraska offensive coordinator Tim Beck via Huskers.COM:
They're a good football team at home or away. I think they're well coached, they have a good scheme and they play really hard. They're good up front, and they run to the ball. It's going to be a dogfight.


Nebraska Running Back Ameer Abdullah via Huskers.COM:
They are going to be hungry for a win. They just lost to Michigan State. They are going to be hungry and they are going to give us their best shot.
Leon Halip/Getty Images

This four-game stretch is critical for coach Brady Hoke. The brutal loss to Michigan State has some fans grumbling about the direction of the program.
Michigan needs to make a statement in front of its home fans.
Expect the Wolverines take out their collective frustration on Nebraska while preserving their unbeaten streak at home under Brady Hoke.
Final Score: Michigan 38, Nebraska 27