The 20 Most Hilarious Football Memes
What's in a meme?
Well, outside of Rickrolling, Keyboard Cats and Dramatic Chipmunks, there's an awful lot of football-based mockery going on.
There are thousands of brilliant football memes out there, but we've tried to round up our favourite 20 for your consideration. Take a look through, then leave your suggestions in the comments.
Begin Slideshow

»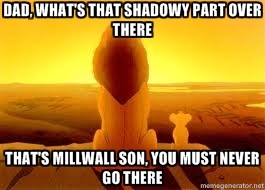 soccer-memes.tumblr.com
Just about every club in the world with a local rival has used this Lion King meme against their adversary. Here's one created to the detriment of South London side Millwall, presumably by West Ham fans who know what it's like in Bermondsey.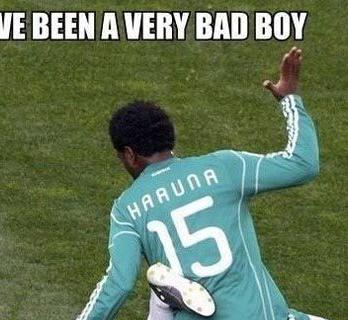 email-junk.com
Nigerian midfielder Lukman Haruna was obviously confused by the time Leo Messi played with a dummy in his sock, so he decided to treat him like a naughty baby.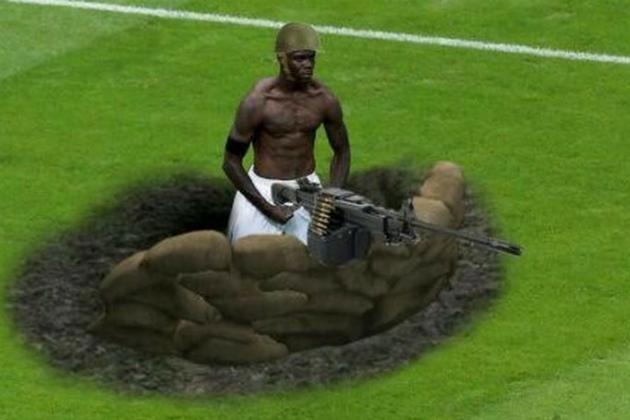 weknowmemes.com
Mario Balotelli's brace against Germany helped Italy reach the final of Euro 2012. When he scored his second goal, the Milan star removed his shirt and flexed his muscles.
The pose has been doctored endlessly ever since.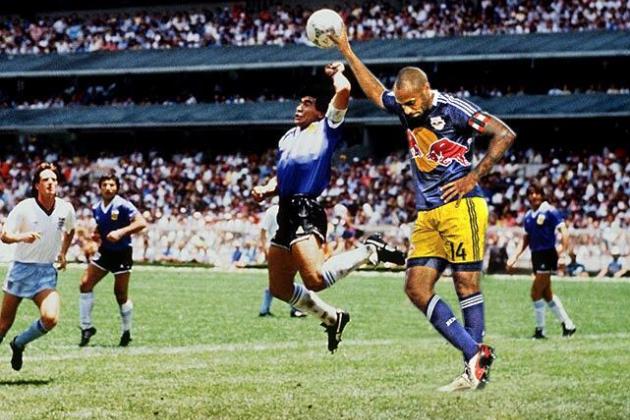 knowyourmeme.com
In September, the handsome devils at KICK TV put a call out for fans to replicate a nonchalant Thierry Henry celebration. Instead, a meme took off with folks Photoshopping the surly Frenchman into various comical situations.
Here's Le Hand of Frog denying the Hand of God.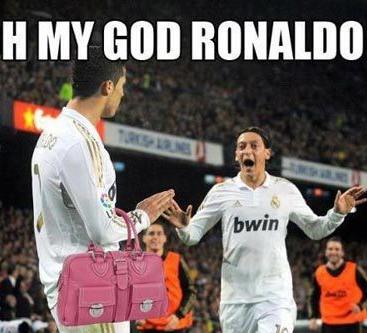 soccer-memes.tumblr.com
Mesut Ozil's enthusiasm for a Cristiano Ronaldo goal was captured and preserved for the ages by the meme community in hilarious fashion.
(For what it's worth, I actually attempt to take credit for starting this meme, having produced a very similar Photoshop before it went viral. Just sayin'.)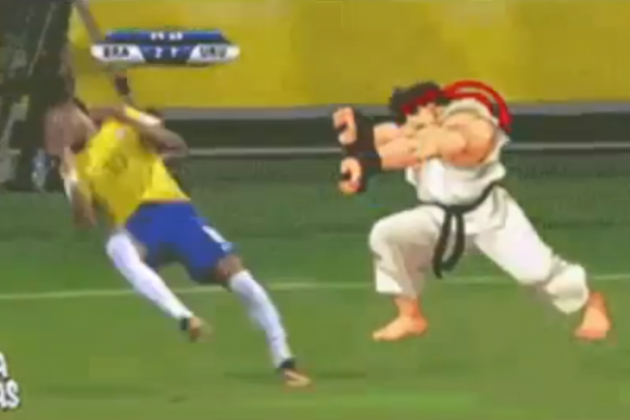 Neymar showed better diving skills than Tom Daley during the 2013 Confederations Cup tournament. His biggest flop came in Brazil's 2-1 victory over Uruguay, when defender Walter Gargano apparently threw him in the air as if he was as light as a feather.
This clumsy deception was soon turned into a series of .gifs featuring several characters from the Street Fighter video games.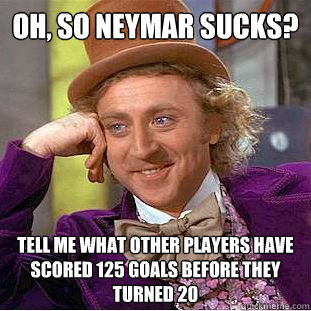 memegenerator.net
Inevitably, one of the most popular online memes—Willy Wonka's expression of wonderment—has been transposed to the beautiful game.
Here, the owner of the world's most dangerous chocolate factory battles the Neymar haters with sarcasm.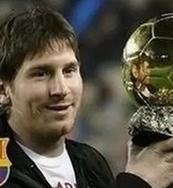 memecenter.com
One has the World Player of the Year trophy, one has a bottle of shampoo, and the other has a bag of crisps.
But who is the happiest? It's undoubtedly that cheeky scamp Andrei Arshavin, even though he doesn't even like Cheese and Onion flavour.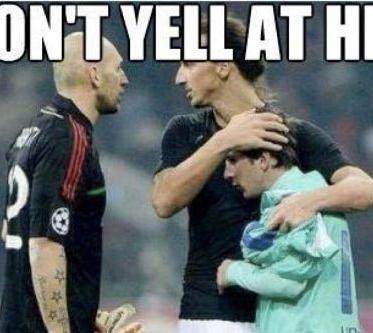 email-junk.com
Continuing the "Messi is underdeveloped" theme is this brilliant meme.
This is the first time in recorded history that Zlatan Ibrahimovic has shown concern or compassion for anyone other than himself.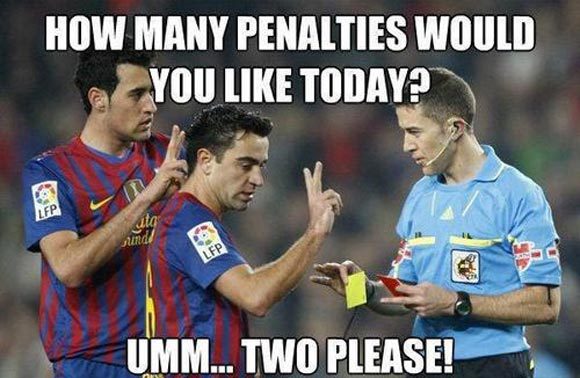 email-junk.com
Rather than get fouled or perform a dive, Xavi and Sergio Busquets attempt a more direct approach to earning a penalty here.
Well, if you don't ask, you don't get.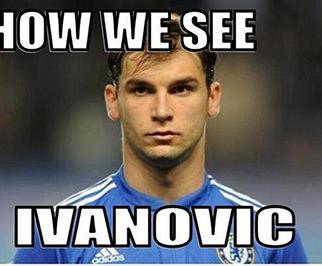 101greatgoals.com
When Luis Suarez sunk his teeth into Branislav Ivanovic—the second time in his career that the Uruguayan had committed such an act—the intertubes went crazy producing memes.
Here's one of the best of them.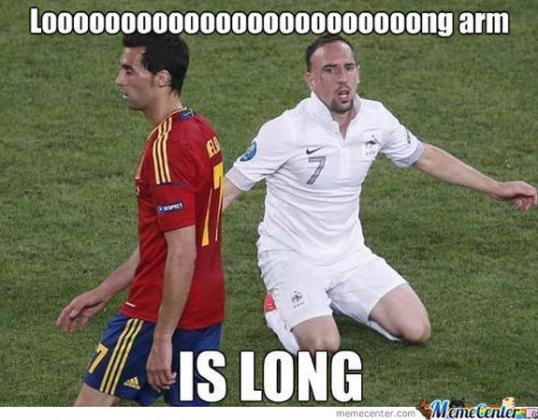 meme-center.com
The 2013 UEFA Best Player in Europe, Franck Ribery, is a big fan of pranks, so it's perfectly possible that he's waving a huge prosthetic arm to try to terrify Alvaro Arbeloa in this international match with Spain.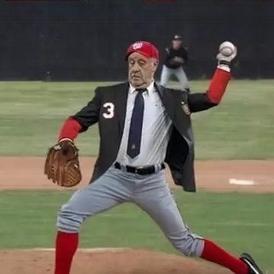 memecenter.com
While he was in charge of the World Cup-winning Spain squad, a fairly innocuous photo of Vicente del Bosque was seized upon by the meme generating community. The results were pretty creative.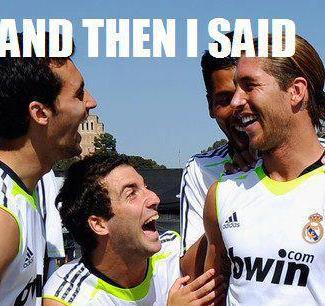 knowyourmeme.com
Real Madrid missed out on a spot in the 2012 Champions League Final when he sent a semi-final penalty against Bayern Munich into row Z of the Bernabeu.
Within hours, the Internet had exploded with meme-based mockery, most of which seemed to revolve around the ball making it into space.
The meme pictured here uses the very popular "And then I said..." setup.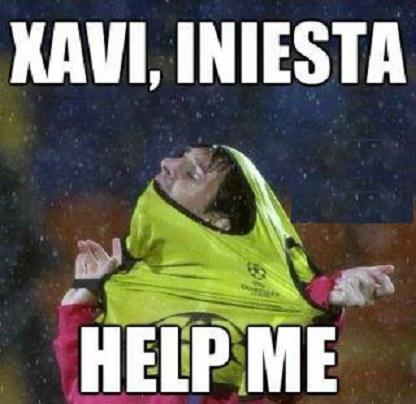 soccer-memes.tumblr.com
Most bib-based football humour points straight to Mario Balotelli, but this brilliant still of Leo Messi from a Champions League warm-up shows that even the greatest player in the world can struggle with a sleeveless garment.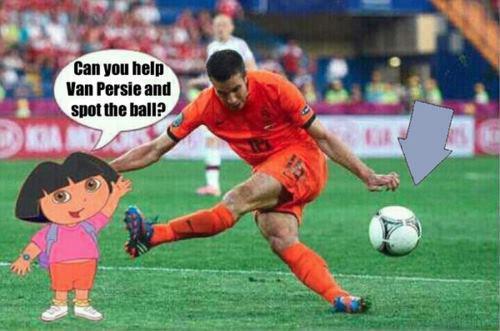 soccer-memes.tumblr.com
Historically, Dutch explorers have been pretty good at traversing the globe, but Robin van Persie needs a little help from Dora to help locate to locate a small sphere of leather here.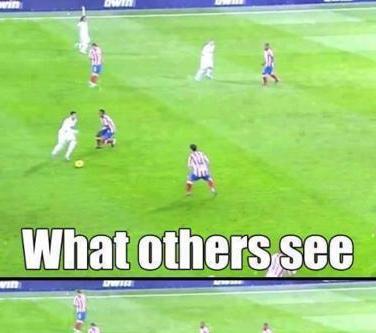 soccer-memes.tumblr.com
Cristiano Ronaldo isn't the most selfish player in world football (that'll be Arjen Robben!) but sometimes it is perceived that he goes for a shot or a "Hollywood pass" when something more simple would be appropriate.
This meme from a Madrid derby shows us what C-Ron typically sees when he surveys his options.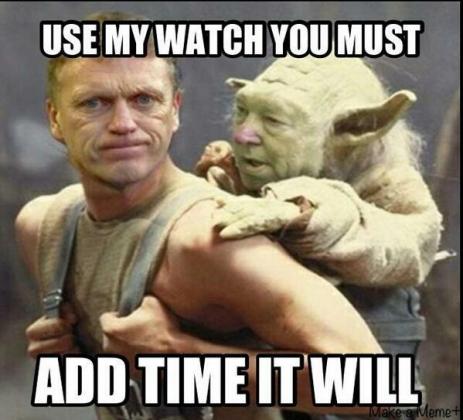 soccer-memes.tumblr.com
When David Moyes was on the cusp of being offered the Manchester United manager's job, the Internet responded with memes featuring the Everton boss and the man whose legacy he would eventually succeed.
Unsurprisingly, many focused on how Moyes could use "Fergie Time."
This Star Wars-themed meme takes the trophy for creativity.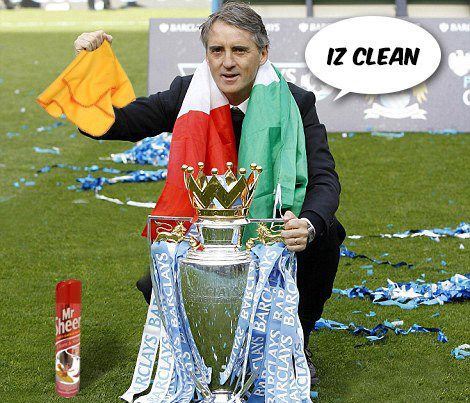 Manchester United fans were particularly pleased with their 2012/13 Premier League title win, having wrestled the trophy back from their noisy neighbours, Manchester City.
Many City-goading memes cropped up—including this one—but our favourite is the picture of Roberto Mancini getting ready to hand the trophy back, armed with a can of Mr. Sheen.
Really ridiculously good-looking Arsenal star Cesc Fabregas was given the Zoolander .gif treatment in 2008, along with really ridiculously good-looking Gunners cohorts Arsene Wenger, Emmanuel Adebayor and Robin van Persie.
Watching them pull Blue Steel, Le Tigre, Magnum and Ferrari on an endless loop is mesmerising.