Biggest World Football Blunders of the Weekend: World Cup Qualification Special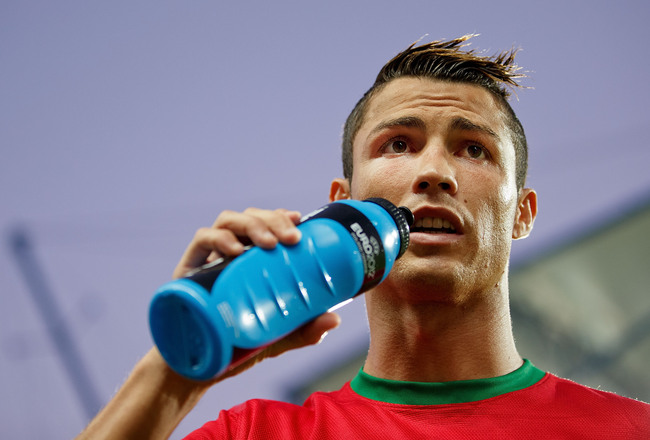 Gonzalo Arroyo Moreno/Getty Images
With the weekend overflowing with World Cup Qualifiers, this week's roundup of blunders and botches from the world of football has gone all international, as we look at the worst gaffes on the road to Brazil 2014.
This week's collection of calamity features Cristiano Ronaldo giving up football for Street Fighter, a hostile home reception for France's mini-magician, hospital passes that leave friendly defences requiring intensive care and yet more bad misses and attempts at keeping goal.
Click here if you missed last week's edition, which also featured Ronaldo alongside Franck Ribery and Diego Costa.
For those of you who are already up to date and up to speed, click the orange button below or head for the arrows to get this show on the road.
Ivan Perisic's Implosion Pass for Croatia
Wolfsburg's Croatian midfielder Ivan Perisic accidentally gave his nation's relegation rivals Belgium a helping hand they probably didn't even need over the weekend, delivering the perfect key pass against him own team.
Regardless of whether Perisic was lacking awareness or just lost concentration at the key moment, his hand-over to Steven Defour allowed the Porto player to slice through the Croatian's own defence, finding Romelu Lukaku.
The resulting goal turned out to the be all Belgium needed to consolidate their position in the match and see the game through to secure automatic qualification.
Judging by the reactions of his teammates, Perisic's fellow countrymen weren't amused by his lapse of all football sense.
Pierre Webo Camer-Ruins Great Chance
The winners of the five remaining two-leg knockout ties in Africa will advance to the World Cup 2014 in Brazil in one of the most decisive qualification formats in the tournament.
With this in mind, the fact that Tunisia and Cameroon's first-leg showdown finished goal-less is a major missed opportunity for Samuel Eto'o's Indomitable Lions.
Cameroon could have taken a gigantic step towards securing their participation in the summer had Pierre Webo not lost his way in front of goal.
The Fenerbahce striker had Tunisia's goal at his mercy after a bit of quality from Eto'o gifted him the perfect opportunity to put his nation ahead.
Going for the chest finish however, the ball rebounded off Webo and past the wrong side of the post, the gasps of disbelief and relief from the travelling Cameroon fans and Tunisian supporters respectively ringing in his ears.
Jan Mucks Up for Slovakia
Former Everton backup keeper Jan Mucha was the villain in Slovakia's qualification showdown with Greece, letting slip a Martin Skrtel back-pass for Greece to go 1-0 via an own goal.
While the blunder will forever bear Skrtel's name, it wasn't the Liverpool defender's fault, with Mucha making the infamous playground error of trying to put his foot on a high-speed ball rather than first stopping it dead.
As a result the ball glided past his down-treading boot and into his net, with a haphazard strike that proved to be a Greek tragedy of a winner for the hosts.
Ronaldo Goes over the Top for Intentional Yellow
Cristiano Ronaldo's bizarrely over-egged behaviour has led to rumours that the Portugal forward may have tried to get himself booked deliberately.
Before his blatant second-round petulance, shown in the video above, Ronaldo had attempted to kick out near his Israeli opponent early in the first half with a move that looked more like a kick from Street Fighter's Ryu or Ken.
The yellow he eventually received rules the Real Madrid star out of his country's next game against Luxembourg in what should be a non-contest, with his card tally then wiped for a pivotal two-leg play-off clash against whoever Portugal draw in the best-of-second-place deciders.
Perhaps Ronaldo was repeating the lesson he learned from his old mentor Jose Mourinho during the former Special One's time in Madrid.
It was thought that Mourinho at times directed his players to take cards, especially in the Champions League, to get their suspensions out of the way before more testing fixtures began to pile up in the competition.
Rogerio Ceni Flounders on the Spot
Sao Paulo's legendary goal-scoring goalkeeper, Rogerio Ceni, stepped up to the spot at the weekend with the opportunity to win the match with his club's rivals, Corinthians.
Unfortunately, the usually dead-eye set-piece specialist telegraphed his intentions, and his opposite number, Club World Cup-winning keeper Cassio Ramos, was wise to his plans, diving outstretched to prevent his shot sliding into the far corner of the net.
Coming in the 93rd minute of the match, Ceni's failure to convert his spot kick was a massive missed opportunity, especially considering the 40-year-old's usual prowess, which has won him a reputation as one of the world's most unlikely yet prolific goal threats.
Pedro Meets the Pitchside Paparazzi
Belarusian defender Maksim Bardachow launched Pedro into the pitch-side press assembly in his side's 2-1 defeat to Spain.
As Pedro sprung off his imposing combatant, being sent flying into the ranks of cameramen ahead of him, the Barcelona forward took out one of the snappers as he landed hard on the goal.
Consummate professionals, the photographers kept taking pictures rather than helping the prone player to his feet, as Bardachow strolled off back into position.
After all, giving Pedro a hand would have meant relinquishing the lucrative opportunity to shoot the Spaniard in a heap, a picture that could have been worth a great deal to sporting press.
Blunder of basic civility or just business? You decide.
Elmander Tries Method Acting out Against Austria
Norwich City and Sweden striker Johan Elmander made the mistake of being all too obvious in front of the cameras in his country's 2-1 win over Austria.
The former Bolton frontman may have had to do what he had to do to help his country keeping their qualification hopes alive, but Marko Arnautovic was clearly stunned by his opponent's cynicism to fake a headbutt to get the Stoke City forward sent off.
Arguably however, Elmander was only taking karma into his own hands, with Arnautovic guilty of a number of offenses throughout the game that were arguably worth multiple yellow cards.
Yet even if you're happy with that explanation, Elmander doesn't get off the hook quite so easily.
Having failed to perform his act with any sense of subtlety, he may now face a large suspension for his simulation, which could yet hurt a Sweden side already overly reliant on Zlatan Ibramhimovic.
Mathieu Valbuena Feels No Love in Paris
Diminutive Marseille playmaker Mathieu Valbuena was tormented by his own fans in France's 6-0 friendly win over Australia due to his club allegiances.
The Parisian crowd didn't take kindly to his introduction, seeing him as an icon for their hated rivals rather than one of the country's most talented midfielders, pulling on the France shirt to represent his nation.
With Didier Deschamps' team finally looking like a unit for the country to be proud off after the Les Blues' recent, highly public implosions on the international stage, you would have thought the home crowd would seek to foster this resurgence into form.
Unfortunately, as in many countries and fan groups, once again club came before country at the weekend, with Valbuena bearing the brunt of the hostilities.
Also, following the fixture, Australia's coach, Holger Osieck, was fired from his post even though the Socceroos had long since qualified for Brazil 2014.
The signs that the coach was out of his depth—failing to deliver on the promises of introducing new youth players to the squad while maintaining the national character of hard-working resilience—have been clear for some time, but considering the scale of their defeat to France, his sacking feels rather knee-jerk.

Mid-Week Bonus 1: Cruzeiro Hit the Woodwork on an Open Goal
Before the weekend and Webo's failure to find the net for Cameroon, Cruzeiro's Willian (another one) had a claim to the worst miss of the week, after he missed an open goal in his side's game against Sao Paulo, somehow hitting the post.
Has someone put something in the drinking water down in Brazil?
Mid-Week Bonus 2: Swedish Defender Makes Penalty Irrelevant
Finally, we turn to the Swedish women's league, where Malmo and Orebro faced off in the week to produce an own goal that tops Skrtel's effort at the weekend.
With the attacker brought down in the box, a penalty looks certain for Orebro until one of Malmo's defenders sends a sloppy pass crawling over the her own keeper's line.
Since the referee had not yet blown up, the goal stood, with the penalty no longer required.
Efficiency at the back, but not in a way Malmo probably wanted.
Keep Reading