Dissecting Most Crucial Matchups in Vikings' Week 6 Contest with the Panthers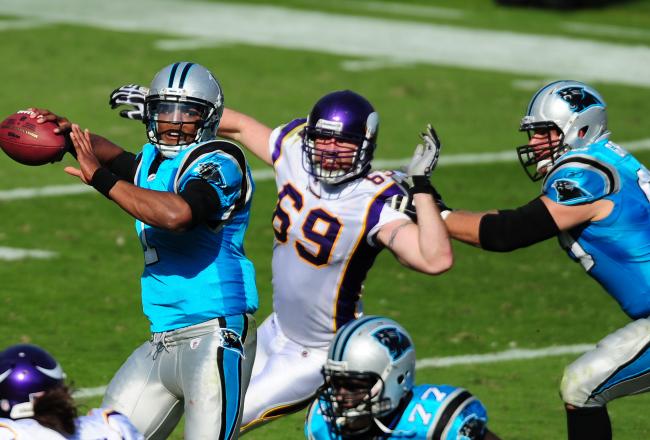 Scott Cunningham/Getty Images
When the Minnesota Vikings take on the Carolina Panthers at home coming off the bye week, they'll have the opportunity to begin turning their season around against one of the most underperforming teams in the league.
The Panthers are stacked with offensive and defensive talent across their roster, but have been a combined 8-12 over the past two seasons with a positive differential of 10 points in that span.
With one of the league's most electric young quarterbacks and perhaps the best defensive line in football, the Panthers finished 2012 as the fourth-most efficient team in the league, according to Brian Burke at Advanced NFL Stats.
In order for the Vikings to leverage their home-field advantage, they'll want to win the majority of the six most crucial matchups of the game.
Like all good football, it starts with fundamental line play.
Jared Allen, DE v. Jordan Gross, OT
Both over 30, Allen and Gross have been relying on their intuition and skill more than anything else in order to generate production. Since entering the league in 2004, no player has had more sacks than Jared Allen, although many think his production has tailed off lately.
That claim is not quite true, however. In Allen's near record-setting 2011, he had a hand in 24 sacks (with an official total of 20.5), eight quarterback hits and 34 hurries, according to Pro Football Focus. It is a remarkably unusual number for any defensive lineman, as hits usually match the number of sacks (that year, there were 416 quarterback hits and 442 sacks by 4-3 defensive ends).
Allen's pass rushing in the following years actually increased his total number of pressures, but returned to normal levels in terms of his sack-to-hit ratio.
For the past three years, Jordan Gross has been an average left tackle in pass protection, but is more vulnerable to speed than he is to technique or strength, which is where Allen's game comes from. The last time they met up, Allen was in the middle of his incredible 20.5 sack campaign and Gross got away with allowing only one sack and one hurry with no hits.
Given that Gross is also passable as a run blocker, Allen will need to do a better job to set the edge against a team heavily invested in its running game. It's generally been a myth that Allen suffers in run defense, but this year he has been more than poor at it.
This will be an extremely difficult matchup for both players and could end up deciding the game.
John Sullivan, C v. Star Lotulelei, NT
When you strip away the deserved hype that Kiko Alonso is getting, Star could very well be in the running in the defensive rookie of the year race, if not leading it. After Vince Wilfork went down for the season, Star could be competing with Brandon Mebane in a lonely race for the best 4-3 nose tackle in the league already.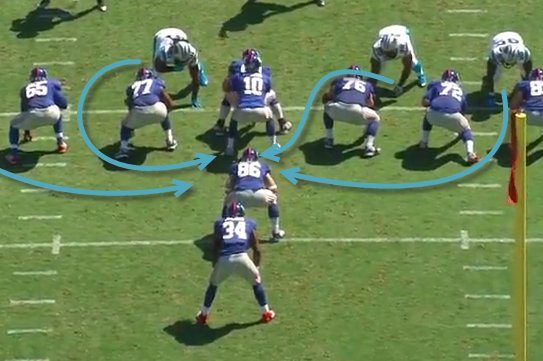 Lotulelei has a rare combination of size, strength, quickness and instinctiveness. The Vikings, a team that relies on its inside running game, could run into serious trouble if Sullivan and the guards (Charlie Johnson and Brandon Fusco) cannot contain the former Utah Ute.
Sullivan had quietly built up a resume as the league's best center, but seems to have fallen off this year with rare miscues, poor communication at the line and issues at the point of attack. This dropoff couldn't come at a worse time, and perhaps the bye week will be critical in turning it around.
Because the Panthers largely run a "4-3 Over" system with the nose tackle shaded to the weak side of the formation, the zone responsibility for the Vikings will usually have Sullivan take on Lotulelei directly while the guards block opposing linebackers or box safeties.
This means that Sullivan will need to win the leverage battle consistently, because his strength won't match the power that the rookie will bring to bear.

Lotulelei plays with a high motor, and Minnesota might be thankful that he's only played a shade under 60% of the defense's snaps, because he's a game-changer on nearly every snap.
When he's left alone, he has some singularly impressive play and he doesn't get moved around often when double-teamed. The Vikings may eventually have to resort to timely cut blocks on the backside of zone runs if they want to obviate his impact, because he'll free up linebackers otherwise.
Jerome Felton, FB vs. Luke Kuechly, LB
The 2012 Defensive Rookie of the Year has improved his play this year and is already in the conversation as one of the best inside linebackers in the league. Reliable in pass protection and a force in the running game, Kuechly is part of the reason the Panthers rank sixth in yards-per-carry allowed in the running game.
Without much help, Kuechly has almost had to defend the run on the second level by himself, ranking 8th in the league in "tackle factor," which measures the percentage of tackles a player makes against the percentage a player in his position is expected to make.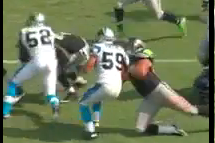 Further, the Carolina run defense has had 96 "stops"—or plays that Pro Football Focus defines as "a failure for the offense"—and Kuechly is responsible for over a fifth of them at 20. The percentage of his tackles that constitute a "stop" ranks third in the league as a result.
Against even fronts in an "over" alignment, the fullback will typically take the middle linebacker in the run game. This will be an issue for a returning Felton who will have to return to form quickly, given how easily Kuechly has pushed fullbacks over to get to the runner.
Felton did an excellent job opening up holes for Adrian Peterson, and certainly deserved his Pro Bowl nod, but will need to be at the top of his game if the Vikings hope to get anything going on the ground—something they'll need to do, if Matt Cassel can't out-duel Cam Newton in the passing game.
As it is, Kuechly's combination of athleticism, strength and instinctive play will make it difficult for Felton to consistently open holes.
Cam Newton, QB vs. Harrison Smith, S
It might be too simplistic to reduce a quarterback matchup to one player, but Smith's play will determine the passing defense of the Vikings. Given the uncertainty at cornerback and the fact that Smith is likely a top-five safety already, as he goes will the rest of the pass defense.
Newton has a difficult time looking off of safeties, which is a problem given that he is one of deepest passers in the league (currently ranked fourth of all NFL QBs in yards in the air per completion, per Pro Football Focus). He will challenge Smith directly and often.
Smith has had his issues this year, and as a young player managing the secondary, this is a big issue. For example, a communication breakdown that could largely be put on Smith was responsible for the Martellus Bennett touchdown that sealed the game for the Chicago Bears.
At the same time, he's been the only consistently functional member of the secondary. He's had two interceptions so far, but needs to give up much less yardage when targeted this year.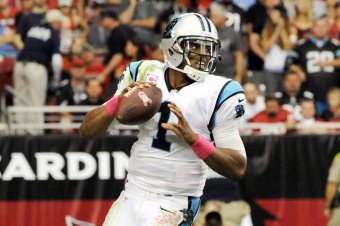 Casey Sapio-USA TODAY Sports
Newton's totals may be deceiving, as three of his five interceptions came against a revived Arizona Cardinals defense. But it's obvious he hasn't played as well as in the previous two years quite yet. He's been the backbone of the offense since he's arrived, and he can still make big plays.
Steve Smith, Brandon LaFell and Tedd Ginn, Jr. have all been sporadic in their play this year and Ginn, their third receiver, has arguably been the most productive. While Smith should clearly be considered their top threat, the key is not to smother any particular receiver but to make sure that Newton's throws are dangerous instead of deadly.
It'll be up to Harrison Smith to respond and key in on Newton's tells, as well as his tendency to lock down on a receiver in order to make his own plays and pull the rest of the Vikings defense with him.
Phil Loadholt, OT vs. Charles Johnson, DE
The best defensive end that many fans haven't heard of, Charles Johnson has been a force for years. Since 2010, when he earned a regular spot on the roster, only six players have accumulated more sacks.
Pro Football Focus has ranked Johnson as the most productive pass rusher of the year, and named him the second-most productive 4-3 defensive end in pass-rushing situations the year before. In 2010, he was once again the most productive pass rusher of the year.
This should be particularly worrisome given that his skill set matches up too well against Phil Loadholt's weaknesses. A flexible and quick pass-rusher, Johnson can get around the edge as quickly as anybody and has been on a tear this year already. Even when engaged, he's shown an ability to take down the quarterback by locking in a good distance from the offensive lineman blocking him.
Johnson is a reactive run defender, but at least Loadholt should do well against him there. Johnson doesn't hold his space when being driven back, and that's the best option the Vikings have of obviating his impact.
Loadholt has given up three sacks in four games and ten additional hurries to boot. While Matt Cassel has done a much better job than Christian Ponder of getting rid of the ball quickly and neutralizing the opposing team's pass rush, he does just as well under pressure when he holds on to the ball. Which is to say, he does poorly.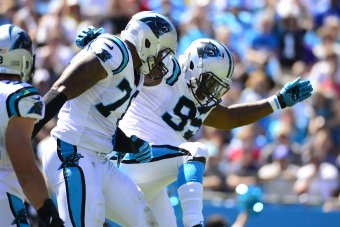 Bob Donnan-USA TODAY Sports
Johnson may not be a household name, but he's one of the most destructive players per snap at getting to the quarterback and disrupting plays. If Loadholt plays like he has all year, the Vikings are in for a long day.
Matt Kalil, OT vs. Greg Hardy, DE
Unsurprisingly, the last critical matchup also occurs in the trenches, and rounds out Carolina's defensive talent. With serious questions at outside linebacker, pass-rushing tackle and in the secondary, their biggest hope is to make sure that the Vikings can't attack the secondary for fear of getting sacked.
Hardy is turning into more than just a functional bookend to Charles Johnson's dominance. He's a spectacular player in his own right, and the two have combined to have the best paired ranks in Pro Football Focus' pass rusher rankings of either outside linebackers or defensive ends so far in 2013, which continues their dominance from 2012.
The sixth-round pick out of Mississippi has come a long way, in many ways due to his diverse set of tools. Aside from raw speed and strength—both of which he has in abundance—Hardy has similar flexibility to get around the edge as Charles Johnson, but with an array of pass-rushing moves as well.
He beats offensive linemen with speed rushes, bull rushes and counter moves. Sometimes, he can be harder to handle than his teammate, Johnson.
Kalil has generally displayed excellent footwork but has been one of the many disappointments at the beginning of the season, having given up four quarterback hits and seven hurries. He's also been extremely worrisome against the run, a deficiency that Hardy can exploit, given his ability to shed blocks and set the edge.
Should the Vikings hope to have a passing game, Kalil will need to make significant improvements. And if the Vikings hope to run away from Star Lotulelei or exploit second-level blocks against Kuechly, then routine matchups in the run game like Kalil in Hardy will be critical.
This article is
What is the duplicate article?
Why is this article offensive?
Where is this article plagiarized from?
Why is this article poorly edited?

Minnesota Vikings: Like this team?