Damien Sandow's Reported Face Turn Would Be Wrong Move for Weakened Character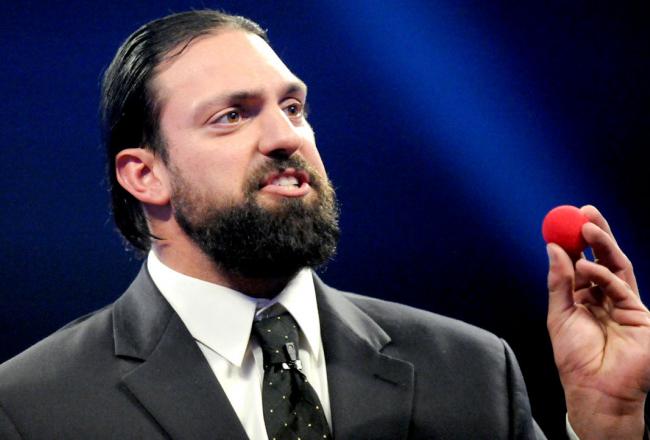 SILENCE! (Photo by WWE.com)

Note: The article contains spoilers for this week's SmackDown. The headline isn't one of them even if it may seem like it.
Damien Sandow appears to be in the midst of a bunch of character tweaks, but I'm not sure if any of them are actually good.
At Tuesday's SmackDown tapings for the show that airs Friday, Sandow interrupted an exchange between Alberto Del Rio and Vickie Guerrero. Del Rio was trying to get out of his title defense against John Cena at Hell in a Cell when Sandow came out to call him on it—something a babyface would do. Vickie then made a non-title match between the two for later in the show, so Del Rio ambushed Sandow and beat him down—just like he would do to a babyface.
When they had the match, the crowd was initially unsure how to react, just chanting "U-S-A." Eventually, once Sandow worked the match as a babyface, the fans in attendance went with it and cheered him.
Is Damien Sandow's face turn a good idea?
Later, during the main event dark matches after the show went off the air, there was a 20-man battle royal with the winner getting an immediate title shot at Del Rio. Bray Wyatt won, Del Rio immediately got himself counted out, the Wyatt Family beat up Del Rio and Sandow teased cashing in Money in the Bank before the Wyatts laid him out too. Presumably that was designed to see how fans would react to a Sandow cash-in after the sudden turn.
Why this is happening, I don't know, but it's not the only change for Sandow right now. At F4WOnline.com, in this week's Wrestling Observer and Figure 4 Weekly newsletters for paid subscribers, Dave Meltzer and Bryan Alvarez respectively both reported that Sandow is no longer allowed to sing or do cartwheels.
Alvarez added that the reason for this was that developmental wrestlers on NXT are doing both and thus it made Sandow look bush league. Why Sandow would have to stop doing it instead of the guys who followed him wasn't really explained, though the singing was less entwined with his character than it is with NXT's Aiden English.
WWE does need to make changes with Sandow. I don't disagree with that at all. They're just going about it the wrong way. As entertaining as he is, where does he go as a babyface? His entire character falls apart if he's not a heel. As a babyface he's just another guy working a wacky "haha, look at my beard" gimmick, and the other guy doing something resembling that gimmick is the top babyface right now.
It wouldn't have really been difficult at all for WWE to just reset Sandow back to where he was before Money in the Bank, just with the briefcase. He had been given more of an edge/killer instinct in the Sheamus feud so he was more than just a comedy character. He got plenty of promo time on SmackDown. He wasn't losing every match. Now he's just a guy because WWE believes that the Money in the Bank winner cashing in undoes any damage done with a losing streak for months beforehand.
If Sandow can make this work, then kudos for him, but I'm not sure it's a salvageable situation.
David Bixenspan has been Bleacher Report's WWE Team Leader and a contracted columnist since 2011. You can follow him on Twitter @davidbix and check out his wrestling podcasts at LLTPod.com.
This article is
What is the duplicate article?
Why is this article offensive?
Where is this article plagiarized from?
Why is this article poorly edited?