Tiger Woods is as dialed in as he's been all year long at Muirfield Village for the 2013 Presidents Cup.
After playing a four-ball format on Thursday, the golfers engaged in foursomes on Friday, which is an alternate-shot match-play competition that requires nerves of steel.
Playing alongside Matt Kuchar for the second day in a row, the reigning PGA Player of the Year put on a clinic with brilliant iron play. The duo went up over Louis Oosthuizen and Charl Schwartzel, finishing Friday's action with a three-hole lead with six holes remaining, as noted by the PGA Tour:
No more golf tonight for the Woods-Kuchar/Schwartzel-Oosthuizen match. After the US won 12, it's been called for darkness. #PresCup

— PGA TOUR (@PGATOUR) October 4, 2013
Unfortunately, thanks to a lengthy weather delay, this match was postponed after the 12th hole. Play will resume on Saturday morning at 7:35 a.m. ET, as noted by Rex Hoggard of the Golf Channel:
There will be a 7:35 a.m. restart @ the #PresCup on Saturday, followed by a 1 hr break before start of 3rd session.

— Rex Hoggard (@RexHoggardGC) October 4, 2013
Woods and Kuchar got off to a hot start after winning convincingly on Thursday, making birdie on No. 1.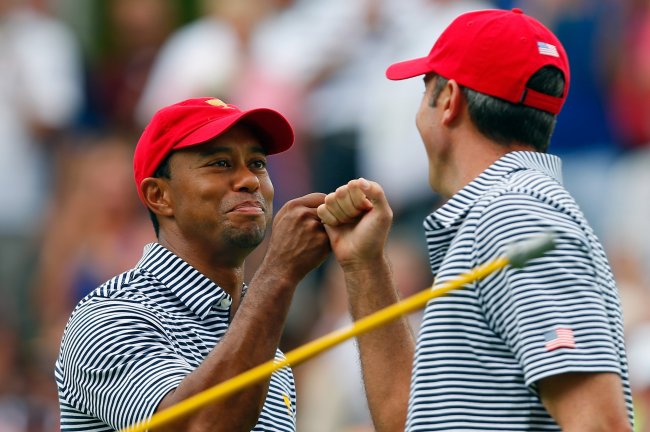 Matt Sullivan/Getty Images
Kuchar drilled his tee shot 303 yards down the right fairway, setting up Woods perfectly with 165 yards to the pin. Tiger then flushed his approach shot, knocking the ball to within tap-in range for Kuchar's birdie attempt.
Poking fun at Woods' propensity to shank his tee shots this season, Robert Lusetich of FoxSports.com lauded his iron play after his brilliant shot into the first green:
So after that first hole, can we deduce that if someone hits his tee shots, Tiger would eclipse Jack's 18 majors before he's 40?#FlushedIt

— Robert Lusetich (@RobertLusetich) October 4, 2013
After matching shots on the next four holes with Oosthuizen and Schwartzel, Woods put Kuchar in excellent position on No. 6 off the tee with a 320-yard drive in the fairway.
Kuchar then hit a gorgeous approach shot to within 13 feet, and Woods rewarded him by sinking the birdie putt.
Oosthuizen and Schwartzel responded with a birdie to get a stroke back on No. 8, but Woods and Kuchar got it right back on the ninth hole thanks to a bogey by the International team. Tiger hit another brilliant iron shot into the green, as noted by GC Tiger Tracker, but Kuchar was unable to convert the short birdie attempt:
Another tight iron shot from Tiger at 9. Kuch can't convert but Louis misses short par putt. US back to 2up, shot -6 30 in alt shot. #Ballin

— GC Tiger Tracker (@GCTigerTracker) October 4, 2013
As darkness descended on Muirfield Village, Woods and Kuchar wrapped up the evening with an unconventional victory. Thanks to a double-bogey by Oosthuizen and Schwartzel, the Americans were able to win the hole on a bogey before heading in for the night.
The hiccup on No. 12 was one of but a few for this dynamic duo, however.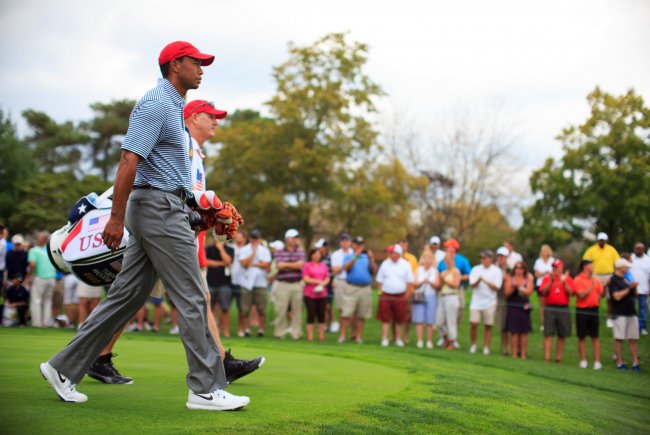 Allan Henry-USA TODAY Sports
Woods has been phenomenal with his iron play, and Kuchar has been a steady companion through two days of play.
One of the most popular players in the history of golf isn't beloved by all, however. There are at least a few visiting Australians who "do not like Tiger Woods," according to Nick Sabino:
These guys do not like Tiger Woods. pic.twitter.com/Mg7M6hxfZY

— Nick Sabino (@SabinoNick) October 4, 2013
The Aussies couldn't slow Woods down on Friday, however, as he continued to roll along and play excellent golf.
Perhaps the only thing that has rattled Woods this week is Sammy the squirrel. Team captain Davis Love III adopted this furry little critter on Thursday, and before releasing the team's unofficial mascot he and Woods' girlfriend Lindsey Vonn had a little fun at Tiger's expense.
In all seriousness, if Woods continues to strike the ball as he has the first two days at Muirfield Village, then he will undoubtedly contribute a few valuable points to the cause of the United States team.
Follow me on Twitter @JesseReed78