17 Athletes Who Married Their High School Sweethearts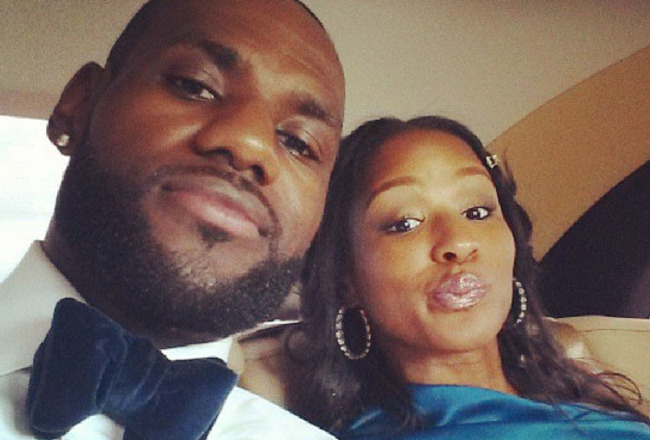 Source: Instagram

Love. Isn't it precious?
These days, we hear so much about the contentious divorces and the rumors of infidelity that we forget about how many happy couples there are out there in the world of sports. In fact, these athletes have been very happy campers since their early teens, which was right about when they met their future wives.
The select group of professional athletes who married their high school sweethearts may be small in number, but it is strong in spirit. Love does conquer all, as they say.
Jarome Iginla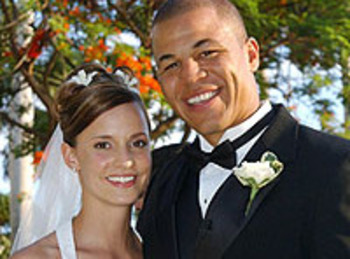 Source: PlayerWives.com
Tyler Seguin liked to complain that he didn't fit in on the Boston Bruins roster because he was the only single guy on the team.
For all intents and purposes, then, Jarome Iginla should fit in just fine.
Not only is Iginla a sure-fire Hall of Famer and a 500-plus goal scorer, but he, like many of his new teammates, is married. Iginla tied the knot with high school sweetheart Kara in 2003, which was about time, considering they had been dating since eighth grade.
You can check out this video to watch Iginla work out and hang out with his dog in their ridonkulous offseason house.
Vernon Wells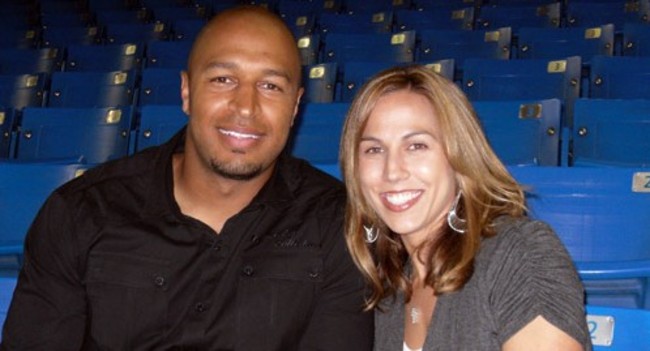 Source: AthletesWives.com

There's no crying in baseball. That is doubtlessly what Charlene Valenti is telling her hubby these days.
The formidable New York Yankees were just officially eliminated from playoff contention, but hey—at least that means Vernon Wells has plenty of time for family time this offseason, right? Right.
He and Charlene got married in 2001, just a couple of years into his major league career and long after they first met in Arlington, Texas. These days, they still reside in Arlington in the offseason with their two sons, who are eight and 11 years old.
Mike Mussina
Source: UPI.com

He was once a fierce starting pitcher for the Orioles and the Yankees. Now, Mike Mussina makes his living as a high school basketball coach, but fortunately, he has his family to lend some stability to his crazy life.
Mussina, now retired, spent roughly half his career in Baltimore and the other half in New York City. Sometime right in the middle of his major league career, he married Jana McKissick.
The two tied the knot in 1997, and they still live in Montoursville, Pa., where they first met as kids.
Joe Mauer
Source: Talk-Sports.net

Joe Mauer has that good-guy thing going for him. It should come as no surprise to anyone that he married his high school girlfriend.
Mauer broke the hearts of millions of Twins fangirls when he got engaged to Maddie in December 2011. Though it wasn't always unicorns and rainbows for the couple—Mauer famously dated Miss USA 2005 earlier in his career—he decided to settle down with a girl he has known since their days at Cretin-Derham Hall in St. Paul, Minn.
Deron Williams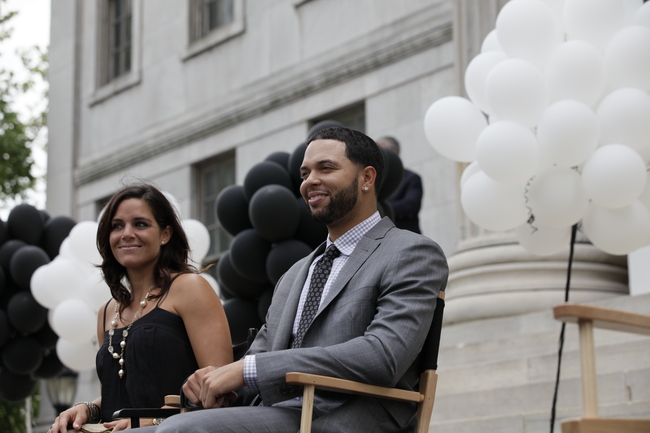 Steven Freeman/Getty Images
Deron Williams is one of those guys who gets what he wants. He wants a new coach, he gets it. He wants All-Stars surrounding him in his new home in Brooklyn, he gets them. He kind of deserves it; he's a three-time All-Star and widely regarded as one of the best point guards in basketball.
He also set the trend for people like LeBron by marrying his high school sweetheart, Amy, very early in his NBA career. Not only have they been dating since high school, but they met in second grade.
The couple has four children, one of whom is adopted and inspired his parents' Point of Hope Foundation, which raises awareness for autism.
Joe Sakic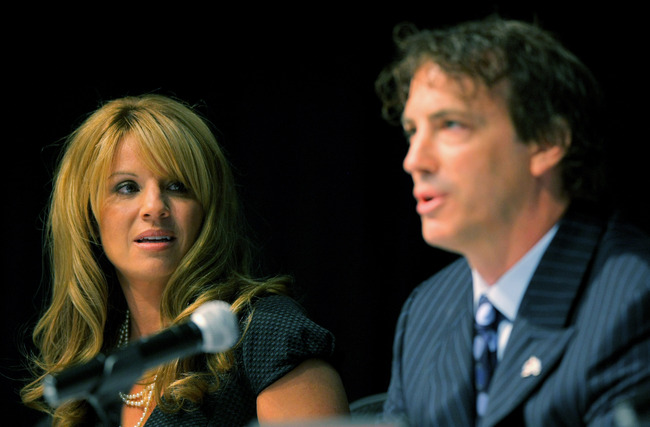 Doug Pensinger/Getty Images
Joe Sakic has it pretty good. Though his time on the ice has come to an end, he has two Stanley Cup rings to remind him of the good times, along with a front-office job with his Colorado Avalanche.
The Hall of Famer also has a nice little family life to keep him satisfied. He married his high school girlfriend, Debbie, whom he met when he was playing with the WHL's Swift Current Broncos in the '80s.
Debbie and Joe now have three kids and currently reside in Cherry Hills Village, Colo.
CC Sabathia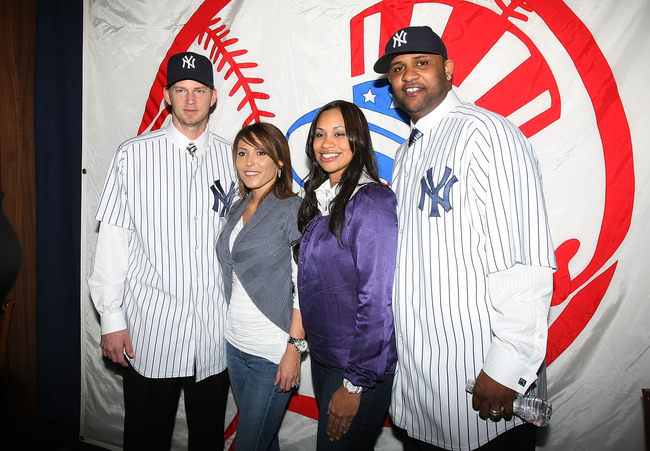 Nick Laham/Getty Images
While he dwells on the fact that his New York Yankees have officially missed the postseason for just the second time in the last 19 years, at least CC Sabathia has love to comfort him.
The big lefty was born in Vallejo, Calif., which is where he and wife Amber first encountered one another. The two got married shortly after Sabathia made his big league debut with the Indians.
Unlike LeBron, though, they didn't need a big ceremony to make it official; they just went to a courthouse on an off-day on the schedule and barely told anybody. According to Athletes Quarterly, they were forced to tell their friends and family after a local news station outed them on the daily news broadcast.
Brandon McCarthy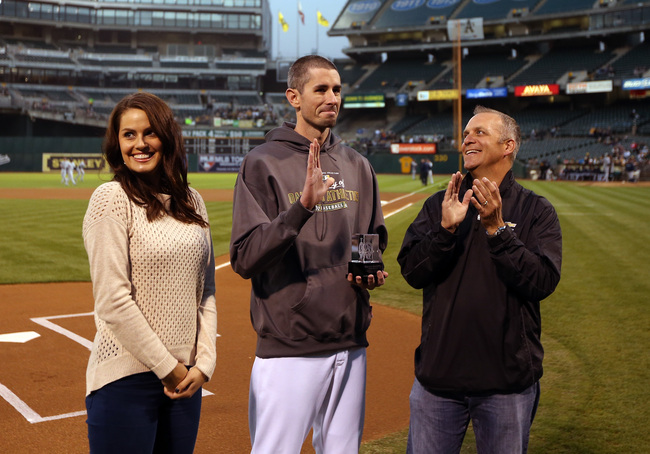 Ezra Shaw/Getty Images
When Brandon McCarthy took a line drive to the noggin about a year ago, at least he had his high school sweetheart around to nurse him back to health.
Plenty of people in the baseball universe—whether they're fans of McCarthy or not—are aware of his wife Amanda's presence. She certainly makes herself known on Twitter and to the press, which is actually fine because she's pretty hilarious. See below:
Does 'just for men' always sponsor the pregame show or is that a little something special for Brandon?

— Amanda McCarthy (@Mrs_McCarthy32) September 24, 2013
The two got engaged in 2010, 11 years after they met.
Mariano Rivera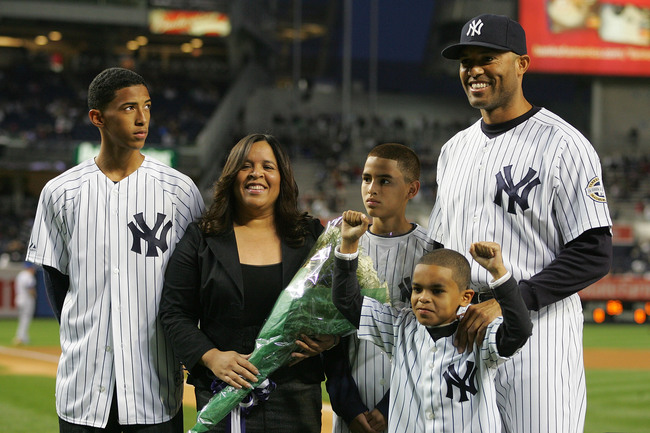 Jared Wickerham/Getty Images
You know you're a dependable guy when you're 43 years old and you're still with the same girl you were dating in elementary school. (Do people date in elementary school? Apparently.)
The Greatest Closer in the History of Baseball met his future wife Clara when they were just wee little ones in Panama. They got married in November 1991, which was still about three years before his professional career began with the New York Yankees.
You have to give Mrs. Mo credit. She sure knows how to pick 'em.
Mike Lowell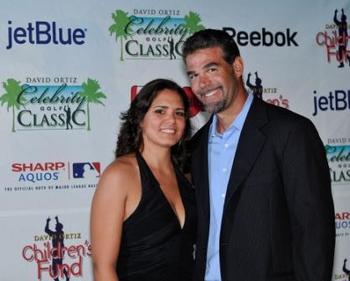 Source: Boston.com
He may not be in baseball anymore, but when he was, life was so good.
Mike Lowell was the leader of not one, but two World Series-winning teams: One surprise contender in Florida and another built-to-win machine in Boston. When you have two rings (and a nifty-old World Series MVP, too), retirement is a lot easier to swallow.
Lowell's third ring is from wife Bertica, whom he met at Coral Gables Senior High School in Florida. Mike was a star ballplayer with a 4.0 GPA, and Bertica was the star of the school's dance team. Hollywood couldn't write it any better than that.
Clayton Kershaw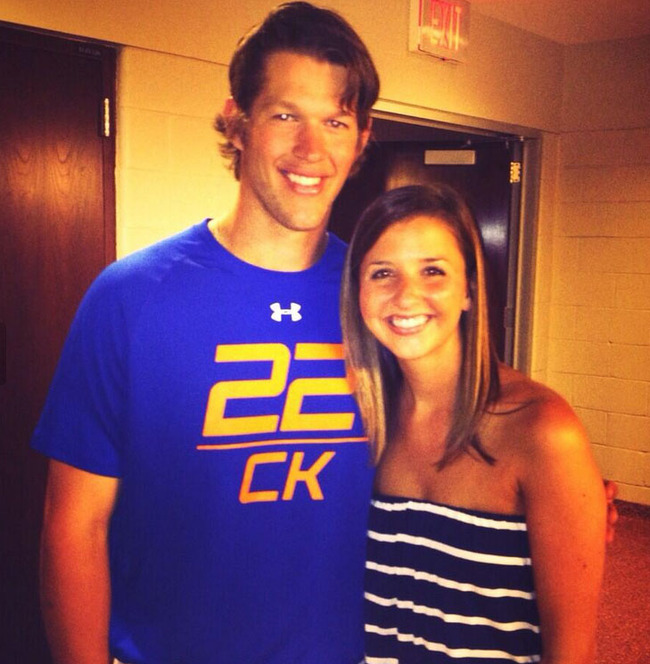 Source: Twitter

Clayton Kershaw is having a pretty good couple of years. He is a part of the super awesomely historic Los Angeles Dodgers, who are headed to the postseason after steamrolling any and all competition they have faced since the All-Star break.
He's been an All-Star for three years running, he won the Cy Young in 2011, finished second in the voting last year and could have another one in his possession about a month from now.
And all is well on the home front, too: The Dallas native married high school sweetheart Ellen in 2010, and at that point, they had already been together for seven years—which means their love blossomed right around ninth grade.
Mario Manningham
Frazer Harrison/Getty Images
How do you cap off the perfect season?
Well, if you're Mario Manningham, you register one of the most famous catches in the history of the NFL, win the Super Bowl, sign a lucrative deal with another team that will soon be headed to the Super Bowl, and then you get engaged to your high school sweetheart. Boom. Perfect year.
The ex-New York Giant and current 49er showed up to the 2012 ESPYs with his new fiancé on his arm, whom he met in high school, according to Bossip.
Gregory Campbell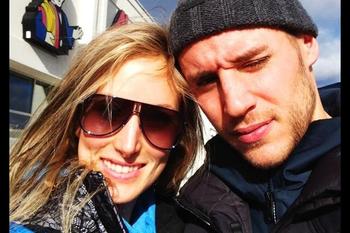 Source: Facebook
As those of us who, at some point, have stalked Tyler Seguin on Twitter know, the Bruins' Gregory Campbell got married in the summer of 2012 to his high school sweetheart, Katie.
The lavish affair took place at the Trump Tower in Toronto, Ontario. The centerman, who resides in London, Canada in the offseason, is more well known for being the guy who stood in front of an Evgeni Malkin slap shot during the 2013 Eastern Conference Finals, thus breaking his right fibula.
Philip Rivers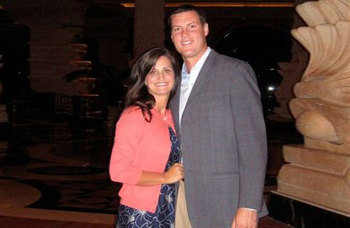 Source: PlayerWives.com
He may be destined for NFL mediocrity for the entirety of his career, but at least Philip Rivers has love. And you know what? Super Bowl rings can't buy you happiness, so at least he has wedded bliss going for him.
Phil married Tiffany at the ripe old age of 20, and despite the fact that he is now only 31, he and his betrothed have a whopping six children—four girls and two boys.
The four-time Pro Bowler and his wife are very active in terms of philanthropy, working hard to build the Rivers of Hope Foundation, which helps abandoned and orphaned children.
Joe Flacco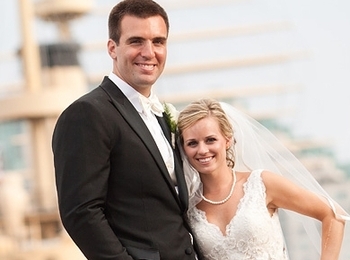 Source: LA Weekly
Al Bello/Getty Images
Even in spite of the egregious height difference, aren't Joe and Dana Flacco the cutest ever?
The most recent Super Bowl MVP married his high school sweetheart in 2011, just a few years into his NFL career. They started dating when they were seniors, and she loved him despite that haircut, so you know this thing is built to last.
The proud parents welcomed their first son, Stephen Vincent, just before Flacco's Super Bowl campaign kicked off last fall.
Jarrod Saltalamacchia
Source: Barstool Sports

Not only did Jarrod Saltalamacchia marry his high school sweetheart, he also married his high school gym teacher.
So that happened.
In an effort to make this sound less embarrassing and weird than it doubtlessly is, some have gone out of their way to claim that Ashley Saltalamacchia wasn't his gym teacher, but simply a gym teacher at his school. Tomato, tomahto. Dude married his gym teacher. Just accept it.
According to Ashley, her relationship with her young baseball star didn't begin until the year after he graduated from high school. They got married about a year later and it's been sunshine and rainbows ever since.
LeBron James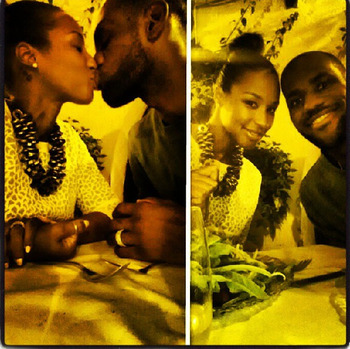 Source: Instagram
After LeBron James won his second straight NBA title, his second straight Finals MVP and his fourth league MVP, what else was left for him to do? He had everything, right?
Well, not quite—at least until after he got married this summer.
Savannah Brinson became Mrs. James in a star-studded affair earlier this month in San Diego. The two met in high school and made it official at the Grand Del Mar hotel, in the presence of some of their closest friends, including Carmelo Anthony, Chris Paul, Jay Z and Beyonce.
Keep Reading