Singapore Grand Prix 2013: Booing Fans Jealous of Sebastian Vettel's Results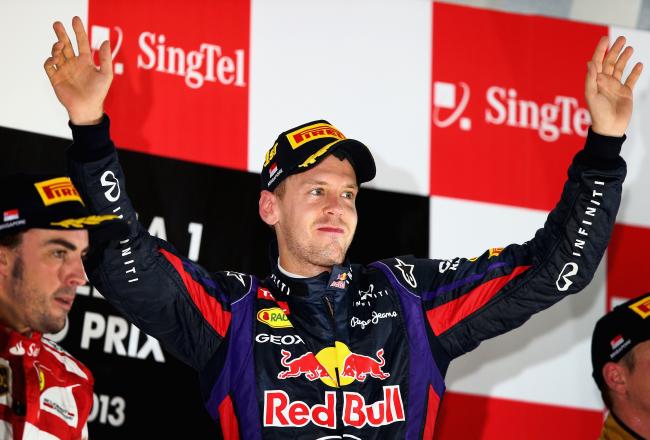 Clive Mason/Getty Images
Fast cars, beautiful women and all the money a motorsport fanatic could ever hope to rake in—what's there to be jealous of when it comes to Sebastian Vettel?
Results, namely, it seems, after the reigning Formula One world champion claimed that those jeering him in the wake of his Singapore Grand Prix triumph and elsewhere are angry at their own team's lack of success.
According to a report from BBC Sport's Andrew Benson, it's mainly Ferrari fans who are guilty of the offence, with the German commenting:
Most of the fans are dressed in red, Ferrari has a very strong fan base for a reason: they have a lot of tradition in Formula 1, they've been around longer and won, and they've been more successful than any other team.

Obviously they are quite emotional when they are not winning, and if somebody else is winning they don't really like it. They are wealthy enough to go to a lot of races, Monza or take the flight to come here to Singapore.

As long as they keep booing, we are doing a very good job so that's the way I see it.
The result in Singapore marks Vettel's third successive Formula One win, stretching his lead at the front of the drivers' standings to a massive 60 points and bringing a fourth world title that much closer to grasp.
The 26-year-old is largely correct in his assessment of the situation and the juxtaposition between Ferrari's success now compared to that of five years ago and earlier in the 2000s.
BT Sport's Jake Humphrey is another who doesn't understand the bitter reaction of some sections in the crowd:
I'm not sure which is more laughably embarrassing, fans booing Vettel at the end of a GP or Webber's 10 place penalty for hitching a lift...

— Jake Humphrey (@mrjakehumphrey) September 22, 2013
Formula One, like almost any other sport, is cyclical and right now just so happens to bear witness to the ascendancy of Red Bull and Vettel on the individual scale.
The constructors' team boss, Christian Horner, was also reported by Benson as noting his star's current predicament:
It's so unfair. It's not sporting. The boy has driven an unbelievable race. Of course he says it doesn't affect him, but he's a human being.

I don't know what [the reason] is. For sure Malaysia didn't help. But it's happened. It's been done. There's been an awful lot written about it and there were circumstances that were involved in that that Sebastian felt [he was doing the right thing].
Horner refers to the Malaysian Grand Prix controversy from earlier in the season, an occasion that saw Vettel decline to hand a victory to Red Bull teammate Mark Webber.
The occasion evidently didn't enamour the superstar with some who presumably now feel Vettel has reached the height of his F1 powers and is perhaps ready to start the inevitable decline.
For the current face of the sport, any jeering wouldn't appear to be affecting results, which, in any case, is all that matters to driver and team alike.
However, the adoration of the masses is something to revel in for any athlete, and the glory of world silverware will have its hints of hollowness when greeted with boos at every corner.
Regardless, Vettel appears to be thriving in what he sees as jealousy and need only put up with it for six more races before showing the world once more exactly why he's the deserved centre of attention.
This article is
What is the duplicate article?
Why is this article offensive?
Where is this article plagiarized from?
Why is this article poorly edited?