Who Really Won? Jon Jones vs. Alexander Gustafsson at UFC 165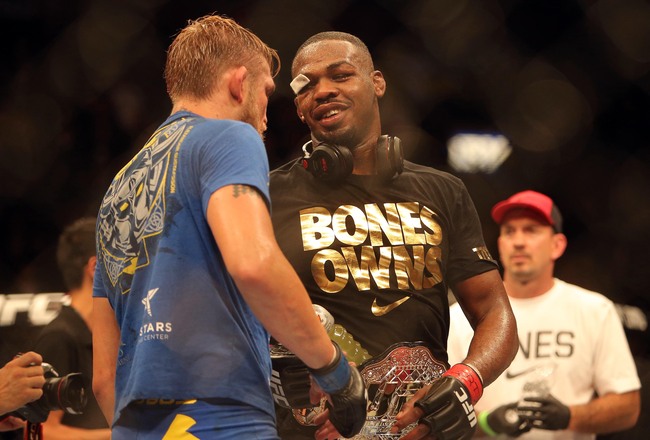 Tom Szczerbowski-USA TODAY Sport
Like all close fights, the decision in UFC 165's title bout between Jon Jones and challenger Alexander Gustafsson created a stir among fans on the Internet. Though the bulk of the media and all three judges scored the fight for Jones, some felt that the challenger deserved the title.
It's hard, of course, to process a fight totally while it is happening. In a fight like this one—where a huge underdog is fighting the favorite closely—there is a tendency to inflate what he's doing simply because he's defying expectations.
In other words, Gustafsson—just by staying in the fight for five rounds—felt like a winner.
But was he?
I watched the fight again in the light of day, with all the emotion and excitement of the live experience muted, to see how I would score the bout. In addition to my own judgment, I've included statistical analysis from FightMetric, the official statistics partner of the UFC.
Who really won the fight everyone is buzzing about?
Let's explore round by round and find out.
Round 1: Jones 10-9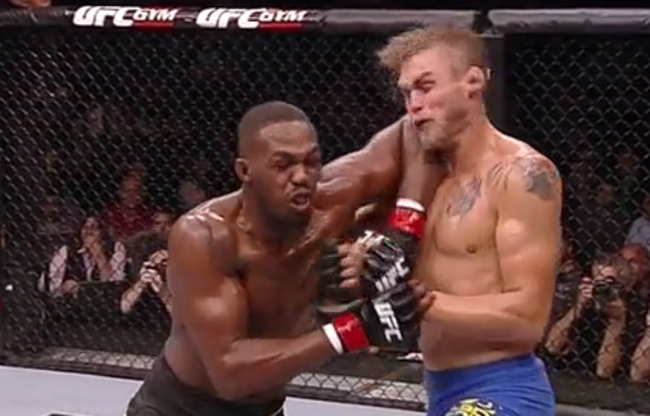 screen capture

The tone of the fight was set early as Jones relied almost entirely on kicks, while Gustafsson preferred to throw hands. It was Jones early, with a spinning back kick he would go back to over and over again throughout the fight and a variety of attacks on Gustafsson's lead leg, including kicks directed at his knee cap.
"They're a little controversial," announcer Joe Rogan said. "Because they hyperextend the knee if they land correctly."
At 3:33, Gustafsson countered a leg kick with a right hand up the middle. The UFC promoted this fight based on the challenger's reach, and here was an example of it coming into play. He followed it up with a lead left hook, another technique that would define the night.
Just about halfway through the first round, the whole bout was thrown into chaos. Both men threw right hands. Gustafsson's landed.
"Glanced," Rogan said. "It didn't land clean."
In this case, however, glancing was even better than a solid connection. Jones was cut above his right eye, an injury that would bother him throughout the fight.
Gustafsson was buoyed by the sight of blood, perhaps, and landed a strong combination. Jones returned to the leg kick, occasionally mixing in a spinning back kick that landed way more often than you'd expect from such a slowly developing strike.
With a minute left, Gustafsson, who had defended a couple of takedown attempts by Jones, took the champion to the mat.
"First time in the UFC," announcer Mike Goldberg said. It wouldn't last long. In 15 seconds, Jones was back to his feet, bringing things to a crashing halt with an eye poke.
"Both of you are sticking your fingers out," referee "Big" John McCarthy admonished.
When the action commenced, Jones was on a rampage. He landed a spinning elbow and followed up a missed takedown with a strong elbow to the face to close the round.
Jones' Best Moment
The elbow to close the round.
Gustafsson's Best Moment
A hard counter that made Jones pay for a low leg kick.
Stats
Total Strikes: Jones 28, Gustafsson 19
Takedowns: Jones 0-3, Gustafsson 1-1
FightMetric Performance Rating: Gustafsson 51, Jones 45
Score
10-9 Jones
I scored this for Gustafsson when watching live. Seeing it again, with the benefit of time and the DVR, I think Jones squeaked it out.
Jones scored the harder shots and did so more frequently. The flurry at the end of the round sealed the deal.
Round 2: 10-9 Gustafsson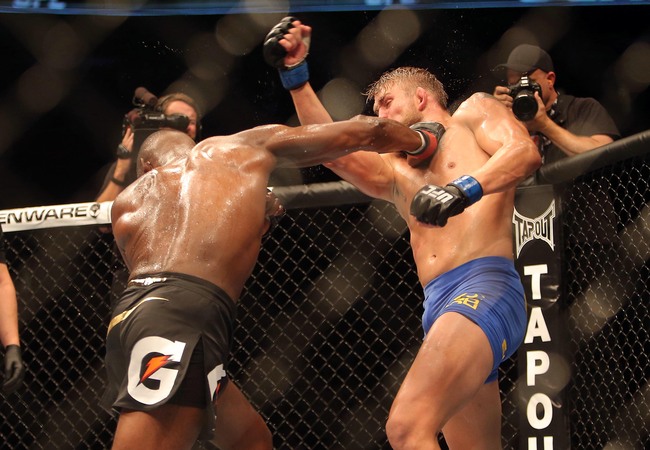 Tom Szczerbowski-USA TODAY Sport
"Deep breaths, Jonny Bones. Deep breaths," Jones' coach Greg Jackson said from outside the cage.
In Jones' corner, concern was obvious right away. Copious amounts of Vaseline were applied to the cut, but it couldn't stop the bleeding.
"That cut's leaking," Rogan said, with a mixture of awe and disgust.
The fight continued right where it left off, with Jones scoring with a leg kick. At 4:37, Gustafsson caught a kick and put Jones down again. This time, in the scramble that ensued, Jones chased the challenger halfway around the cage, for naught.
The two fell into a pattern, exchanging a kick for a punch. At 4:06, Jones grabbed a clinch. In every other fight of his career, that meant his opponent was going down but not here.
Gustafsson took charge with a combination including a left hook over the top of Jones' guard. Halfway through the round, Jones made all the leg and body kicks pay off with a kick right to the head that Gustafsson never saw coming.
At this point, according to the UFC's on-screen stats, Jones had a 41-39 advantage in the striking department.
With a minute to go, after defending a takedown, Gustafsson landed a hard combination of punches and closed the round with a strong uppercut. Perhaps to deflect attention from his opponent's rally to end the five-minute stanza, Jones raised both hands into the air.
Jones' Best Moment
Going high with a head kick.
Gustafsson's Best Moment
A strong combination that led with the left.
Stats
Total Strikes: Jones 26, Gustafsson 15
Takedowns: Jones 0-3, Gustafsson 0-1
FightMetric Performance Rating: Gustafsson 42, Jones 41
Score
10-9 Gustafsson
An incredibly even round. I gave it to the challenger based on several hard punches that made up for a lack of quantity with quality.
Round 3: 10-10 Even
screen capture

Nothing much changed to open this round. Jones, again, focused on leg kicks, occasionally sneaking one up to the body. Gustafsson, often successfully, looked to counter with a right hand up the middle.
The challenger was finding his rhythm when Jones connected with a solid high kick to the head. It was a technique that his corner had warned him about between rounds. They told him, "You're dropping your hands."
He was. He did. He paid for it.
At the halfway point, Gustafsson followed an uppercut with a right straight. Later, after landing a lead left hook, he caught Jones retreating with another straight right. Once again, reach and technique were coming into play.
Undaunted, Jones continued with elliptical kicks to the leg. He went high again, just missing, before scoring a hard kick to the body that he followed immediately with a left hand, staggering the backpedaling challenger.
"You see Gustafsson taking some real deep breaths," Rogan pointed out. What was a minor issue was about to come to the forefront.
Before he faltered, however, the Swede got his second wind. Working off the jab, he landed a combination and then paired a jab with an elbow. But before he could cruise to an easy 10-9, Jones threw a wild spinning elbow and closed with a strong jab.
Once again, it was a round that could have gone either way.
"Jon Jones may be losing this fight," Rogan said.
In the champion's corner, however, they felt things were going their way.
"Keep getting off first," coach Mike Winkeljohn said. "You win every time."
Jones' Best Moment
Going high with a head kick redux.
Gustafsson's Best Moment
Catching Jones as he tried to reset with a strong right.
Stats
Total Strikes: Jones 30, Gustafsson 26
Takedowns: Jones 0-0, Gustafsson 0-1
FightMetric Performance Rating: Jones 60, Gustafsson 59
Score
10-10
This was as even as it gets. Although I prefer to score rounds to one fighter or the other, this round was ridiculously close.
Round 4: 10-9 Jones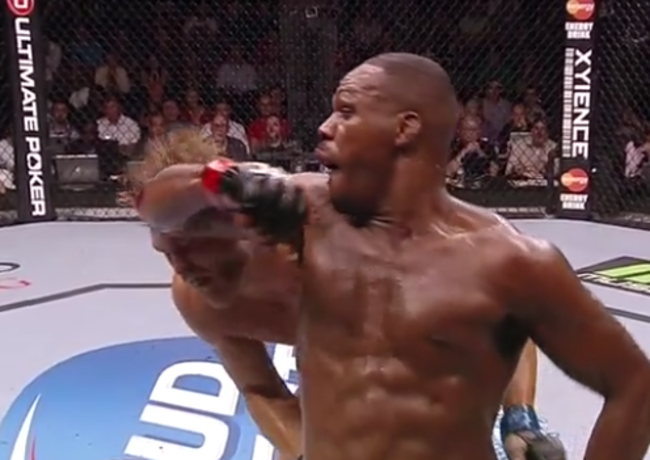 screen capture

It was "opposite round," at least to start, as Jones hit Gustafsson in the face with a hard left hand, and the challenger responded with a leg kick.
It was Gustafsson early in the round, countering a leg kick with a hard right hand and continuing his boxing clinic.
"We wondered if he could handle the brilliance of the champion," Goldberg said. "Thus far, the answer is yes."
Jones rallied, pairing his leg kick with a jab to good effect, but at the halfway point, Gustafsson landed the best shot of the round with a huge counter left. He then stuffed a Jones takedown attempt for good measure.
"Amazing," Rogan said.
With just :36 left in the round, Jones, likely on his way to losing the round and the fight, changed the dynamic. He landed a hard elbow and knew immediately he had done damage, pursuing Gustafsson with a knee and two more elbow strikes to the face.
Then he made a mistake that could have cost him dearly, shooting a takedown instead of trying to finish the injured challenger standing.
"Gustafsson stuffs the takedown even while hurt," Rogan said. "Amazing."
Jones bloodied Gustafsson with two more elbows and finished the round with a flying knee. But there would be no finish—the failed takedown had cost him precious time.
"Incredible fight," Rogan said.
Jones' Best Moment
An elbow that rocked Gustafsson.
Gustafsson's Best Moment
A counter left that hurt the champion.
Stats
Total Strikes: Jones 28, Gustafsson 26
Takedowns: Jones 0-3, Gustafsson 0-1
FightMetric Performance Rating: Jones 94, Gustafsson 69
Score
10-9 Jones
This was the first easy round to score. The final 30 seconds made it all Jones.
Round 5: 10-9 Jones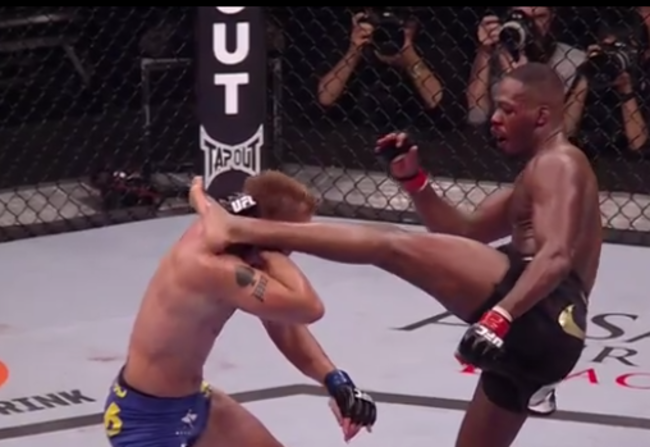 "They are on their feet," Goldberg said, as the crowd let out a roar of appreciation.
The story of the whole fight was played out in the first minute of the final round. It was leg kick versus counter right.
Gustafsson, however, was spinning the tale his way early, landing two uppercuts and a left as Jones tried to retreat out of range. That was easier said than done when it came to the long-limbed challenger.
"Jones' lips are swollen up now too," Rogan said.
At 3:32, Jones landed a lunging elbow and, 30 seconds later, finally succeeded in taking his opponent to the mat.
"He's exhausted, Mike," Rogan said. "And he's got to pass his guard and do some damage."
It was not to be. Before 30 seconds had elapsed, Gustafsson had pulled himself to his feet. But it was out of the frying pan and into the fire for the challenger, who was met with a hard head kick that he was only partially able to deflect. Gustafsson barely even flinched.
"Gustafsson just ate it," Rogan said.
At 2:10, the fight may have been decided on body language alone. A worn-out Gustafsson put his hand on his hip to catch his breath. Jones pushed the action with a head kick and a big kick to the body. Gustafsson, momentarily, showed weakness, which gave the champion courage and hope.
From there on, it was all Jones. Gustafsson swung and missed with a spinning elbow, while the champion kept up the kicks, landing them on the legs, body and head at will.
"Both of these guys are pushed to their limits," Rogan said.
With 17 seconds left, Jones made one final attempt at finishing the bout, following a head kick with a solid short elbow. Nothing doing.
"Gustafsson has got a chin on him," Rogan exclaimed.
The round, and the fight, ended with Jones attempting a flying knee and following it up with another short elbow. When the bell rang, he had the presence of mind to raise his hands.
"That might be the greatest title fight in history of the light heavyweight division," Rogan said. "And I have no idea who won."
Jones' Best Moment
A head kick followed by a short elbow.
Gustafsson's Best Moment
Showing the heart and determination to keep fighting when his body was telling him "no."
Stats
Total Strikes: Jones 28, Gustafsson 25
Takedowns: Jones 1-2, Gustafsson 0-4
FightMetric Performance Rating: Jones 116, Gustafsson 72
Score
10-9 Jones
Jones dominated the final round to secure the title and his status as the world's best fighter.
Result: 49-47 Jones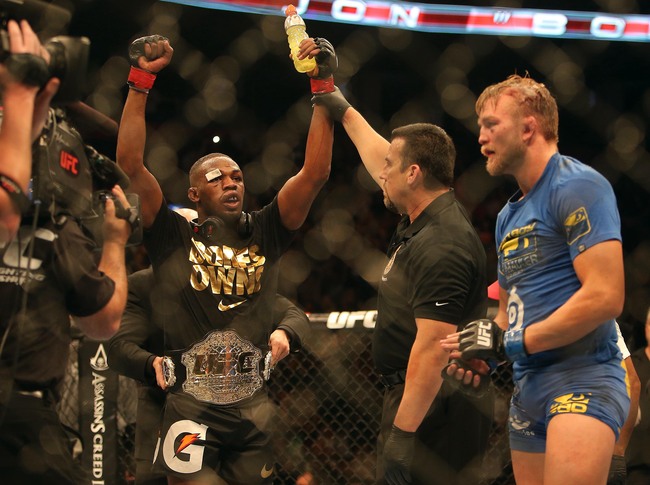 Tom Szczerbowski-USA TODAY Sport
Stats
Total Strikes: Jones 137, Gustafsson 114
Takedowns: Jones 1-11, Gustafsson 1-8
FightMetric Performance Rating: Jones 355, Gustafsson 303
Score
49-47 Jones
The fight came down to the final round. In the end, Gustafsson didn't have enough left in his gas tank to take the belt from the champion. It was the furthest we've ever seen Jones pushed. But to his credit, he pushed back, winning the final two rounds and the fight.
Keep Reading