Patriots Hold off Falcons 30-23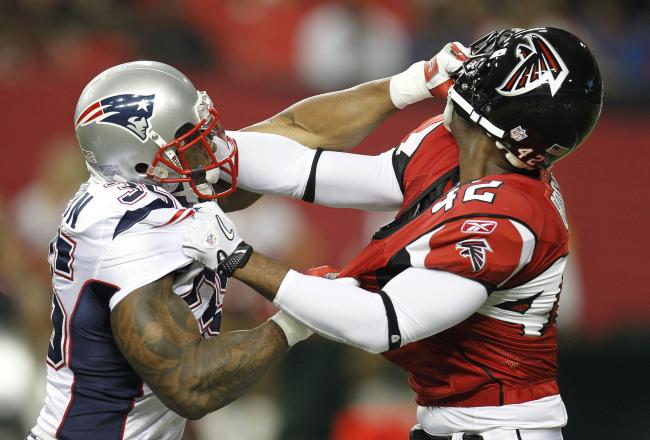 Mike Zarrilli/Getty Images
The New England Patriots needed a fourth-down stop at the end of the game to hold on for a 30-23 win over the Atlanta Falcons on Sunday night.
The Falcons took an early 3-0 lead after an impressive first drive that saw them run the no-huddle.
Matt Ryan's first drive looked good, but they could not find the end zone from inside the Patriots' 10-yard line. Penalties stalled the Falcons second drive.
The Patriots found some success on the ground with their running backs in the second quarter, with Tom Brady capping off a long drive with a touchdown pass to Matthew Mulligan. That gave the Pats a 7-3 lead.
The defensive struggle continued, with the Pats stopping the Falcons on fourth down, deep inside their own territory. Tom Brady then took the team on a field goal-scoring drive, on the back of a 49-yard completion to Kenbrell Thompkins.
The Falcons put together a deadly drive just before the half, with Matt Ryan capping it off with a touchdown pass to Tony Gonzalez to tie the game at 10.
The second half started with both teams struggling to move the ball. New England put together a solid drive with their second possession but ran out of gas at the Falcons' four-yard line. They settled for a field goal to take a three-point lead.
LeGarrette Blount's 47-yard touchdown run early in the fourth quarter put the Pats up by 10. After an Atlanta field goal the Pats extended their lead to 27-13 on a great touchdown catch from Kenbrell Thompkins. Julian Edelman set the Pats up witha 44-yard catch and run on third down to get the Pats into Atlanta territory.
Tony Gonalez added a late touchdown for the Falcons, his second of the night. After a recovered onside kick by the Falcons, they tacked on three more points to pull within a touchdown.
Tom Brady fumbled a 4th-down snap to give the Falcons a last possession with a chance to tie the game. After a long completion to Julio Jones took the Falcons inside the Patriots' red zone, the Pats' defense came up with a fourth-down stop to hang on for the win.
4th quarter, :37 left
Aqib Talib breaks up the pass and the Patriots are going to win this one.
4th quarter, :41 remaining
And it comes down to a 4th-and-7 for the Falcons inside the Patriots' 10-yard line. This is it...
4th quarter, :54 remaining
Julio Jones with a huge catch and the Falcons are inside the Patriots' red zone!
4th quarter, 1:50 remaining
Pats go for it on 4th down and Tom Brady fumbles the snap! Falcons take over needing a touchdown to tie, two timeouts remaining.
4th quarter, 1:54 remaining
Pats give it to Blount on third down and he's stopped just short. Decision time...
Falcons have scored more 4th quarter points tonight (13) than they had in their first three games combined (10).

— Christopher Price (@cpriceNFL) September 30, 2013
This time, the Patriots recover the onside kick. 1st & 10 at the Atlanta 46. #NEvsATL

— New England Patriots (@Patriots) September 30, 2013
4th quarter, 3:00 remaining
Falcons miss the third-down conversion and settle for three points to get them within a touchdown. Now comes a great test for the Patriots young offense. Can they close out a game on the road?
4th quarter, 3:05 remaining
Falcons facing a third-down inside the Patriots 10-yard line and it looks like they'll pull within a score of the Patriots. Looks like Tom Brady and the Pats offense are going to have to ice this one, or Matty Ice may get one last chance to pull it out.
4th quarter, 4:21 remaining
The Falcons recover the onside kick as rookie Zach Sudfeld bobbles it. Falcons take over at midfield, and this one could be more interesting than we thought it would be.
Opposing No. 1 WR stats vs. #Patriots through 4 games: Julio Jones 4-39; Vincent Jackson, 3-34; Santonio Holmes 3-51; Stevie Johnson 3-39-1.

— Evan Silva (@evansilva) September 30, 2013
4th quarter, 4:22 remaining
Falcons putting together a quick drive here and they cap it off with another touchdown to Tony Gonzalez. This one ain't over just yet.
Patriots up 30-20.
Barring a miracle, Pats about to be 2-0 vs AFC East and 2-0 vs NFC South. First time at 4-0 since 2007

— Ben Volin (@BenVolin) September 30, 2013
Brady 15 for 22 in the second half. Edelman 7-118 yards, outpacing Julio Jones' 3-22. Edelman, Jones tied for reception lead coming in.

— Tom E. Curran (@tomecurran) September 30, 2013
4th quarter, 6:23 remaining
Stephen Gostkowski continues his great season with a 49-yard field goal that extends the Pats' lead to 30-13.
Impressive second half performance by the Pats on both sides of the ball. The offense has looked as crisp as they have all season. That's still not saying they look like the unstoppable machine of recent seasons, but this is as good a full-team game as we've seen in a long time.
Pats have 153 yards in the fourth quarter, and three scoring drives of 80-plus yards in the second half

— Ben Volin (@BenVolin) September 30, 2013
4th quarter, 9:35 remaining
Matt Ryan comes out throwing a bomb to Julio Jones but Aqib Talib comes up with the interception. Great game by Talib, one that shows the value of having a top man-to-man corner.
Pats taking over on their own 40.
4th quarter, 9:43 remaining
Thompkins with a drop on second down that would've taken the Pats to midfield, but Tom Brady finds Julian Edelman for a 44-yard catch-and-run.
On the next play Thompkins redeems himself with an 18-yard touchdown catch. Pats look like they've extended their lead as we await the replay.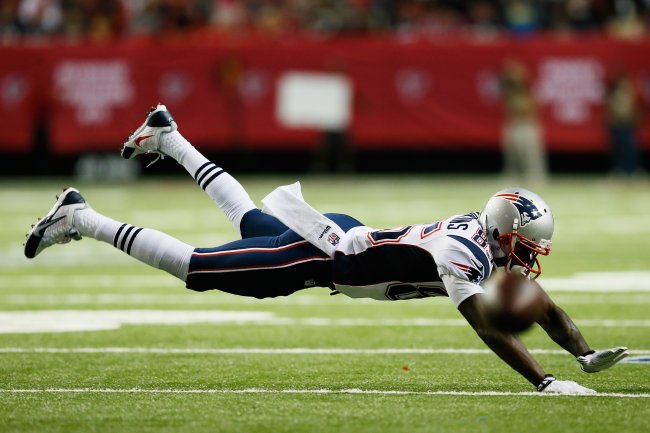 Kevin C. Cox/Getty Images
4th quarter, 11:52 remaining
Pats sack Matt Ryan on third down and the Falcons are held to a field goal. They close the gap to 20-13.
For all the talk of whether or not the Patriots defense is for real, they've certainly looked it tonight. Tony Gonzalez has had success, but the 13 points on the board are what matter.
Let's see who can close this one out.
Good balance for the Pats tonight: 24 passes, 22 runs. Bad balance for the Falcons: 33 passes, 14 runs

— Ben Volin (@BenVolin) September 30, 2013
4th quarter, 13:00 remaining
The Falcons won't go away quietly. A big pass interference on Aqib Talib given the 38-yards and they're quickly in New England territory.
This article is
What is the duplicate article?
Why is this article offensive?
Where is this article plagiarized from?
Why is this article poorly edited?

New England Patriots: Like this team?