Figuring It Out: How the Seattle Seahawks Contained the San Francisco 49ers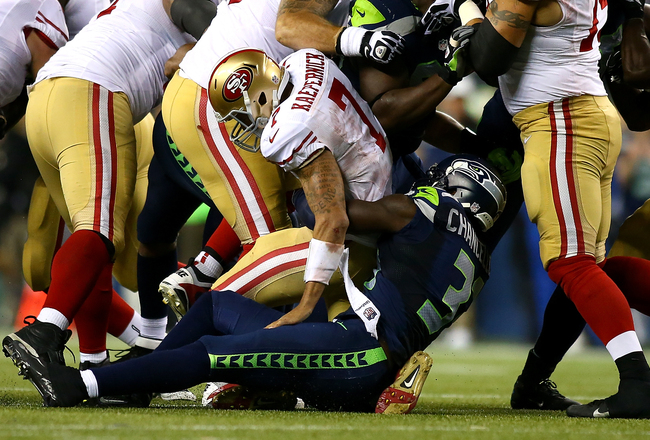 The Seattle Seahawks were too much for San Francisco on Sunday.
Jonathan Ferrey/Getty Images
Thunder and lightning were prevalent in Seattle Sunday night.
Aside from being the reason Sunday night's contest between San Francisco and Seattle was suspended for an hour during the first quarter of play, the Seahawks, their fans and especially their defense played with a moxie that was all too analogous to the weather in the Emerald City.
Storming onto the field in front of a capacity and record-setting crowd at CenturyLink Field, the Seahawks may have struggled offensively early on, but their defense was firing on all cylinders. Even without starters Chris Clemons, Bruce Irvin and Kam Chancellor, Seattle managed to contain a 49ers offense that had put up 34 points on the Green Bay Packers in Week 1. Not only that, but the Seahawks also forced five turnovers on the night—three interceptions and two fumbles—while cruising in the second half to a 29-3 victory that has since propelled them to the top of the NFL rankings.
So how did they manage to shut down Colin Kaepernick and a San Francisco offense that torched and dissected the Packers? Let's take a look back at the game.
Noise
The 12th man was in full force on Sunday night, and rightfully so. Creating their own thunder and vibrations throughout the stadium, the crowd at CenturyLink Field was ruthless, loud and record-setting. In fact, the crowd noise reached a peak of 136.6 dB during the game, breaking the world record they had previously set earlier in the game.
For comparison purposes, pain begins at 120 dB and 130 dB of noise would be equivalent to standing 50 feet away from a military jet taking off with an afterburner. Ouch. And while the crowd wasn't consistently pushing over 130 dB on Sunday night, you could tell the 49ers were having plenty of problems communicating on the offensive side of the ball.
Kaepernick and his offense had to huddle closer than any group of grown men I've seen huddle before, San Francisco reverted to hand signals when in their formation, and Seattle's somewhat depleted defensive line was able to get a great jump off of the ball.
Now, noise definitely wasn't the sole thing that held the 49ers at bay, but it's hard not to factor that type of raucous atmosphere into Seattle's victory equation. CenturyLink Field is the toughest place in the NFL, which forced San Francisco to call inopportune timeouts while also causing several false starts.
Man-to-Man Coverage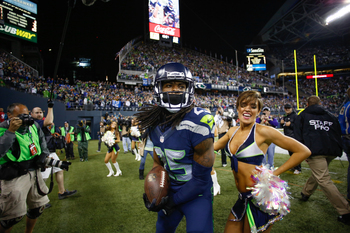 Richard Sherman and Seattle's secondary had a huge night against the 49ers.
Otto Greule Jr/Getty Images
One of the biggest assets the Seahawks pride themselves on having is physicality in their secondary. Boasting a rotation of players with unconventional size for their respective positions, the Seattle secondary has begun to redefine what a corner/safety looks like. Using their size, strength and speed, they jam receivers at the line and create few passing lanes for quarterbacks to sling the ball into.
Sunday night was not any different, as the combination of Richard Sherman, Walter Thurmond III, Earl Thomas and Kam Chancellor consistently shut down San Francisco's wide receivers and forced the 49ers to figure out other ways to get past Seattle's defense. Anquan Boldin, whom many heralded as the difference-maker heading into the game, was an essential non-factor, and Kaepernick completed just 13 of 28 passes for 127 yards and three interceptions.
The reason the Seahawks had so much success in the secondary was their physicality and speed. Sometimes disrupting the timing of San Francisco's receivers at the line, the Hawks managed to stick with receivers stride-for-stride in their routes, and if they didn't, they were able to make up ground with their impressive speed as well.
Simply put, the Seahawks closed virtually all of Kaepernick's passing lanes throughout the game.
Pressure from Four-Man Front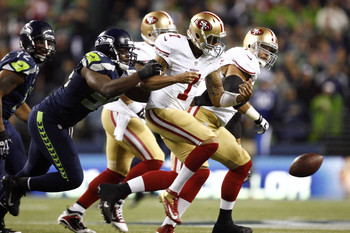 Avril recorded a sack and forced a crucial fumble.
Joe Nicholson-USA TODAY Sports
One of the overlooked benefits of Seattle having such a good secondary is the fact that they are able to put more men into run-stopping/containing situations while allowing their defensive line plenty of time to get to the quarterback.
This was apparent on Sunday night, as the Hawks managed to record three sacks of the elusive Colin Kaepernick while also holding San Francisco's rushing attack to just 100 yards on the ground, with 87 coming from their dual-threat quarterback.
Frank Gore was a non-factor, Anthony Dixon was laughable, and the entire 49ers offense just looked like a deer in the headlights with the troubles they were having in terms of getting into any kind of rhythm. And though Seattle's defensive line was depleted at the time of the game, Seattle's shutdown coverage managed to give their front four enough time to force Kap out of the pocket where—most of the time—linebackers were ready to stop him for short- to mid-range gains.
Kaepernick Has an off Day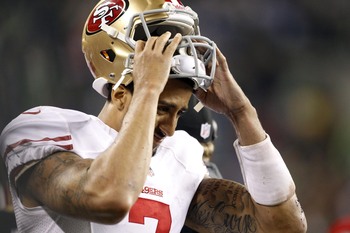 Kaepernick had a tough go of it on Sunday.
Joe Nicholson-USA TODAY Sports
Colin Kaepernick is one of the top quarterbacks in the NFL, and he consistently showed the nation why that was so and proved he was not destined for a down year when he tore up Green Bay's defense in San Francisco's home opener.
With that said, he was off and looked rattled on Sunday night. Likely a result of the noise and Seattle's defensive prowess, Kaepernick looked like he was forcing too many things to happen throughout the game. While he was able to get out of the pocket and showcase his impressive dual-threat ability with 87 yards on the ground, the decisions he made in the passing game were inept.
Especially when the 49ers started to drop behind, Kaepernick forced throws into places where there wasn't any daylight and just looked out of tune on Sunday. Don't expect him to appear as rattled as he was against the Seahawks in any other game this season.
Penalties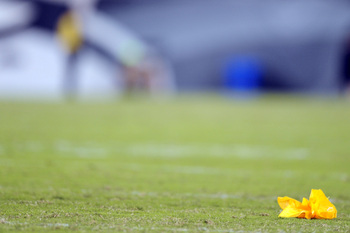 Flags were abundant in Seattle on Sunday.
Joe Camporeale-USA TODAY Sports
As with any rivalry game, flags were flying all over the field. And while the Seahawks had some crucial penalties called against them in the beginning portions of the contest, they managed to escape most of the damage and capitalized on San Francisco's penalties in the second half of the game.
In total, the 49ers racked up 12 penalties for 121 yards while surrendering four first downs due to penalties. Most of these flags flew in the second half of the game when San Francisco began to look desperate, and that allowed Seattle to further increase its lead and really take hold of the contest.
Keep Reading

Seattle Seahawks: Like this team?