WWE's Top Tweets, Instagram Photos and Viral Videos for Week of Sept. 9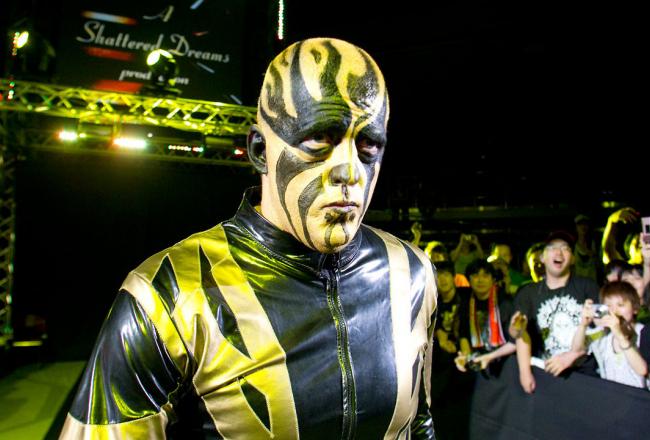 Photo: WWE

To soak up WWE social media this week was to experience a convergence of past, present and future.
We welcomed a painted face from another era as he battled the WWE Champion, marveled at a throwback move and gave a collective tip of the hat for a legend hanging it up. The week before Night of Champions featured an odd mix of pathos, awe and chuckling via WWE's Instagram photos, videos and tweets.
Even if a fan missed Monday's WWE Raw, it was difficult not to run into the image of Antonio Cesaro swinging Santino Marella.
The Giant Swing maneuver is an anachronistic move, one that evokes black-and-white TVs and cigar-smoking fans.
Cesaro is a throwback wrestler, though, so it's no surprise that he's been utilizing the move throughout his career. Try to spot all the current WWE stars you can in this clip of Cesaro swinging his opponent around in a match for Chikara.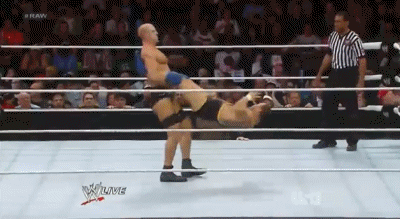 The dizzying image of Cesaro's spin-fest on Santino caught fire. The GIF of the Giant Swing is not surprisingly being shared by many.
The folks at Deadspin took notice, saying how "incredibly athletic" pro wrestlers are. The clip was dubbed "Clip of the Week" and aired on The Soup.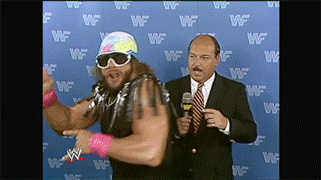 Perhaps inspired by the motion of Cesaro's move, WWE's Tumblr showed off a shot of "Macho Man" Randy Savage whirling during one of his interviews.
The only thing more talked about after Monday's Raw than Santino getting vertigo was the impressive return of Goldust.
The story of Goldust fighting for his brother Cody Rhodes to get his job back was told on multiple mediums. Fans not only saw Goldust and Randy Orton pull off a great match, but Instagram and Twitter added dimensions to the heartache of the narrative.
A lot on the line. No room for error. Time to rise up for my brother. #Focused ! Time to go to war with @RandyOrton . #FhodesDynasty @WWE

— GOLDUST (@DUSTIN_RHODES1) September 9, 2013
Before Goldust's big match, WWE posted a shot of him in deep thought on its Instagram page.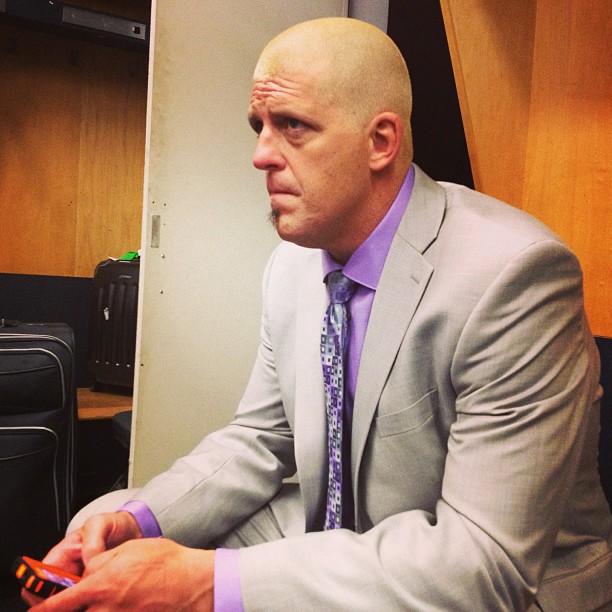 Orton eventually got the best of "The Bizarre One," but the company shared a photo of him extremely focused on getting the upset.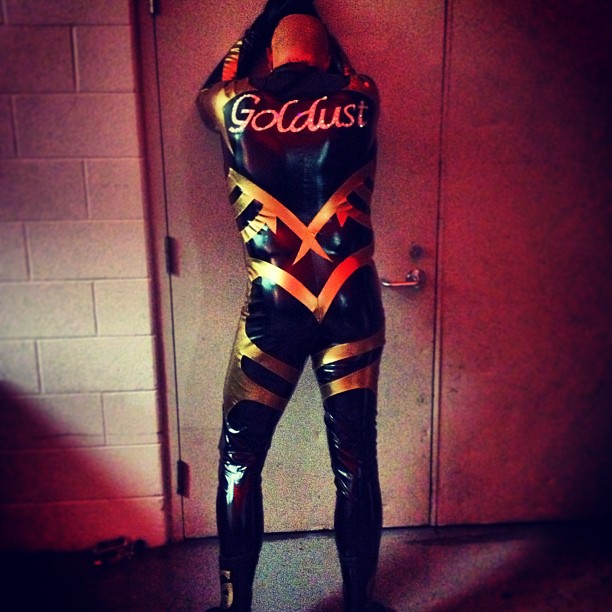 Triple H, the man who fired Rhodes in the first place, sat down with Michael Cole again to explain his actions and to try and convince the audience that he is no dictator.
EXCLUSIVE: @WWE COO @TripleH discusses @DUSTIN_Rhodes1, @EDGERatedR and punishment for @WWETheBigShow: http://t.co/G1VZbL8i3V

— WWE (@WWE) September 11, 2013
He also appeared on a video of compilation of great crowd reactions to big WWE moments, often as the loser. The first part of the countdown features Rob Van Dam and Chris Jericho winning the WWE Championship, Bob Backlund getting mobbed and fans howling for Steve Austin.
Many of those moments were elevated by the voice and power of one Jim Ross.
Ross announced his retirement from WWE on Wednesday and received a shower of gratitude from his peers and from fans. Lance Storm, Terry Funk and William Regal were among the many to show respect for the great announcer.
@JRsBBQ is the greatest announcer to ever call a match IMO. He's made more matches better than any wrestler ever has. #ThankYouJR

— Lance Storm (@LanceStorm) September 11, 2013
I'd like to thank @JRsBBQ for 20 years of help,mentoring,friendship and above all unwavering belief in me.

— William Regal (@RealKingRegal) September 12, 2013
@peterpcuser @JRsBBQ My thoughts: Jim Ross worked tirelessly to be a voice for the wrestlers during matches. Great man.

— Terry Funk (@RealTerryFunk) September 13, 2013
Even though he barely called matches anymore, this news is tough to take.
Ross is peerless—an icon who made matches special and produced greatness on a regular basis. The following video is making the rounds as folks cling onto the memories he created.
Thank you, JR. Hearing you pour your heart into the microphone was an awesome ride.
This article is
What is the duplicate article?
Why is this article offensive?
Where is this article plagiarized from?
Why is this article poorly edited?