Assessing McLaren 50 Years After They Were Founded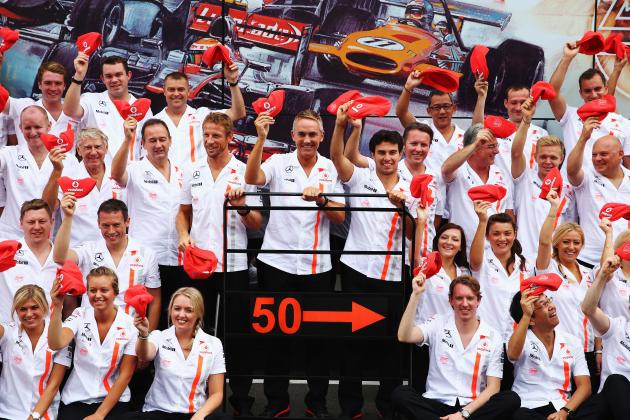 Clive Mason/Getty Images
McLaren celebrated its 50th anniversary in Italy
The Italian Grand Prix weekend was a landmark for the famous McLaren team as it celebrated 50 years of Formula One involvement.
It was back in 1963 that New Zealander Bruce McLaren rented building space in New Malden, Surrey to begin building cars and form a team under his own name.
Seven hundred and forty races, 182 race victories, 155 pole positions, 8 constructors' championships and 12 drivers' championships later and the McLaren name has gone down in history as one of the most successful in the history of this great sport.
There are so many landmark achievements to look back on that to list them all would take an eternity.
Here then is a chronological tribute to some of McLaren's most memorable moments to date.
Begin Slideshow

»
For most keen sporting enthusiasts, 1966 will be remembered as the year that Bobby Moore lifted the Jules Rimet Trophy at Wembley as England conquered the footballing world for the first and only time to date.
For F1 anoraks, it will be remembered as the year in which McLaren made its grand prix debut at the Monaco Grand Prix. Bruce McLaren entered the race and it was an inauspicious start, his race ending with an oil leak after just nine laps.
But a start it was and the start of something big.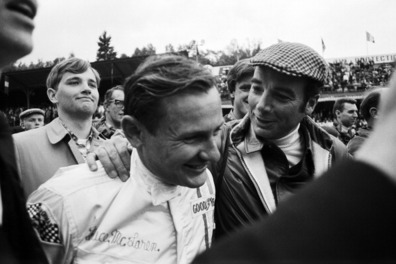 Bruce McLaren celebrates his first victory at Spa (Getty)
McLaren did not have to wait long to celebrate its first victory and fittingly it came courtesy of its founder behind the wheel of the Cosworth–powered M7A at the Belgian Grand Prix at Spa-Francorchamps.
McLaren won the race by 12.1 seconds from Pedro Rodriguez's BRM and Jacky Ickx's Ferrari and set the fastest average speed of 236.797 km/h.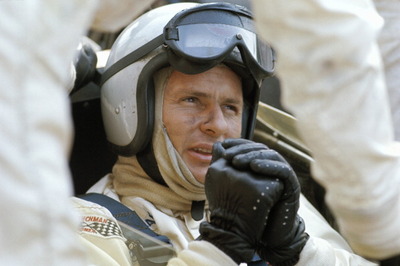 McLaren never got to see his team win the title (Getty)
It was a shame that Bruce McLaren never saw his team go on to achieve the successes that followed after he was killed when his Can-Am car crashed on the Lavant Straight at Goodwood on June 2, 1970.
McLaren had famously penned his own epitaph in his 1964 book 'From the Cockpit' when he wrote about the death of teammate Timmy Mayer.
To do something well is so worthwhile that to die trying to do it better cannot be foolhardy. It would be a waste of life to do nothing with one's ability, for I feel that life is measured in achievement, not in years alone.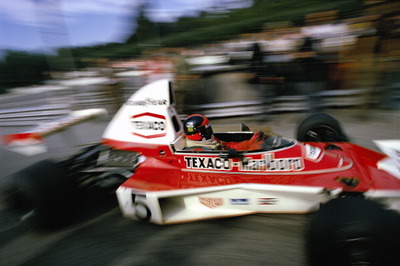 Emerson Fittipaldi in his title winning M23 (Getty)
A decade after McLaren's death, Brazilian Emerson Fittipaldi became the team's first world champion with victories in Brazil, Belgium and Canada.
Teamed with Denny Hulme and Mike Hailwood, Fittipaldi's successful season also saw McLaren clinch their first of eight constructors' titles.
Now the subject of Ron Howard's movie Rush, the thrilling 1976 title battle between James Hunt and Niki Lauda will go down as arguably the most memorable in history.
By midseason, Ferrari's Lauda held a considerable 30 point lead over Hunt going into the German Grand Prix. But following the fiery accident that almost claimed Lauda's life, Hunt began to eat into Lauda's lead until he was only three points behind going into the title decider at Fuji.
With torrential rain making driving conditions treacherous on race day, Lauda decided not to risk his life again and retired after two laps as Hunt finished third to snatch the title by a single point.
For the 1988 season a young Brazilian by the name of Ayrton Senna joined Alain Prost at the team and the pair totally dominated the season in the turbocharged MP4/3, winning an incredible 15 out of the 16 races.
With the constructors' title sewn up long before the penultimate race in Japan, the drivers' title was still very much up for grabs. And after Senna stalled on the grid, dropping him to the back of the field, it looked as if Prost would come out on top.
But Senna had different ideas, charging through the field to take a remarkable race victory and with it the first of his three world titles for McLaren.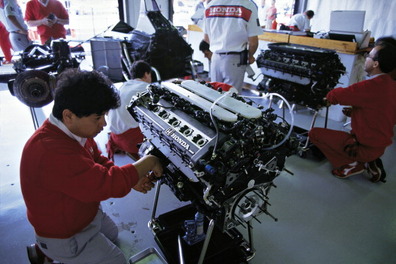 Honda powered McLaren to four consecutive titles (Getty)
Following Senna's breakthrough title in 1988, the Honda powered McLarens dominated the field for three more seasons, Prost taking his third drivers' title and third for McLaren in 1989 after a dramatic finish in Suzuka that saw team tensions strain to a new level.
Senna gained revenge in 1990 after taking Prost, now with Ferrari, out at the first corner at the same venue before the Brazilian claimed the last of his three drivers' titles in 1991.
Having already signed to drive for Williams in 1994, Senna ended his final season with the team he will forever be associated with by finishing the season in fine style.
The great Brazilian had already won in Brazil, Donington and Monaco and capped off the year with wins in Japan and Australia to finish second in the championship behind great rival Alain Prost.
Senna was a hero and inspiration to many, not least a young driver by the name of Lewis Hamilton who even sports a helmet reminiscent of the famous Brazilian's.
Team Principal Ron Dennis took the young Hamilton under his wing after signing the young driver to the driver development program and he made his grand prix debut in 2007. He should have won the title in his debut season after carrying a 12-point lead into the final two races but mistakes in China and Brazil cost him dearly as Kimi Raikkonen edged him out by a point.
But Hamilton made amends the following year, becoming the youngest ever world champion after a dramatic finish to the Brazilian Grand Prix saw him overtake the ailing Timo Glock on the penultimate corner to finish fifth and grab the points required to win the title.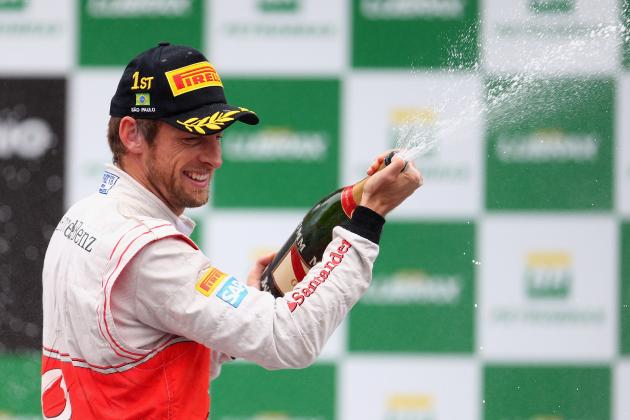 Clive Mason/Getty Images
McLaren's last victory was at the 2012 Brazilian Grand Prix
And so to the recent past. McLaren's last victory came courtesy of Jenson Button's victory in the season-ending 2012 Brazilian Grand Prix.
Teammate Lewis Hamilton looked well set for victory driving in his last race for McLaren until he was hit by Force India's Nico Hulkenberg. It left Button in a lead he would not relinquish despite some testing weather conditions.
McLaren have had a harder time of things so far in 2013 but with Honda back in the mix for the 2015 season a return to the glory days is surely not too far away.