WWE Night of Champions 2013 Predictions: Match-by-Match Breakdown
Photo courtesy of WWE.com

Night of Champions should have all the potential in the world if it is theoretically about the best in the business, but it will ultimately end up disappointing.
This coming Sunday, all eyes are on the titles and everyone is wondering what's in store.
WWE Creative, meanwhile, seem to only truly care about one thing going on: the WWE Championship and its surrounding feud with Triple H.
Still, every match needs an outcome and its our job to anticipate what's going to happen.
Who will walk out of Night of Champions holding the gold and which wrestlers are leaving with the parting gift of defeat?
Let's break down everything that's about to come our way with WWE's latest pay-per-view.
Kickoff: Tag Team Turmoil No. 1 Contender's Match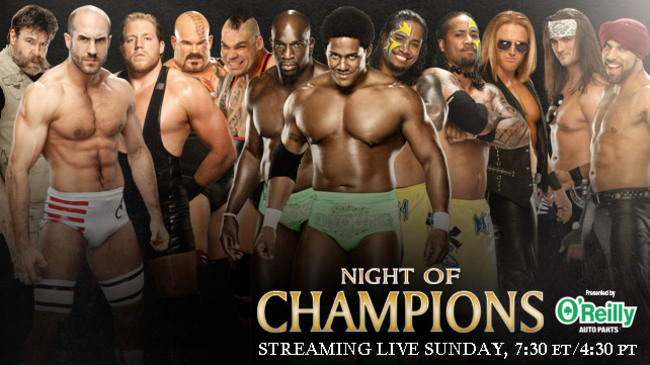 Photo courtesy of WWE.com

Night of Champions is going to start off with a bang as five teams compete in a tag team turmoil match to determine who gets a shot at The Shield's titles later on in the evening.
Zeb Colter's Real Americans, Tons of Funk, The Prime Time Players, The Usos and 3MB will all face off in an elimination-style bout for the pre-show.
When you boil it down to the reality of the situation, this is merely a means for WWE to get a Tag Team Championship match on the card without having to put any real effort into it.
Previously, Big Show and Mark Henry were being built up to challenge The Shield, but that fell by the wayside after Henry's injury and a different direction was put in place for Big Show.
Since WWE's been too busy putting all their attention on the Daniel Bryan storyline, they've completely neglected these titles and are resorting to a quick-fix kind of method to remedy the situation.
While that's nothing to applaud, WWE is lucky that this match itself more than likely will be.
Turmoil matches are usually entertaining and having it on the pre-show will create some solid energy heading into the pay-per-view itself.
The crowd should be pumped up after watching this, particularly when a babyface tag team ends up winning.
Between those three face teams, Jimmy and Jey Uso as well as Brodus Clay and Tensai will take a backseat to Darren Young and Titus O'Neil, who I would predict will last eliminate the Real Americans for the victory.
Predicted Winners: The Prime Time Players
Unfortunately, when it comes to their match against The Shield later on in the evening, things will turn out differently.
The Shield has too much going for them as champions whilst being tied up with this new stable.
Despite the newfound push going towards the Prime Time Players, the titles are staying with Seth Rollins and Roman Reigns.
In fact, this match might even end up being booked as a buffer between two more important matches, so don't be too surprised if the pre-show looks like a bigger deal in retrospect.
Predicted Winners: The Shield
Handicap Elimination Match: CM Punk vs. Curtis Axel and Paul Heyman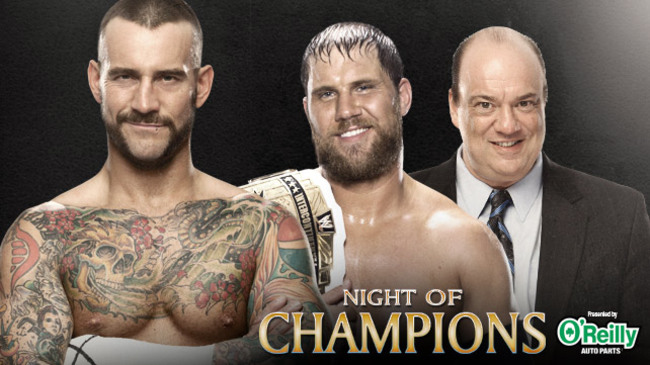 Photo courtesy of WWE.com

It really is a shame that the Intercontinental Championship is not being defended on a pay-per-view that was built entirely on the concept of every championship being defended.
The reason why is simple: Curtis Axel and Paul Heyman have to lose this match and WWE would rather not have CM Punk hold the Intercontinental Championship.
If there were any chance that Axel and Heyman could win this match, the title would be on the line as well, but WWE neglected this solely for the purpose of giving the win to Punk.
I would expect this to be a drawn out and rather bland match where Punk spends most of the time wrestling Axel and paying no attention to him.
Instead, Punk will keep trying to get to Heyman, only for Axel to hit him from behind multiple times.
It has the potential to unfortunately be quite boring and in the end, pointless, despite having someone so widely adored as Punk in it.
By the end of this match, Heyman will get his comeuppance and this feud will be done, with Punk standing on top and hopefully moving on to better things.
Predicted Winner: CM Punk
Divas Championship: AJ Lee vs. Brie Bella vs. Natalya vs. Naomi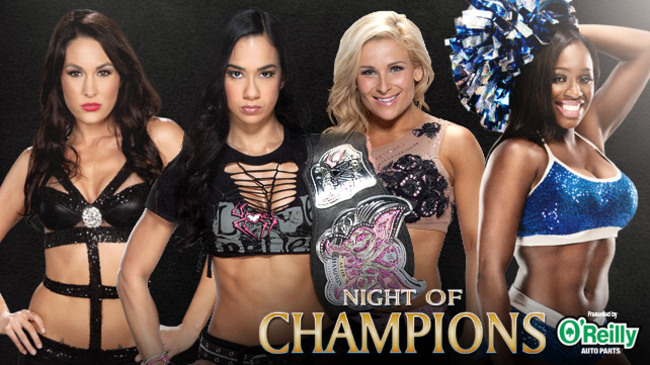 Photo courtesy of WWE.com

The Divas Championship will be defended in a Fatal 4-Way match that puts three members of the Total Divas cast in the spotlight with the best thing going in women's wrestling today, AJ Lee.
Most people like to put down the Divas no matter what the situation is, but this could be actually one of the sleeper best matches of the night.
The realist in me is saying that AJ will retain the title after capitalizing on something Natalya does to Brie Bella, branching off into a singles feud between the so-called "ugly duckling" of the show and the former general manager.
However, there is a part of me that thinks Naomi has a shot at winning this as well.
What better way to end the season of Total Divas than with one of the cast winning her first ever Divas Championship?
There's no real reason to transfer the title from one heel to another and give it to Brie, nor is there a reason to give it to Natalya as her big thing for the show is her relationship and wedding to Tyson Kidd, which leaves Naomi as the odd babyface out.
These women are going to try to steal the show and they very well might do just that.
Predicted Winner: AJ Lee
World Heavyweight Championship: Alberto Del Rio vs. Rob Van Dam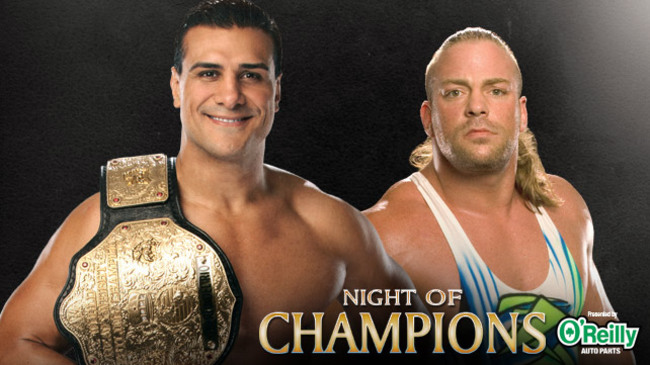 Photo courtesy of WWE.com

To be blunt, I personally think Alberto Del Rio and Rob Van Dam are perhaps the two most overrated wrestlers in WWE today and I have zero faith that I will end up enjoying this match.
In my mind, Van Dam is bland and his handful of moves that most people love are boring and predictable.
To back that up—or rather, to help sink it down even further—Del Rio is as generic and uninteresting as can be in the ring and his best matches are against people that can carry it, which Van Dam is not capable of doing.
So if you were to ask what my prediction of enjoyment is of this, I'll assume I'll be waiting desperately for it to finish.
But I don't speak for everyone, and to each his own, many people are very much into this match and will probably love it.
My guess is, if you're a fan of Van Dam, you'll enjoy every second of it and if you're a fan of Del Rio, you'll at least think it's OK.
Ricardo Rodriguez is the glue holding this random feud together and he will be a key factor in the match, either helping Van Dam win the title or inadvertently causing him to lose.
I would love to see Damien Sandow cash his Money in the Bank briefcase shot in here, both to give me a champion I'd enjoy watching and to have something important happen, but I don't necessarily see that taking place.
When it's all said and done, I'm expecting Del Rio to simply retain and move on to feud with someone else, possibly CM Punk.
Predicted Winner: Alberto Del Rio
WWE Championship: Randy Orton vs. Daniel Bryan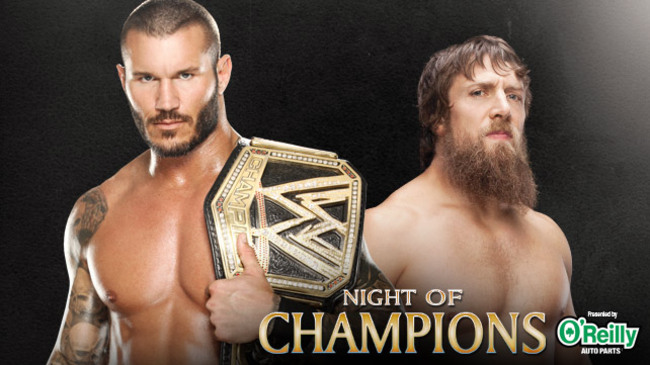 Photo courtesy of WWE.com

The biggest story going into the event is Daniel Bryan's attempt at winning back his rightful WWE Championship from Randy Orton.
Sadly, this isn't going to happen.
It's far too soon to give the title back to Bryan and it's far too obvious that he will be screwed out of the win in some fashion.
Whether Big Show turns on him or there is another factor that comes into play, Triple H will be happy at the end of the night as Orton will retain.
Up until the ending, these two should be able to put on a very good match. They've done it before, so why can't they do it again?
This feud will continue afterward and these two will meet up again at Battleground.
Predicted Winner: Randy Orton
In the grand scheme of things, Night of Champions is probably going to be overbooked.
The matches that could deliver really well are in need of the proper amount of time dedicated to them. Otherwise, everything will be rushed.
There's a risk that absolutely nothing of importance happens at this event other than a continuation of what we've already seen, with Triple H's regime putting people in their places and abusing its power.
If that happens, Night of Champions will have taken all the momentum coming from SummerSlam and effectively drowned it in mediocrity.
What do you think is going to happen? Are you excited for the pay-per-view? Who do you want to win?
Leave us your theories and predictions in the comments below!
Anthony Mango is the owner-operator of the wrestling website Smark Out Moment as well as the host of its YouTube podcast show Smack Talk. You can follow him on Facebook and elsewhere for more.
Keep Reading