Michigan Wolverines vs. Akron Zips: Complete Game Preview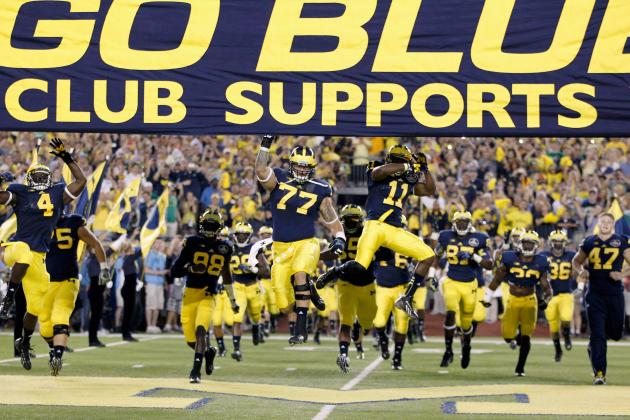 Gregory Shamus/Getty Images
Taylor Lewan (No. 77) leads the Wolverines under the banner at the Big House.
The No. 11-ranked Michigan Wolverines (2-0) host the Akron Zips (1-1) at the Big House. Last week, the Wolverines defeated Notre Dame 41-30 in Ann Arbor, while the Zips beat James Madison 35-33 for their first victory of the season. This will be the first time the Zips have visited Michigan Stadium.
Michigan currently has the longest active home winning streak among BCS conference teams, claiming 16 straight games at Michigan Stadium.
Date: Saturday, September 14, 2013
Time: 12 p.m. ET
Place: Michigan Stadium, Ann Arbor, Mich.

Series vs. Akron: First Meeting

Television: BTN

Radio: Michigan IMG Sports Network
Spread: Michigan by 37, via TheSpread.com

Live Stats: MGoBlue.com
Begin Slideshow

»
A video overview of what to watch for on offense from the Wolverines against the Zips. Key players are highlighted along with a game prediction.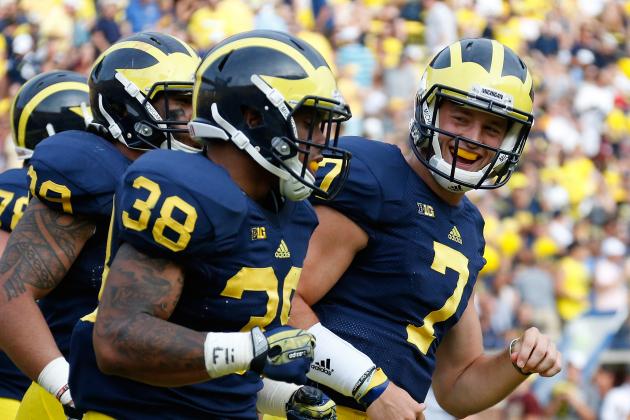 Gregory Shamus/Getty Images
How soon will Shane Morris appear in this game?
Practice time
No disrespect to the Zips, but the top goal for the Wolverines in this game is to avoid injury and tune up for their first road game of the season next week. This game will be a great opportunity for players at the bottom of the depth chart to get some game action.
Offensive line cohesion
The Michigan offensive line took a beating last week against Notre Dame but did enough to help the Wolverines win. Look for lots of downhill running against the Zips. Expect the offensive line to deliver a dominant performance with a number of backs getting the opportunity to carry the ball.
Secondary attack
The Zips run a spread offense and will try to imitate Notre Dame's success by attacking the edges of the Michigan secondary. The Wolverines will need a strong push up front to squelch the Akron passing attack.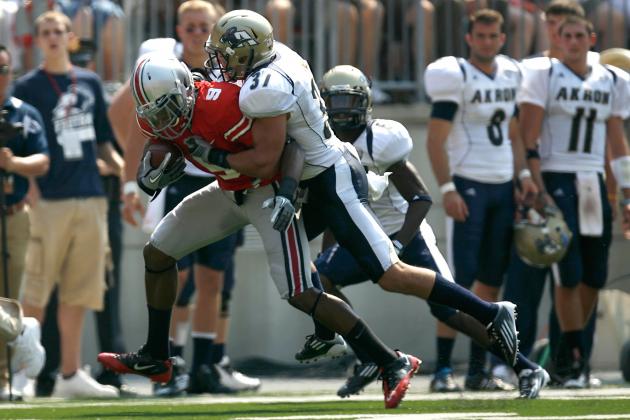 Kirk Irwin/Getty Images

Get the passing game going
The Zips led the MAC in average passing yards (313) last season and need to exceed that total against Michigan to have a chance in this one. The Michigan defense showed the strain against Notre Dame last week, surrendering 314 passing yards, and Akron's quarterback tandem will have similar success this week.
Survive the first quarter
The Wolverines are coming off a huge victory over the Fighting Irish under the lights last week. The Zips need to keep the game close and not get down big early. Make mistakes, and this one will be over early. Akron needs to play mistake-free football and not get rattled by the huge crowd at Michigan Stadium.
Get to Devin Gardner
The Zips needs to find a way not just to pressure Michigan quarterback Devin Gardner but get to him in the backfield. Do that, and they might be able to stifle the Wolverines offense, something that Central Michigan and Notre Dame weren't able to accomplish.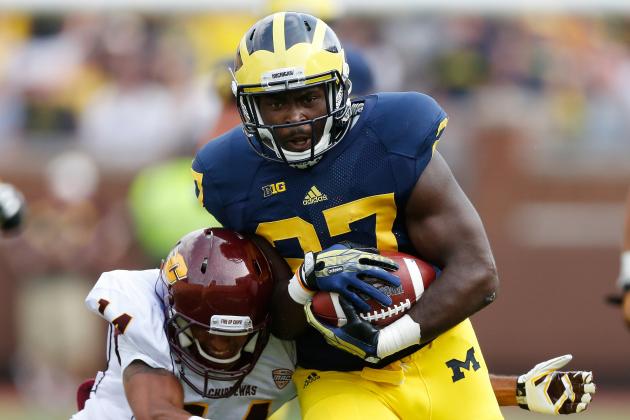 Gregory Shamus/Getty Images
Michigan RB Derrick Green
Running back Derrick Green
Last week against Notre Dame, running back Fitzgerald Toussaint solidified his position as the Wolverines' top ball-carrier. Offensive coordinator Al Borges has expressed his preference for having one primary running back, so look for freshman Derrick Green to make his case by running hard against the Zips.
Defensive back Blake Countess
The Zips need to pass the ball, and Countess had a big game with two interceptions against Notre Dame. This game will test the Michigan secondary. Look for him to make big plays in this one.
Kick returner Dennis Norfleet
Norfleet has shown himself to have great potential as a return man. But he has come dangerously close to turning the ball over in each of the first two games. He should have lots of opportunities to shine or fail against the Zips on Saturday.
Jim Brown-USA TODAY Sports

Quarterbacks Kyle Pohl and Nick Hirschman
This quarterback tandem combined for four touchdowns last week in a 35-33 victory over James Madison. They'll both get an opportunity against the Wolverines to show what they can do. A great performance against the Wolverines could help either grab the position for the rest of the season.
Running back Jawon Chisholm
Chisholm had a 55-yard run last week but ended up with only 87 yards for the game. He's a big runner who gains steam the more carries he gets. He'll need to find seams in the Michigan defensive line, which, so far this season, has been stout against the run.

Everyone on defense
The Zips need career days from their players on defense to have a chance against the Wolverines. Perhaps the most they can hope for is to slow the Wolverines down and a lot of turnovers.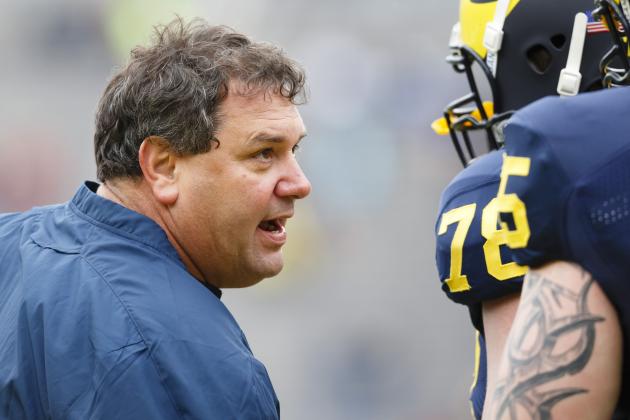 Rick Osentoski-USA TODAY Sports

Michigan Coach Brady Hoke via the Detroit Free Press:
This week (the Akron Zips are) a wide-open attack, four wide receivers. It's critical that we get better in the pass rush individually and in the games we want to run with them.
Michigan Coach Brady Hoke via The Washington Post:
I think our team has always been pretty focused on ourselves and what we need to do. There's enough out there that we need to do in all three phases.
Akron Coach Terry Bowden via Cleveland.com:
It's a whole different set of circumstances. It's a great challenge and a great opportunity. It's an opportunity to make a big statement. They're coming off a big win over Notre Dame, we know what that is. It's a great challenge, it's a great opportunity. We're excited about going in there.
Akron Coach Terry Bowden via Cleveland.com:
"They may decide to see if they can run it down our throat," Bowden said. "They are very good up front."

"There will be some times we get to him [Gardner], we have got to win the turnover battle. In a game like this, that will really help you."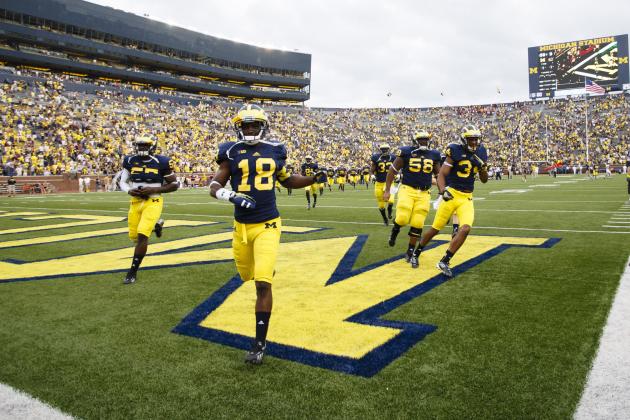 Rick Osentoski-USA TODAY Sports
Blake Countess (No. 18) and the Michigan defense will take care of business against Akron.
The Wolverines drop the hammer on the Zips, and this one is over by halftime.
Final Score: Michigan 48, Akron 3