Penn State Nittany Lions vs. UCF Knights Complete Game Preview
Matthew O'Haren-USA TODAY Sports
After dismissing Eastern Michigan by a score of 45-7 last week, the Nittany Lions face their first true home test of the year when the Knights of Central Florida come to town this Saturday.
The relationship between Bill O'Brien and UCF head coach George O'Leary has been a hot topic this week. O'Brien cut his teeth in coaching as an assistant at Georgia Tech under O'Leary.
PSU coach Bill O'Brien says he has a great relationship with UCF coach George O'Leary. "I owe him a lot. He taught me a lot about the game."

— Rittenberg/Bennett (@ESPN_BigTen) September 10, 2013
The two continue to be friends and were a major part in the developments that led to Penn State and UCF scheduling a game in Ireland to open the 2014 season.
UCF enters the matchup with a 2-0 record of their own, after outscoring Akron and FIU by a combined score of 76-7. They're coming off a Thursday night game against Florida International that saw them come away as 38-7 victors.
These two haven't played since the 2004 season. That game saw Tony Hunt score three times on the ground, leading the Nittany Lions to a 37-13 win. Penn State's leading receiver that day was none other than Michael Robinson, according to ESPN.com.
Time: 6 p.m. ET
Place: Beaver Stadium, State College, Pa.
TV: Big Ten Network
Radio: Penn State Network Affiliates
Spread: Penn State opened as just at -3 but the line has moved to -5.5, per VegasInsider.com.
Penn State Keys to Victory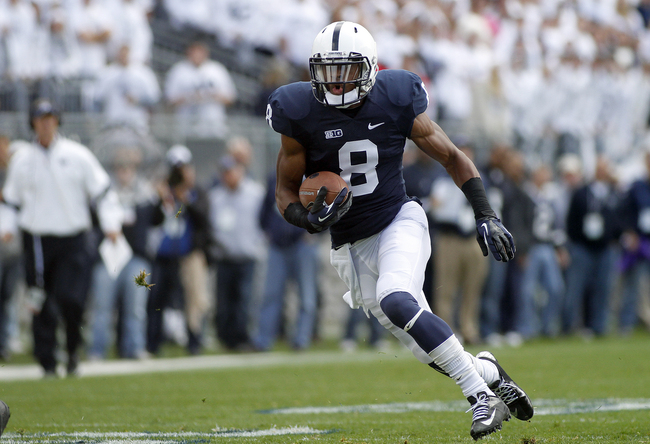 Justin K. Aller/Getty Images
Convert on Third Downs
You've probably heard by now that Penn State is ranked last in the country in third-down conversions. Through two games, they have converted just 2 of 26 attempts and will need to improve on that number in a hurry. UCF is better on offense than the opponents Penn State has seen this year, and it is the offense's job to limit opportunities for them.
Don't Turn the Ball Over
This was a key last week, and while they did a better job, the Nittany Lions still turned the ball over twice. An early fumble from Christian Hackenberg put the lions behind on the scoreboard. A mistake like that this weekend could be the difference between a win and a loss.
Get Allen Robinson Involved Early
The way teams have been loading the box, Penn State will need to use the pass to set up the run. Robinson has the ability to draw safeties out of the box. As the running backs showed last week, with a little space, they can take over a game.
Weather the Storm
UCF running back Storm Johnson is the real deal. Coming out of high school, Johnson was rated as a 4-star prospect, according to Rivals.com, and held a scholarship offer from Penn State before originally committing to Miami. He's a Knight now, and he has rushed for 188 yards and five touchdowns in 2013.
UCF Keys to Victory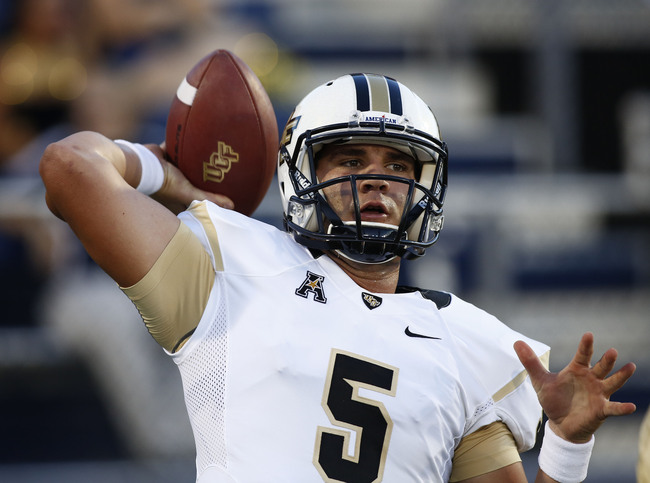 Robert Mayer-USA TODAY Sports
Pressure Hackenberg
UCF is fully aware of Christian Hackenberg's limited experience and will look to dial up different looks, both with blitzes and coverage schemes. He's been prone to mistakes through the first two games, and the Knights have fielded a stingy defense.
Don't Get Overwhelmed
JUST IN: This week's 6 pm matchup against UCF will be a Student Whiteout! #WhiteoutUCF

— Nittanyville (@NittanyvillePSU) September 8, 2013
Last week, UCF played at Florida International in front of a crowd that was reportedly 15,823, per ESPN.com. Watching the game on television, it looked like even fewer fans than that.
This weekend they'll be in front of over 95,000 fans, and the student section has announced a whiteout, so they'll be extra hostile. Coach O'Leary will need to keep his players from getting caught up in the moment and focused on the game.
Test the Young Corners
After looking good in Week 1, Jordan Lucas and Trevor Williams were hardly tested last weekend. UCF quarterback Blake Bortles is far better than any quarterback they've faced thus far. If he can keep the defensive backs on their heels, it will open up the running game and put the Knights in control.
Penn State Players to Watch
Bradley Leeb-USA TODAY Sports
DT DaQuan Jones
It's rare for an interior lineman to dominate a game, defensively. With 18 tackles and five tackles for loss through two games, that's exactly what Jones has been doing. If UCF can't find a way to contain the senior tackle, it could be a long day for the Knights offense.
TE Kyle Carter
Carter is healthy again, and O'Brien has yet to unleash his tight ends on the opposition. Carter is a big target and Hackenberg would be wise to utilize him.
WR Allen Robinson
"ARob" probably has a permanent spot as a "player to watch." He's the best receiver in the Big Ten, and Hackenberg loves to throw the ball to him. That's a dangerous combination for defenses.
RB Akeel Lynch
Penn State fans got a look at their future running back last week as Lynch ran for 108 yards and a touchdown in his debut. It's going to be hard to keep a player with his skills on the bench.
View the entire depth chart HERE, via 247Sports.
UCF Players to Watch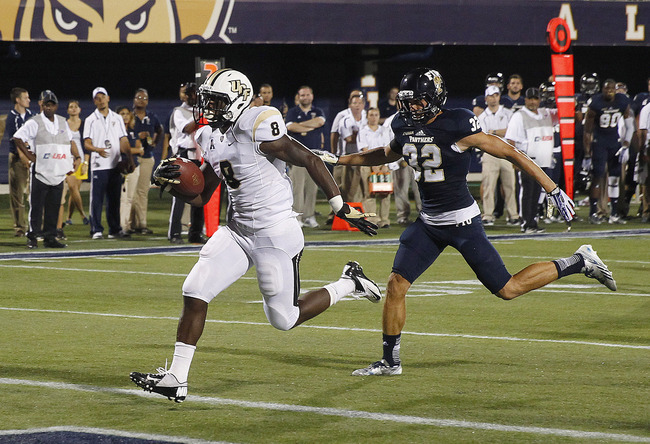 Robert Mayer-USA TODAY Sports
QB Blake Bortles
In 2012, Bortles quietly put together a stellar season, throwing for 3,000 yards and 25 touchdowns, with only seven interceptions. His junior campaign if off to a strong start. Bortles has completed nearly 70 percent of his passes and has yet to throw an interception.
http://t.co/8VYuRuZZGb ranks UCF's Bortles as 10th best QB prospect in 2015 draft. No. 9, BTW, is Braxton Miller. Big test for #PennState

— Cory Giger (@CoryGiger) September 10, 2013

RB Storm Johnson
As I mentioned earlier, Johnson is a true threat from the backfield. He will probably be the best running back Penn State faces until they travel to Columbus in late October. In their game last week, it was obvious that UCF wanted to establish Storm. Expect more of the same on Saturday.
LB Terrance Plummer
Plummer has been all over the field this year, amassing 17 tackles, three for loss, and breaking up a pass. He'll be responsible for chasing the tight ends around the field this weekend.
View the entire UCF depth chart HERE, via Rivals.com.
What They Are Saying
Bill O'Brien on His Relationship with UCF Head Coach George O'Leary:
Bill O'Brien recalling the George O'Leary coaching tree: "Every one of us would say we owe a lot to coach O'Leary."

— Audrey Snyder (@audsnyder4) September 10, 2013
O'Brien's family became close with George O'Leary. O'Brien says his dad is coming to the game mainly to say hi to O'Leary.

— Rittenberg/Bennett (@ESPN_BigTen) September 10, 2013
Coach O'Brien on big lessons he learned under George O'Leary: 1. Organization 2. Physical toughness/resiliency of a football team.

— Tony Mancuso (@GoPSUTony) September 10, 2013
Belton and O'Brien on the Third-Down Issues:
Belton on PSU's third-down conversion rate: "We just got to cut out all the mistakes as a group, and we can definitely do better."

— Josh Moyer (@ESPNJoshMoyer) September 10, 2013
O'Brien on third down struggles: "It has to improve. No questions about it."

— Collegian Footblog (@psufootblog) September 10, 2013
Praise for Hackenberg:
"School's important to him.won't miss a class, he'll sit in the front row. When it's time do football, he'll do football." O'B on Hackenberg

— Centre County Report (@CentreCountyRep) September 10, 2013
Willis on Christian Hackenberg's play-action fakes: He's great at selling his fakes in practice, and is getting better at it every day.

— Collegian Footblog (@psufootblog) September 10, 2013
O'Brien on Christian Hackenberg, "He's got a strong arm and his strength will continue to improve."

— Penn State Football (@PennStateFball) September 10, 2013
On the Environment:
Malcolm Willis: "There's nothing like Beaver Stadium at night. A big home game like this; we're expecting a lot of fans to come out."

— Jeff Nelson (@GoPSUJeff) September 10, 2013
Prediction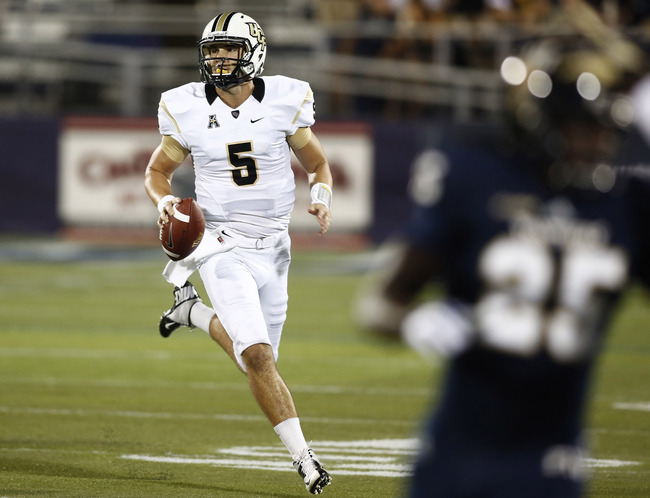 Robert Mayer-USA TODAY Sports
In what looks to be a defensive struggle on paper, both teams will face better offenses than they have, thus far, in the 2013 season.
George O'Leary and his staff have a book on Hackenberg now, and they'll look to confuse him, while limiting the big play. On the other side of the ball, Bortles and Johnson combine to form a terrific offensive duo that the Penn State defense will have to adjust to.
Most importantly, UCF isn't as prone to the mistakes and turnovers that Penn State is, and that could very well be the difference in this game.
While the Knights will find that gaining yards is no easy task against a formidable Penn State defense, the inability to get off the field on third downs and a couple sloppy turnovers will be too much for the Nittany Lions to overcome.
Prediction: UCF 20—PSU 16
Keep Reading

Penn State Football: Like this team?