Italy have officially qualified for a spot in the 2014 World Cup after defeating the Czech Republic 2-1 in come-from-behind fashion.
The squad entered the day seven points clear of Bulgaria in second place. Denmark also remained in contention at eight points back. However, the day's results keep Italy out of reach with two matches left in qualifying, giving the squad first place in Group B and a spot in Brazil.
Although the Czech Republic still have a chance of earning second place, they are now four points back and in desperate shape. The remaining two matches will go a long way in deciding who will represent Group B in a playoff.
The match itself did not take long to get entertaining. While Italy controlled possession for much of the start of the game, the Czech Republic were the first to get onto the scoresheet with a great counterattack.
Petr Jiracek got himself open on the left side of the pitch, then sent the ball to the middle of the box on a long cross. Libor Kozak was then able to provide a great finish with his right foot to the left corner of the goal to put his team up 1-0 in the 19th minute.
Tancredi Palmeri of CNN leveled some rare blame on the Italian defenders:
Italy one goal down vs Czech, Aston Villa's Kozak scoring on counter-attack with poor marking of Italy CBs. World upside down

— Tancredi Palmeri (@tancredipalmeri) September 10, 2013
Italy are usually as solid as they come on the back line, but this mistake led to a goal. However, it was the attack that struggled for the remainder of the half.
With 75 percent possession in the first half, the squad had plenty of opportunities to score. Unfortunately, forward Mario Balotelli was unable to finish a number of excellent chances near the net, including one from a few yards out in which he hit the crossbar.
Steve Amoia of World Football Commentaries points out how bad the talented player was to start the match:
If Balotelli were playing American gridiron football, he would have already scored 3 "field goals" in first half. Mario off-target so far.

— Steve Amoia (@worldfootballcm) September 10, 2013
Fortunately for the Italians, things got better after the intermission. They were able to get an equalizer six minutes into the second half when Giorgio Chiellini headed in a corner kick from Antonio Candreva. The play was helped by opposing goalkeeper Petr Cech, who tried to knock the ball away but ended up too far out of the net. Chiellini then had an open goal to score the equalizer.
Italy were then able to take the lead only a few minutes later when Balotelli drew a foul in the box committed by Theodor Gebre Selassie. As Nik Postinger of talkSPORT points out, this was almost a guarantee for the forward:
Balotelli scores Italy's penalty. He just does not miss them.

— Nik Postinger (@nikpostinger) September 10, 2013
Balotelli calmly took his shot and scored from the spot on the left side of the net, giving Italy a 2-1 lead in the 54th minute.
For the remainder of the match, the Czech squad had a hard time getting much offense. When there were any chances, Gianluigi Buffon was usually in perfect position to end a threat.
Italy held on for the win, which led to this exciting tweet from ESPN:
Forza Italia, ole ole! After defeating the Czech Republic, Italy has officially qualified for the World Cup.

— ESPN (@espn) September 10, 2013
With two qualifying matches still remaining, the Azzurri can now rest their starters or work on new things to help prepare for next summer's big tournament.
Grades
Mario Balotelli, Italy: B+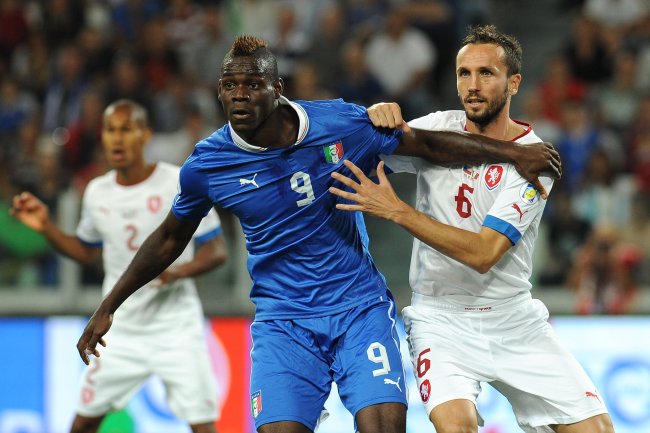 Valerio Pennicino/Getty Images
Although it is not something you often see, this match showcased the maturity of Balotelli. The forward was simply awful in the first half, missing a number of shots and earning a yellow card.
However, he came back in the second half and helped his team on the attack, drawing a penalty kick and then finishing himself to give his side the lead.
This type of attitude will be extremely important for Italy as they look to compete with the best teams in the world.
Pablo Daniel Osvaldo, Italy: A-
Although he did not have a direct impact on either goal, it was obvious that Italy was better when Pablo Daniel Osvaldo was on the pitch.
The halftime substitute was active offensively and played very well alongside Balotelli on the attack. He helped the club maintain plenty of possession and forced the opposing squad to focus on him throughout the second half.
It is likely that Osvaldo has earned more playing time on the national team in the future with this strong display.
Petr Cech, Czech Republic: B-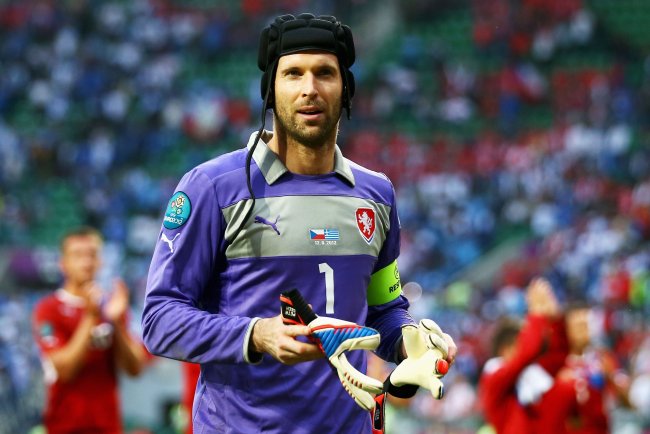 Clive Mason/Getty Images
Although Petr Cech is still one of the best goalkeepers in the world, he was not at his best against Italy. The goal conceded on the corner kick is something that he simply cannot afford to allow in the future.
The Chelsea man did make a few key stops early on to keep his team on top as long as possible. However, he will need to remain in top form going forward if the squad has any chance to qualify for the World Cup.
Daniel Kolar, Czech Republic: C
Daniel Kolar came on as an injury replacement for Tomas Rosicky early in the match but was unable to provide much help on the pitch.
The midfielder struggled on the defensive end and picked up a yellow card for taking down Riccardo Montolivo. That later turned into a red when he was booked a second time in the 89th minute for a challenge on Balotelli. He also could not help his team create any real chances on the attack while he was in.
This performance showed that relying on their squad depth will not help the Czech Republic at this stage.
Italy Grades

| | | |
| --- | --- | --- |
| Position | Player | Grade |
| G | Gianluigi Buffon | A- |
| D | Giorgio Chiellini | A |
| D | Daniele De Rossi | B+ |
| D | Leonardo Bonucci | C |
| D | Christian Maggio | A- |
| M | Manuel Pasqual (Off 78') | B- |
| M | Riccardo Montolivo (Off 86') | B |
| M | Andrea Pirlo | A |
| F | Antonio Candreva | B |
| F | Mario Balotelli | B+ |
| F | Emanuele Giaccherini (Off 45') | B- |
| | Substitutes | |
| F | Pablo Daniel Osvaldo (On 45') | A- |
| M | Thiago Motta (On 86') | B |
| D | Angelo Ogbonna (On 78') | B |
Roster info via ESPNFC
Czech Republic Grades

| | | |
| --- | --- | --- |
| Position | Player | Grades |
| G | Petr Cech | B- |
| D | Theodor Gebre Selassie (Off 79') | A- |
| D | Marek Suchy | B |
| D | Tomas Sivok | C+ |
| D | David Limbersky | B |
| M | Vaclav Prochazka | B- |
| M | Tomas Rosicky (Off 37') | B |
| M | Jaroslav Plasil | B |
| M | Petr Jiracek | B+ |
| M | Vladimir Darida (Off 56') | B |
| F | Libor Kozak | A |
| | Substitutes | |
| M | Daniel Kolar (On 37') | C |
| M | Ondrej Vanek (On 56') | B |
| D | Michael Rabusic (On 79') | B |
Roster info via ESPNFC
What's Next?
Both squads have a one-month break in qualifying before returning to action on October 11. Italy will have a road match against Denmark, while the Czech Republic will travel to Malta.
Follow Rob Goldberg on Twitter for the latest breaking news and analysis.