Ranking Paul Bissonnette's 15 Best Tweets of the 2013 Offseason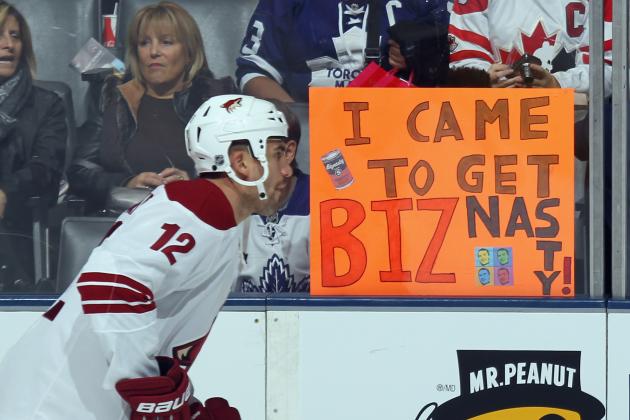 Bruce Bennett/Getty Images

Fourth-liners like Paul Bissonnette of the Phoenix Coyotes possesses a lot of admirable qualities.
They're gritty, they come to the defense of their teammates, they skate as hard as they possibly can and they generally do anything and everything the coach can ask of them.
What fourth-line players aren't usually considered on the ice is entertaining.
That's where Twitter comes in for a guy like "Biz" to compensate. Say what you will about his game in Phoenix, his Twitter game is rivaled by few.
Here, we'll take a look at the top 15 tweets Bissonnette shared with the Twitterverse this offseason. Tweets between the final Coyotes game of 2013 and the first preseason game of 2013-14 were considered.
Begin Slideshow

»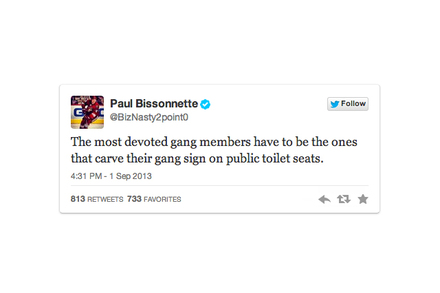 Wisdom. What else can we really say?
It's likely Biz is no expert on gangs, but it's hard to argue with his hypothesis here.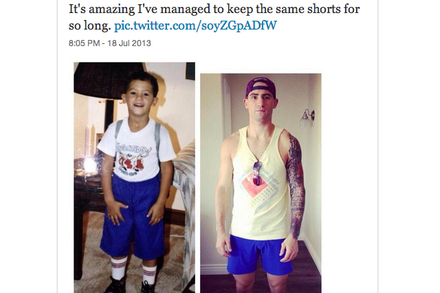 Where was US Weekly when this tweet came across thousands of Twitter feeds?
The real question here is if he still wears those things up to his belly button. It'd sure explain the short cut in the present-day photo.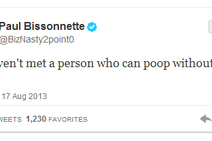 This is something you'd more likely expect from Louie C.K., but leave it to Paul Bissonnette to share some really deep and enchanting thoughts that'll leave even the best late-night Twitter philosophers stumped.
If you've met one of these people, please, head to the comme...erm...nevermind.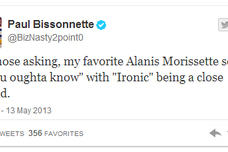 ...that he wishes nothing but the best for you both.
Personally, I'm a fan of Hand In My Pocket, but to each their own.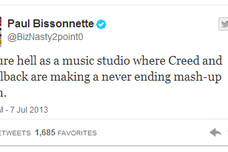 Everyone has their own views on what hell may be like. This version of hell, however, sounds awful, and it could make even the most upstanding individuals want to repent.
Nickelback and Creed may be pop culture's punching bags, but really, does ragging on them ever get old?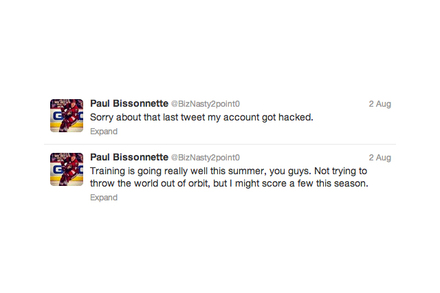 Alright, so maybe this "hack" isn't as controversial as what Tyler Seguin went through on Twitter earlier in the summer, but it certainly makes up for it in comedic value.
But hey, there's hope for Paul Bissonnette. They shrunk the goalie's pads this season and may do so again next season, too.
"@theScore: The NHL may cut down the size of goalie pads after already shortening them by two inches for the 2013-14 season." 😎👍🎅

— Paul Bissonnette (@BizNasty2point0) September 10, 2013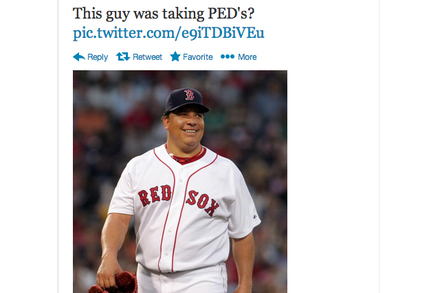 It's not very often that hockey players get the last laugh in major sports. Their salaries don't generally come close to that of baseball, football or even basketball. They're not as well known or respected.
When it comes to PEDs, however, it seems as though hockey is relatively clean while baseball is drowning in controversy.
I'm sure there were some healing benefits for a guy like Bartolo Colon, who was suspended 50 games for his involvement in the Biogenesis scandal, to use substances deemed illegal by Major League Baseball.
That doesn't leave hockey players, who would be lucky to play in a competitive men's league at of 5'11", 267 pounds, any less puzzled about the whole thing.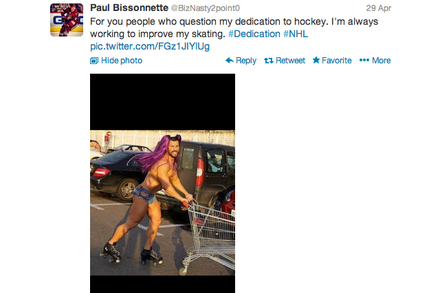 Speaking of sick flow, this is one of the more disturbing celebrity look-alike photos the internet has ever seen.
The photo begs so many questions. What's he shopping for? What store is he at? Why's the shopping cart empty?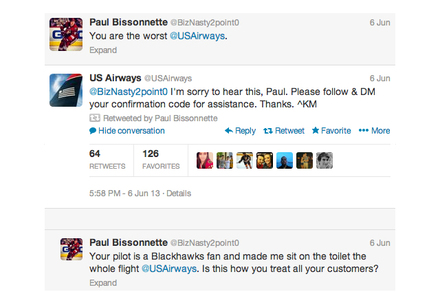 We've all been there. A huge corporation has pushed us to the brink of angry tweets.
And Paul Bissonnette exposes just how automated US Airways' customer service process on Twitter has become.
It was probably a busy day for the US Airways social media person...Bissonnette's retweets usually draw a lot of fan participation.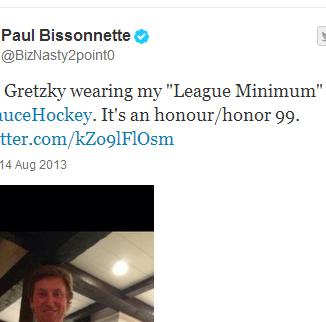 Biz takes a lot of jabs at himself and has a laugh at being a fourth-liner here. It's always cool to see someone as talented as Wayne Gretzky become a part of the fun.
And what might be even greater is Paul Bissonnette with yet another troll takedown:
I'll wipe my ass with that pinstripe suit you Scott Disick wannabe @MattHoagie. Take a hike jock sniffer.

— Paul Bissonnette (@BizNasty2point0) August 15, 2013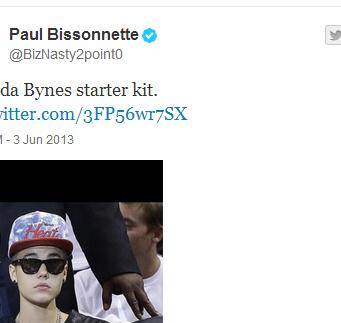 Justin Beiber's interaction with the hockey community hasn't been a smooth ride.
He caused a lot of drama when he stepped on the Blackhawks logo in July, drawing a lot of negative feedback on Twitter, including this from Blackhawks forward Brandon Bollig:
After this stunt I'm not sure who's disliked more in Chicago. Bieber or Torres? #TossUp pic.twitter.com/xIN6y3RcKN

— Brandon Bollig (@Bollig87) July 10, 2013
What the world didn't know is that Paul Bissonnette launched a pre-emptive attack on Beiber in June that caused the whole debacle.
Thanks a lot, Biz.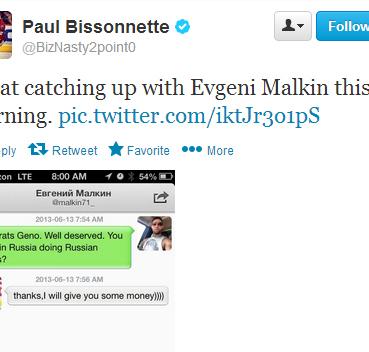 I'm not sure there are any other NHL players in the league that would be more amusing to have a conversation with than Evgeni Malkin.
Geno's generous attitude in the midst of doing "Russian things" in Russia is to be applauded nonetheless. What a pal.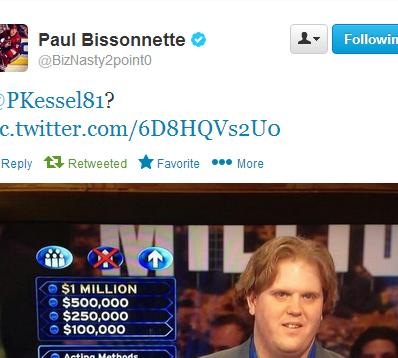 Toronto Maple Leafs fans should hope that this is a re-run or that Phil Kessel has a long-lost twin with the same first name.
Only $7,500 in the bank and a lifeline already burned, maybe Phil should stick to scoring on the ice and not on trivia game shows.
A+ for the find.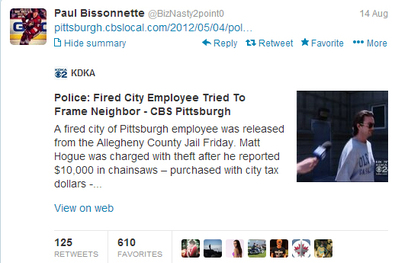 Word of advice: If you're going to troll on Paul Bissonnette's Twitter account, don't have an arrest record.
It's not the first time Bissonnette's roasted a fan who decided to take the time to tweet negative remarks about him, but this is by far the best time.
The internet is a powerful tool that's given the little guy the chance to unjustifiably take out the everyday frustrations of life on pro athletes.
Some seem oblivious to the fact that athletes, too, have access to this powerful tool that makes everyone a Google search away from any negative happenings of the past to come back and haunt them.
Matt Hogue makes yet another appearance in the Top 15, and likely his last, as he's since deleted his Twitter account.
Bissonnette posted two links to articles about the former Pittsburgh city employee being investigated for lying to police, attempting to frame a neighbor, selling property that may have not been his to sell and theft of city property (via thenosebleeds).
Biz 1, Haters 0.