On a day when France needed three points to keep pace with Spain atop Group I in World Cup qualifying, the team instead came away with a disappointing draw against Georgia.
With a 2-0 win over Finland, Spain now goes three points above France in the group, meaning a playoff for a World Cup place is likely in France's future.
Graham Hunter summed up a favorable set of matches for Spain:
Wonderful night for Spain. France draw in Georgia, Manchester City combo of Navas and Negredo combine for La Roja´s second goal. Esp 2-0 Fin

— Graham Hunter (@BumperGraham) September 6, 2013
Franck Ribery nearly got France on the board in the 12th minute, cutting onto his right foot outside of the box and fizzing a low shot toward the near post. It went just wide, however, and the game remained even.
France probably should have been awarded a penalty in the 21st minute, as Ribery's pass for Karim Benzema was played off the arm of Ucha Lobzhanidze in the box. The referee didn't make the call, though, it appeared Lobzhanidze flailed his arm in the path of the ball.
Hugo Lloris had to come up with a big save in the 26th minute, as Tornike Okriashvili's shot was initially blocked but ended up back with the Georgian midfielder. His second attempt was on frame and hit with pace to the lower-right corner, but a diving Lloris was up to the task.
Benzema had a golden chance just two minutes later to give France the lead, finding himself with room to shoot in the box, but his effort was handled easily by Georgia keeper Giorgi Loria.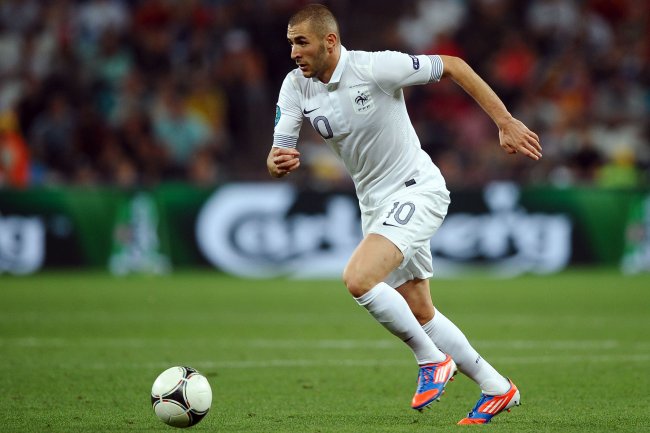 Laurence Griffiths/Getty Images
France was the technically superior side in the first half, controlling 72 percent of possession and completing 92 percent of their passes, but the French couldn't break down Georgia's defense and the game went into the half tied at nil apiece.
Georgia nearly scored a shocking goal in the opening minutes of the second half. Aleksandr Kobakhidze played a cross into the box for Okriashvili, who had his first attempt saved by Lloris. He scooped up the rebound and had an empty net to shoot on but couldn't quite control his effort, hitting the post.
France had survived a serious scare. But the French continued to look a bit listless in the attack.
The visitors finally managed to put a scare on Loria, as Bacary Sagna's cross into the box found Olivier Giroud, but the in-form Arsenal striker put his header over the bar.
Five minutes later, Patrice Evra made a strong run down the left flank and put a dangerous low cross into the box. However, in the ensuing scramble, a French player couldn't put a shot on goal and the danger was averted.
Evra would be in the mix of things in the 70th minute, as a Sagna cross would find the fullback with space to shoot on the edge of the box. But his shot was sent woefully wide, and Giroud somehow managed to contort his body to get a deflection but couldn't put it on frame.
France turned the pressure on late. Mathieu Valbuena cut on his inside foot in the 84th minute and curled a beauty to the far corner, but Loria made the save of the match and denied him.
France looked as though they were going to take the lead again in the 86th minute, as Samir Nasri played in a delicious free kick into the box. But Laurent Koscielny's header went just wide.
France continued to buzz around the Georgia box in stoppage time. Giroud's free header off of Valbuena's cross was brilliantly stopped by Loria. Minutes later, Loria also got in front of a Sagna header in the box, saving two prospective goals in the span of 30 seconds.
That would be all she wrote, as Georgia escaped with a draw.
Man of the Match: Giorgi Loria, Georgia
Were it not for the excellent efforts of Loria, France would have won this game, potentially by more than one goal. In a word, Georgia's keeper was brilliant.
In stoppage time alone he made two highlight-reel saves, and he was like a brick wall against a French attack that took some time to get revving.
Honorable Mentions
Denis Doyle/Getty Images
This game was a bit of a dud, to be honest, but France's best player, Ribery, lived up to the distinction in this contest. While he couldn't ultimately create a goal, he posted some impressive stats, completing 89 percent of his passes, winning seven dribbles and putting three shots on goal, according to WhoScored.com.
Giroud was quite positive as well, though, he couldn't quite put the final ball away. Still, his movement was solid and his positioning was always on point.
Moussa Sissoko bossed the midfield for the French, while Sagna was quite threatening on the right going forward and was also steady defensively.
Grades
France Grades

| | | |
| --- | --- | --- |
| Player | Position | Grade |
| Hugo Lloris | GK | B |
| Bacary Sagna | D | B+ |
| Laurent Koscielny | D | B- |
| Eric Abidal | D | B |
| Patrice Evra | D | B |
| Mathieu Valbuena | MF | B |
| Josuha Guilavogui (Off 78') | MF | B- |
| Moussa Sissoko | MF | B+ |
| Franck Ribery | MF | A- |
| Olivier Giroud | F | B |
| Karim Benzema (Off 62') | F | C+ |
| | | |
| Substitutes | | |
| Andre-Pierre Gignac (On 62') | MF | C+ |
| Samir Nasri (On 82') | MF | B |
Georgia Grades

| | | |
| --- | --- | --- |
| Player | Position | Grade |
| Giorgi Loria | GK | A |
| Gia Grigalava | D | B |
| Akaki Khubutia | D | B |
| Alexander Amisulashvili | D | B- |
| Ucha Lobzhanidze | D | A- |
| Guram Kashia | MF | B+ |
| Jaba Kankava | MF | B+ |
| Jano Ananidze (Off 70') | MF | B- |
| Tornike Okriashvili | MF | A- |
| Aleksandr Kobakhidze (Off 60') | MF | B- |
| Nikoloz Gelashvili (Off 79') | F | B- |
| | | |
| Substitutes | | |
| Elguja Grigalashvili (On 60') | MF | C |
| David Targamadze (On 70') | MF | C |
| Vladimir Dvalishvili (On 79') | F | C |
What's Next?
France will next face Belarus in a World Cup qualifier on September 10, while Georgia will also be in action that day, taking on Group I foe Finland.