Daniel Bryan Has Proven He Can Be the Long-Term Face of WWE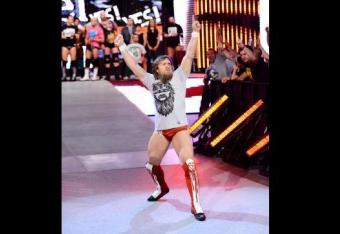 Photo courtesy of WWE.com

Daniel Bryan can be the next long-term face for WWE―if those in power allow it.

I would make big-money bets on Bryan's long-term success with the company because of how good he is on all levels. However, I won't place the bet because it involves Vince McMahon's mood and decision-making. Never bet against crazy, no matter how good the odds might be.

Aspects of real life always make storylines come off better on television. Bryan is unique to WWE with his size and look. He isn't the stereotypical guy on which the company has hung their wallet in past years. I wouldn't doubt that at one time many decision-makers in WWE really did feel Bryan was a "B-plus" at best, as Triple H keeps saying.

When CM Punk's popularity soared, he won the WWE title in Chicago and could have been kept off television for months, letting the fans believe he was still holding the title but working out contractual disputes with the company. Imagine if he kept showing up at independent shows unannounced. It would have been an intriguing story, but it would have been unrealistic for business.

WWE had to capitalize on the immediacy of Punk's overnight popularity boom to the mainstream audience based on the "shoot"-style comments. The company had no choice but to hurry him back on television in time to increase SummerSlam buzz and buys.

Bryan's success hasn't come overnight like Punk's has. His has gradually grown, letting WWE slow burn this just right. It's this slow burn and anticipation that solidifies Bryan. Week after week he is getting bullied and beaten by the end of Raw.

Some fans might complain about repetition or think they have better booking, but they can't deny they all fully support Bryan. What this means is that Bryan has been in the same unfavorable position for three weeks yet continues to gain popularity and sympathy.
That's not easy, but it's the sign of a long-term face who can rally the audience.

Bryan is one of two others in recent times who is big enough to be a top-of-the-line babyface who moves the needle. John Cena and Punk were the other two.

Moving the needle means that they're able to pick up where the other one left off on all aspects: television, merchandise, promotional work, branding and more. Punk and Cena both contributed greatly to moving the needle but have split portions of the audience.

Bryan has the audience united behind him. McMahon might be crazy but WWE still responds to money, and that's what Bryan will bring in if he continues to get booked as the top babyface.

This article is
What is the duplicate article?
Why is this article offensive?
Where is this article plagiarized from?
Why is this article poorly edited?