Players the St. Louis Cardinals Must Let Go This Offseason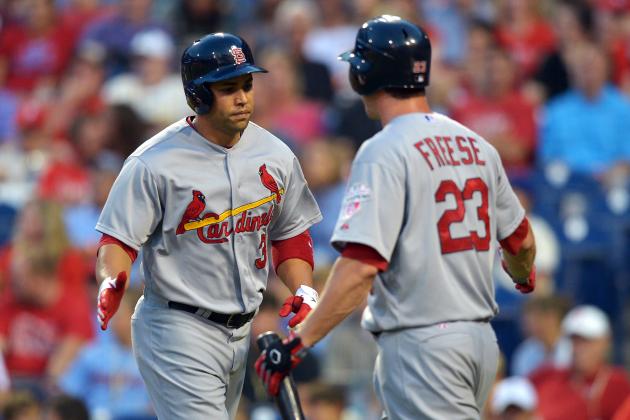 Drew Hallowell/Getty Images

For some teams, September means it's time to prepare for the next April. The St. Louis Cardinals have found themselves in the midst of a vehement NL Central race, but that doesn't mean it's too early to consider what the roster should look like in 2014.
There are always going to be players who underperform. And when it comes to letting go of the hope that someone will finally step up and start blowing your mind, timing is everything.
I've taken a look at this year's Cardinals regular starters and assessed which players General Manager John Mozeliak should start thinking about moving—whether it be to another team or another role. This is based on 2013 statistics, prospects who may take their place and the free agent and trade markets.
Read on to find out who might be out of a job in St. Louis!
All statistics are current on baseball-reference.com as of September 4, 2013
Begin Slideshow

»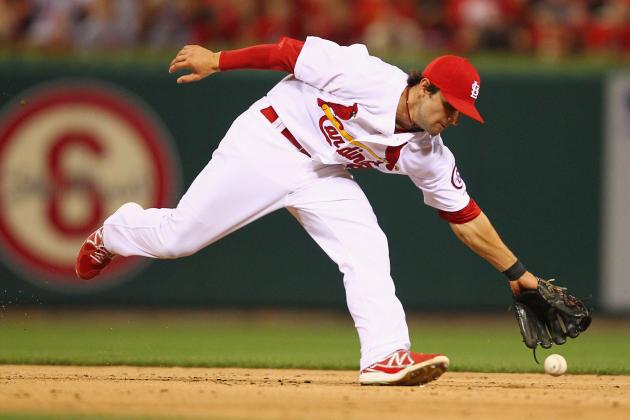 Dilip Vishwanat/Getty Images

Pete Kozma, SS: Kozma has become a bit of a scapegoat for St. Louis fans—when something goes wrong, blame him. And honestly, this is for good reason. In the past 28 days, he's hitting .025. Yes, with a zero before and after the decimal...
After a decent first half of the season, the rookie has fallen hard, making the shortstop position a veritable black hole in the batting order. It's difficult to believe that he could climb back into good graces when the Cardinals could instead pursue other options.
The free agent market for shortstops is somewhat thin, and trading for a Troy Tulowitzki or an Asdrubal Cabrera would require giving up top prospects, which Mozeliak hasn't necessarily wanted to do in the past. That being said, one of these could be the type of impact player he thinks would warrant such high stakes.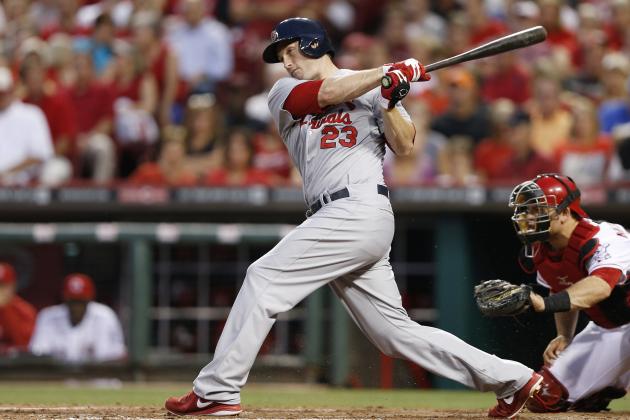 Joe Robbins/Getty Images

David Freese, 3B: I want to start off by saying I am indeed a Freese supporter. It would be really difficult for myself and a lot of other fans to see the hometown hero turned away from St. Louis. However, his numbers haven't quite measured up this year. He's been extremely streaky, with a batting average of .261.
Freese would make excellent trade bait for a shortstop or a proven veteran pitcher who could bolster an already impressive roster. And Mozeliak has the depth to pull it off: Kolten Wong is getting his first taste of the majors and he would gladly take over second base, freeing up Matt Carpenter to take Freese's place at third.
The reason Freese is a "probable" and not a "definite" is that I am not convinced that this isn't just a down year. We know what he's been capable of in the past and he could have a repeat performance.
Jake Westbrook, SP: Westbrook has undoubtedly been having a difficult time lately. Injuries have plagued him and his 4.49 ERA leaves him at 7-8 on the season. He has been a third or fourth starter kind of guy, but the parade of rookie pitching that has been coming from the Cardinals minor league teams has overshadowed him and will probably continue to do so.
Westbrook has a contract through 2013 with a mutual option for next year. Whether he makes a move to the bullpen or to another team, it's probably about time for him to step aside. I'm thinking the rotation next year will have more of an Adam Wainwright, Shelby Miller, Jaime Garcia, Lance Lynn and Michael Wacha or Carlos Martinez kind of makeup.
The righty Westbook does have a nice veteran presence in the clubhouse and he's been reliable in the past. But if there's anything we've learned this year, it's that the Cardinals' young arms are hungry for some action.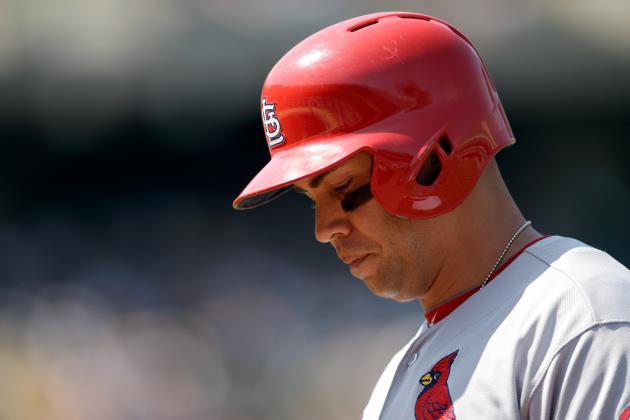 Ezra Shaw/Getty Images

Carlos Beltran, OF: The most marquee name on this list, Beltran may be seeing his last days in St. Louis. It's quite possible that Mozeliak may make the free agent-to-be a satisfying offer.
In fact, I would love to see him stick around for one more year. I think he's another valuable presence who could even play mentor to top outfield prospect Oscar Taveras—not to mention the unquestioned threat at the plate that he poses.
Then again, to use a cheesy expression, he "isn't getting any younger." Beltran is a weathered 36-year-old who might be just about ready to take up a designated hitter role in the AL for his last few seasons.
If Beltran is going to be pricey, it's time to let him go. The outfield can consist of Matt Holliday, Taveras and Allen Craig with Matt Adams taking Craig's position at first. And that doesn't sound half bad either.