Stephan El Shaaraway Should Be Manchester City's No. 1 January Transfer Target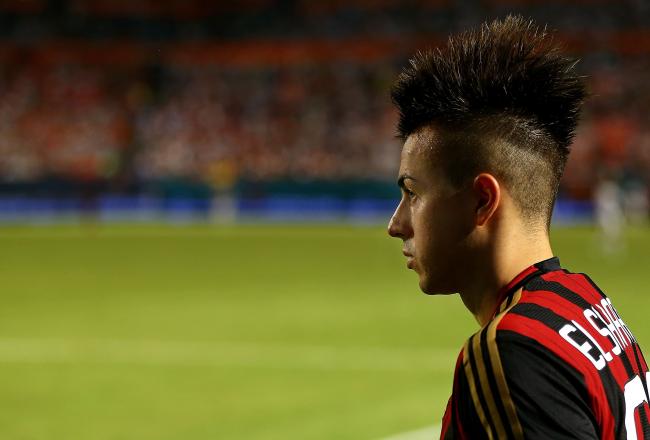 If AC Milan keep leaving El Shaarawy on the sidelines, he may not stay there willingly.
Mike Ehrmann/Getty Images
"AC Milan vice-president Adriano Galliani has revealed Stephan El Shaarawy has turned down a lucrative offer from a Premier League club to stay with Milan," reported ESPNFC.com's Ben Gladwell on July 22.
"AC Milan winger Stephan El Shaarawy has rejected reports he could leave the San Siro to join Manchester City on transfer deadline day," reported Sky Sports on September 2.
And here I am touting El Shaarawy as Manchester City's No. 1 January transfer target. I must not be paying attention, right?
Maybe my circuits are crossed by the need to project City's primary winter transfer target the day after the summer transfer window closed?
Possibly I never got over City's failure to land Edinson Cavani?
Plausible explanations all.
I have no greater predictive powers than anyone else. If I did, I probably would not have put that ten-pound note down on Manchester City to win the league while I was on holiday in London this summer. It's pretty clear now that Liverpool are going to win the league.
On the off chance that Liverpool does not win 38 straight Premier League matches, though, City might still be in the title hunt in January. If they are, they will almost certainly need reinforcements.
By the time the January transfer window closes on the 31st of the month, City will already have played 23 Premier League matches. Add to that six (hopefully more) Champions League matches and a handful of less significant cup ties and City's squad will probably be showing wear at the seams.
The exercise of selecting Manchester City's No. 1 January transfer target requires some educated guessing and plausible prognosticating.
The scenario that brings El Shaarawy to the Etihad is just more likely on the facts as we know them than is, say, the arrival of a top-drawer keeper to supplant Joe Hart or yet another defender showing up to account for Vincent Kompany's inability to stay vertical.
We already know that Edin Dzeko's tenure at City, never the smoothest ride, has hit another fire hydrant. Manuel Pellegrini continues to threaten Dzeko's place in the XI, even after anointing Dzeko as a certain starter over the summer.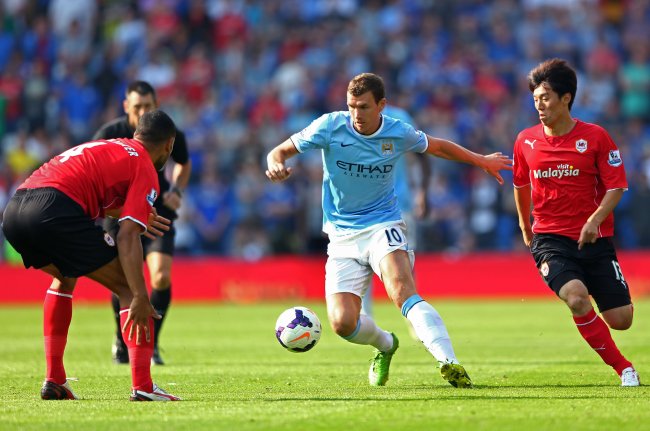 Michael Steele/Getty Images
So the idea that Dzeko could be buried on City's bench by January is not that far-fetched.
For that matter, Sergio Aguero is not exactly setting the Premier League ablaze to date, either. Three starts, one goal, one lousy shot against Hull City? Not great.
And who's to say that Alvaro Negredo is going to keep scoring every time he laces up his boots? I know he didn't score against Newcastle United, but that was the linesman's fault.
City could thus very well need another striker at the January deadline.
El Shaarawy should be their main target because, by January, El Shaarawy could be as disgruntled at AC Milan as Dzeko looked on the bench in the second half against Hull City.
AC Milan's decisions to bring in Matri and bring back Kaka will do little to alleviate El Shaarawy's concerns (unspoken or otherwise) about playing time.
Lately, El Shaarawy is saying all the right things as far as AC Milan are concerned. "There's more competition in the squad now, but there will be playing time for everybody. I'll fight for my place in the team," said El Shaarawy according to Sky Sports.
El Shaarawy is 20 years old. Even the most mature 20-year-olds can go from "everything is cool" to "the hell with this" in the blink of a manager's eye.
If AC Milan keep bringing El Shaarawy on for late cameos as they did against Cagliari, his composed outlook might not last long.
Summing up, we know that: a) City's striker situation is (as ever) in flux; b) City have already expressed interest in El Shaarawy; and c) El Shaarawy's place at AC Milan is under new, if mild, threat.
City could do a lot worse than going in hard again for El Shaarawy at the January deadline.
Maybe next time around, El Shaarawy's mind will not be quite so made up.
This article is
What is the duplicate article?
Why is this article offensive?
Where is this article plagiarized from?
Why is this article poorly edited?

Manchester City: Like this team?