Mayweather vs. Canelo Round by Round: How to Catch Live Updates of Action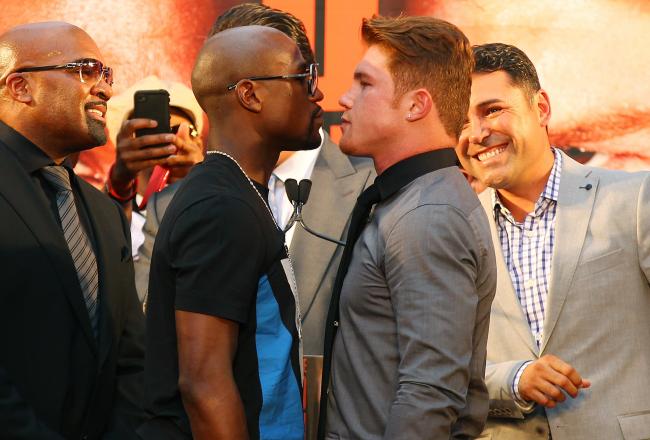 Mike Stobe/Getty Images
There is no question that the sport of boxing is severely lacking in star power right now, but that won't be an issue on Sept. 14 when Floyd "Money" Mayweather and Saul "Canelo" Alvarez do battle in Las Vegas in what is unquestionably the most highly anticipated fight of the year.
Mayweather is easily the most popular fighter in boxing today, while Alvarez could very well be the future of the sport. It isn't often that the past, present and future all come together at the highest level of competition; however, that is precisely what will happen on Saturday.
The fight, which will be contested at a catchweight of 152 pounds, is huge for a number of reasons. Among them is the fact that the WBA (super), WBA and The Ring light middleweight titles will all be on the line. While Mayweather is currently viewed as the best pound-for-pound fighter in boxing, Alvarez would certainly put himself in the conversation should he pull off the upset.
Also, neither man has ever lost a professional bout.
The 36-year-old Mayweather is an incredible 44-0, and Alvarez is already 42-0-1 despite the fact that he is just 23 years of age. An undefeated record is sacred in the sport of boxing, and unless there is a draw or some type of screwy finish on Saturday, one of these fighters will have his run at history ended.
Perhaps even more importantly, though, if Mayweather and Alvarez are able to live up to the hype by delivering a true Fight of the Year candidate, it is possible that boxing could once again find itself on the upswing.
Check back throughout the night for constant round-by-round updates courtesy of Bleacher Report's live blog. Also, here is a complete breakdown of what each boxer must do in order to stand atop the boxing world on Saturday night.
B/R Live Blog Updates
*Be sure to follow all of the action on Bleacher Report's live round-by-round blog.
Keys to Mayweather Victory
Mayweather is obviously an extremely special fighter, and the main reason for that is his ability to constantly control the pace and style of his fights.
It is incredibly rare for Mayweather to allow his opponent to get comfortable in the ring. Many have tried to push the pace against him in an effort to shorten the fight, but Mayweather simply doesn't allow it to happen. He is the best defensive fighter in boxing, and despite his advancing age, there are few boxers who are quicker.
Quickness is one of Alvarez's hallmarks, but he is best known for his devastating power. Thirty of Alvarez's 42 wins have come by way of knockout, and while many of them were admittedly against vastly inferior opponents, Mayweather still has to be very careful. Mayweather has come this far as an undefeated fighter, but all it takes is one punch to end it.
With that in mind, Mayweather can't afford to turn this fight into a brawl. Mayweather has deceptive power in his own right with 26 knockouts to his credit, but he shouldn't necessarily go for a knockout on Saturday unless he truly has the Mexican star on the ropes. Basically, Mayweather just needs to adhere to the same blueprint he always does.
In Mayweather's last fight against Robert Guerrero, "The Ghost" was clearly trying to push the tempo and throw Mayweather off his game. While it worked for about a round or two, Mayweather quickly adjusted as he so often does. Guerrero simply couldn't hit the constantly moving target, and Mayweather wore him out with counterpunches as he easily won a unanimous decision.
Alvarez is almost certainly going to put up more of a fight than Guerrero did, and he's a far more dangerous puncher, but there is no way that Alvarez can outbox Mayweather. Floyd is well aware of that fact, and he'll use it to his advantage.
Keys to Alvarez Victory
It is no secret that Alvarez enters essentially every fight looking to score a knockout. While Canelo doesn't always come up with one, it's never for lack of trying.
Alvarez shouldn't necessarily change his style to compensate for what Mayweather brings to the table, but he does need to make some slight adjustments. Going for the knockout is probably Alvarez's best bet; however, he can't afford to do it with reckless abandon.
If Alvarez comes out with guns blazing like Guerrero did, he's going to punch himself out, and Mayweather will easily diffuse the situation. That means Alvarez should take a page out of Mayweather's book to start. If he tries to muddle the fight like Mayweather so often does, it may cause Mayweather to take some risks that he normally wouldn't. That would make him more susceptible to Canelo's powerful strikes later in the bout.
One of the big reasons why Mayweather is so difficult to knock down is the fact that he is always fighting from ahead on the scorecards. Because of that, there is never any incentive for him to throw wildly as the fight wears on. If Alvarez can keep things relatively close for the first half of the fight, though, Mayweather could be compelled to get a bit less conservative.
It may be a long shot, but it has been proved time and time again that going for the knockout early against Mayweather doesn't work. If Alvarez does that and isn't careful, he could very easily find himself on the mat for a count of 10. Mayweather is as opportunistic as they come, and he won't pass up the chance to knock someone out if it's given to him.
While Alvarez may have trouble scaling back, a middling approach is definitely the best strategy for him early in the fight. Being too conservative would allow Mayweather to pick him apart, but being too aggressive could spell disaster as well.
If Alvarez can just match Mayweather point for point throughout the early going, he'll put himself in a much better position to succeed in the latter stages.
Prediction
Alvarez looks to be the toughest competition that Mayweather has faced in a very long time, but it still won't be enough to blemish Money's undefeated mark. Alvarez has all the talent in the world, but he is nowhere near as polished of a fighter as he needs to be in order to challenge Mayweather. That lack of polish and big-fight experience will ultimately do Alvarez in.
Mayweather has perfected his craft like few others before him, and Alvarez hasn't reached that level yet.
What will be the final result of Mayweather vs. Alvarez?
Canelo has managed to beat quality fighters such as Shane Mosley and Austin Trout, but Mayweather is at a totally different level. He simply doesn't know what it feels like to be in the ring with a fighter of Mayweather's caliber, and he'll find out very quickly that Mayweather is a different breed.
Also, it can be argued that there is more pressure on Alvarez's shoulders than Mayweather's. While Mayweather has an undefeated record to protect, he already has an incredible legacy, and he has already made an unbelievable amount of money. Alvarez has his entire career ahead of him, though, and a win over Mayweather would make him a huge star.
That pressure may very well hinder Alvarez on the big stage. Although Canelo will be a much bigger challenge for Mayweather than Guerrero was in his last fight, Money should still come away with a comfortable, unanimous decision victory.
Follow @MikeChiari on Twitter.
This article is
What is the duplicate article?
Why is this article offensive?
Where is this article plagiarized from?
Why is this article poorly edited?