Arsenal Transfer News: Mesut Ozil Will Become One of Premier League's Greatest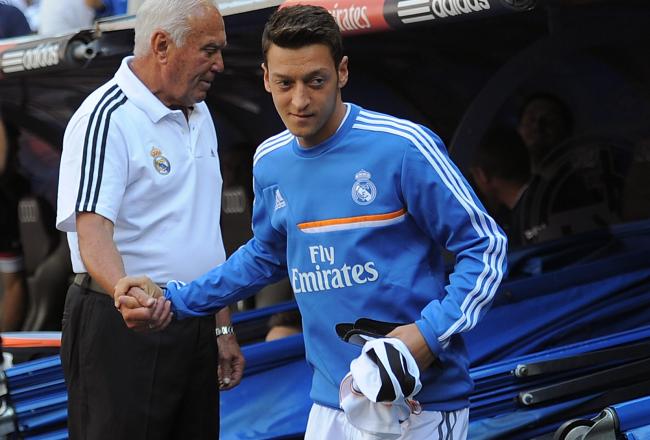 Denis Doyle/Getty Images
Arsene Wenger had us all fooled.
Who would have predicted it? After an embarrassing summer during which we all thought he had taken Arsenal's £70 million war chest and placed it all in a low-yield bond, Wenger ended up pulling off the signing of the summer.
Mesut Ozil, a man nominated for the Golden Ball award at the 2010 World Cup—aged 21—and named in the 2012 UEFA Team of the Year last season, will now wear Arsenal red after a club-record £42 million move:
Mesut Ozil exudes intelligence, clever movement and assists. He's a world-class signing by #afc http://t.co/tWeJoPQOUe

— Henry Winter (@henrywinter) September 3, 2013
Wenger has waited, and waited…and waited some more to spend big money, but when he finally loosened the purse strings, he made sure it was on a mega-talent.
Signings like Ozil just do not happen regularly. Clubs don't generally sign a world-class star, from a bigger club, at 24 years of age when he is about to enter his peak years.
They don't capture a player from Real Madrid whom the fans desperately want to stay, and they certainly don't often do it when that individual is deemed one of Europe's leading lights:
Mesut Ozil turned down bigger offer from PSG to join Arsenal. Why? Because of the Wenger factor. Keep the faith #afc http://t.co/sbiCEJ3x5m

— John Cross (@johncrossmirror) September 2, 2013
It is an indicator of the class of Ozil that, on a day when Madrid introduced their world-record signing in Gareth Bale, the fans chanted "Ozil no se vende"—roughly translated as "Ozil not for sale," via Gavin Brown of the Metro.
Indeed, as a direct comparison to Bale, Ozil is a player of far greater experience, intelligence and pedigree when it comes to playing at the highest level, both in Europe club football and in his 47 caps for Germany.
Currently the Premier League's most intelligent players arguably go by the names of Eden Hazard and Juan Mata at Chelsea, and David Silva at Manchester City. The latter pair make a good benchmark for comparison to Ozil, as both were stars of a Spanish side (Valencia) before moving to England, and both took the English scene by storm upon their arrival.
Ozil is of a similar mould—left-footed, graceful over the turf, a killer eye for the pass and a visionary capable of splitting defences—so it makes for interesting reading to compare the three players' La Liga statistics.
Mata had the best goal return of the trio, netting 33 league goals in 129 appearances. By comparison Ozil managed 19 in 105, with Silva requiring 14 extra games at Valencia to better the German's tally by two.
Who would you rather have in your team?
However, when it comes to assists, Ozil has his rivals beaten hands down, and that is what will appeal to Wenger. Mata created an impressive 36 goals in his 129 Valencia outings, while Silva managed 22 in his 119 games.
Ozil, in fewer appearances than both, registered an astonishing 47 assists in 105 appearances—or 85 starts if you dig for a more in-depth breakdown.
Yes Ozil played with better players and better finishers, but consider that Cristiano Ronaldo has only 40 assists in 130 La Liga outings—nearly an entire season's worth of games more than the German—and it highlights Ozil's quality.
At Arsenal Ozil will only look a better player, just as was the case with Mata and Silva. Where technical ball skills are taken for granted in Spain, they elevate individuals onto a pedestal in England.
Arsenal have had plenty of technically gifted stars under Wenger—Robert Pires, Dennis Bergkamp, Cesc Fabregas—and Ozil would sit comfortably alongside all of them.
Able to play centrally or cutting in from the right side, he will give Wenger flexibility, the type of flexibility that will free up Theo Walcott to play up front when needed.
Arsenal may yet pay the price for not covering other areas of their team—the centre of their defence always looks penetrable against top sides, while much rests on Mathieu Flamini's shoulders to plug holes in midfield. But Ozil's impact going forward might just make Arsenal the most dangerous team in England, and that is what Wenger is banking on.
This article is
What is the duplicate article?
Why is this article offensive?
Where is this article plagiarized from?
Why is this article poorly edited?