Oregon vs. Nicholls State: 10 Things We Learned from the Ducks' Dominant Win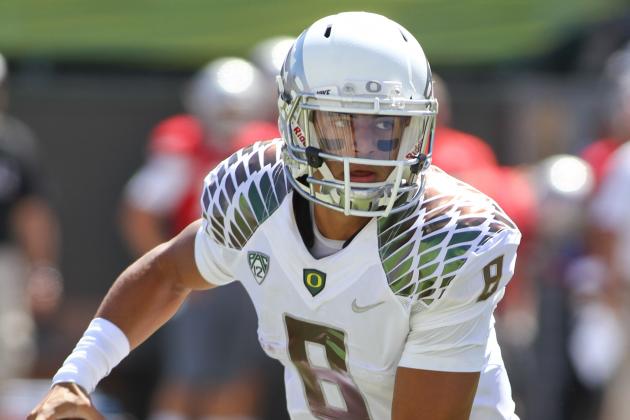 Christopher Barth/Getty Images
Marcus Mariota
The Oregon Ducks hit the ground running on Saturday with a 66-3 stomping of the Nicholls State Colonels.
In head coach Mark Helfrich's debut, the Ducks went deep into their depth chart, using three quarterbacks and allowing nine different players to run the ball.
As Oregon now stands at 1-0 on the season, here are 10 things that we learned about the Ducks against the Colonels.
Begin Slideshow

»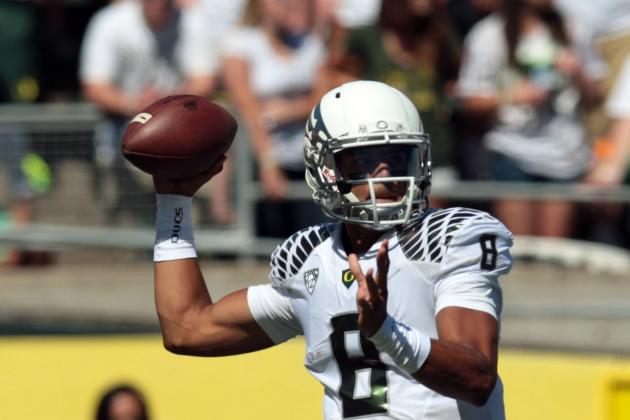 Scott Olmos-USA TODAY Sports
Marcus Mariota
Despite putting up some impressive numbers on Saturday, Oregon quarterback Marcus Mariota still looked like he was shaking off some offseason rust against the Colonels.
While throwing for 234 yards and a touchdown with no picks, he completed just 12-of-21 passes.
Matt Miller of Bleacher Report said in a tweet that, "Mariota will get excited, see an open WR and rush through mechanics. Not a deal breaker, but something to fix. Affects consistency."
Plenty of players struggle in their openers. So a game against Nicholls State is a good game to work out the kinks.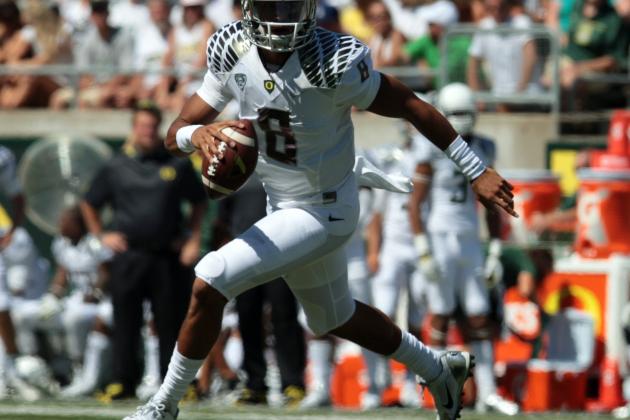 Scott Olmos-USA TODAY Sports
Marcus Mariota
Even when Mariota was forced to improvise under pressure, he showed he can be a terrific runner for the Ducks.
On Saturday, he was the team's third-leading rusher with 113 yards on the ground and two scores despite just five carries. And for a team that used nine ball-carriers and racked up 500 team rushing yards, that's impressive.
Mariota is most dangerous in the open field, where he has the athleticism of any running back in the country.
Scott Olmos-USA TODAY Sports
Mark Helfrich
In Mark Helfrich's first game as the head coach in Eugene, he seemed perfectly comfortable in his role.
The Ducks racked up 772 yards of offense—a school record. And while he was just playing Nicholls State, it was a huge boost to see Helfrich has a good hold on the logistics of Oregon's no-huddle offense.
Granted, Helfrich was the offensive coordinator under Kelly, so he should be familiar with the system. But being the head guy is a different animal. And Helfrich seems to have taken the role in stride.
Steve Dykes/Getty Images
De'Anthony Thomas
Thomas set a career high for carries on Saturday against the Colonels with 18. He accumulated 128 yards, averaging 7.1 yards per carry in the game as well.
What's clear is that Thomas will have a huge role for the Ducks this season. He was the only Ducks player to reach double-digit carries on Saturday, and he nearly got 20.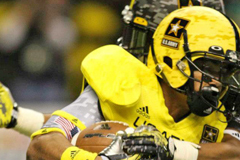 Thomas Tyner
Even though he dressed for the game, freshman stud running back Thomas Tyner was kept on the sidelines during the game.
Tyner was ranked by 247Sports as the third-best running back nationally in his class and was expected to take up an immediate role.
However, his lack of playing time on Saturday could indicate Tyner isn't ready for college ball yet and still has to overcome a learning curve.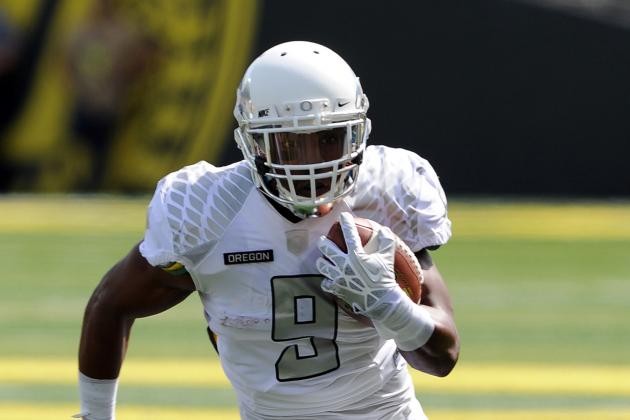 Steve Dykes/Getty Images
Byron Marshall
The Ducks went deep into its depth chart on Saturday, using nine different players to run the ball.
And it worked against the Colonels as they racked up 500 yards on the ground.
Having depth at the running back position will be huge as the Ducks look to develop its offensive identity in 2013.
In one of the black marks of the game, DB Terrance Mitchell laid a huge cheap shot on the Colonels' QB Beaux Hebert, who was in the process of sliding.
Mitchell was ejected for targeting but was later seen on the sidelines laughing about the matter.
Clearly Mitchell hasn't been made aware of all the long-term health issues football players often suffer, so maybe he needs a crash course.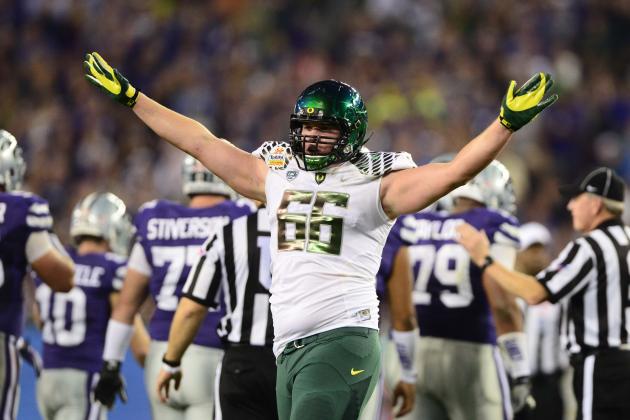 Mark J. Rebilas-USA TODAY Sports
Taylor Hart
Last year's star on the Ducks defense was defensive end Dion Jordan.
This year, it will be defensive end Taylor Hart.
Despite just getting one tackle, he also forced a fumble and batted down passes. He put tons of pressure on the quarterback as well.
Having that anchor in the trenches will be huge for Oregon this year.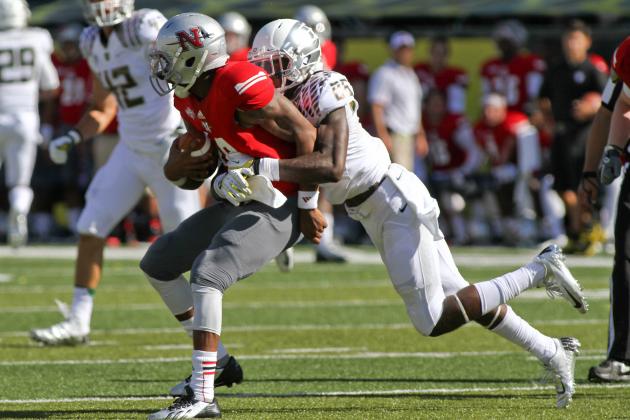 Christopher Barth/Getty Images
Kalen Anderson
Nicholls State QB Kalen Henderson was sacked four times on Saturday.
And that's because the Ducks blitzed constantly. This unit will put tons of pressure on the quarterback throughout the season and that'll surely rattle plenty of Pac-12 signal-callers.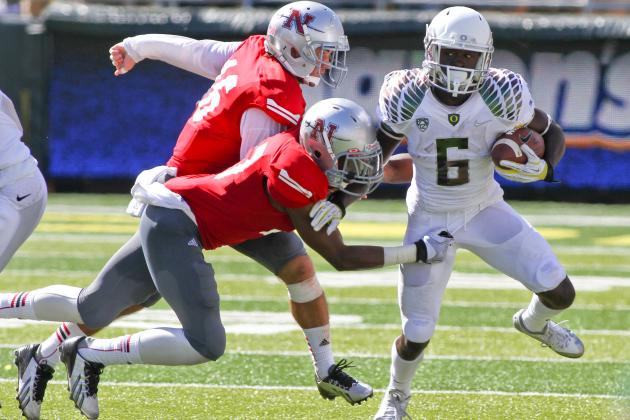 Christopher Barth/Getty Images
De'Anthony Thomas
Last season, the Ducks ran the ball nearly twice as much as they threw it.
In the first half of Saturday's game, though, the Ducks threw it 16 times and ran it 20 times. While they ran it even more in the second half, that was mainly because the Ducks had a huge lead.
The increased focus on the passing game seems to indicate Helfrich trusts Mariota and wants him to have a more important role in the offense.