Ohio State Basketball: Predicting Buckeyes' Best Dunkers for 2013-14 Season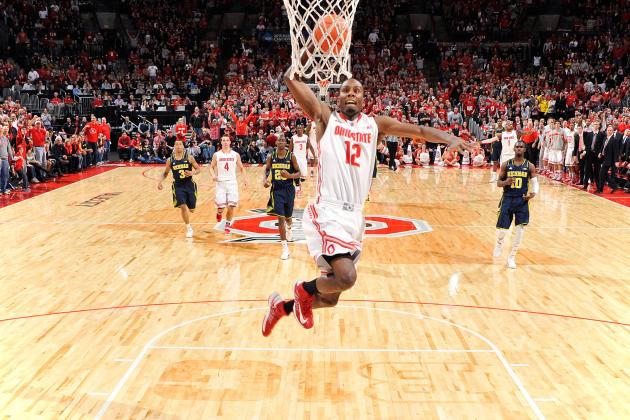 Jamie Sabau/Getty Images

The slam dunk has almost a mythical status among basketball fans.
It's probably the closest humans will ever come to flying without the help of technology, and nothing fires up a crowd quicker than a dunk from the home team. It even leads people to believe that Blake Griffin is a bonafide top-five power forward in the NBA because he can jump over a Kia.
So who will the best dunkers be for Ohio State this season? Read on to find out.
Begin Slideshow

»
With all the hype surrounding Ohio State's upcoming 2014 recruiting class, 2013 commit (and defending Mr. Basketball in Ohio) Marc Loving is being overlooked.
Loving should contribute immediately and find himself with plenty of playing time. He is more than capable of rising above the rim and finishing on some impressive dunks. In fact, he will likely be the recipient of an Aaron Craft alley-oop pass or two this year.
The video shows off Loving's overall game, but there are some noticeable dunks sprinkled in. He may not be the flashiest dunker in the 2013 class, but he will have plenty of opportunities to fire up the Schottenstein Center crowd with a well-timed slam.
There are very few players in the country that could go toe-to-toe with Sam Thompson in an impromptu dunk contest, but Lenzelle Smith Jr. did just that in this exhibition practice put on for the fans.
Smith's dunks come at the 27-second and one-minute marks, and it is clear watching the video that he is the second-best dunker on the team behind Thompson (who follows Smith both times).
Smith doesn't get many opportunities during actual games to play above the rim with his role, but when he does get a chance he makes the most of it.
Kameron Williams is your 2013-14 sneaky candidate to become one of the best dunkers in the conference if he gets enough playing time.
His dunking ability hasn't been as publicized as his overall scoring and shooting prowess, but it's certainly there. Look for Williams to entertain the Schottenstein Center crowd in garbage time in early-season blowouts and gradually earn more time as the season progresses.
If he gets the opportunity, nothing would please Buckeye Nation more than a posterizing dunk a la the one Williams does in the video against a certain team from up north.
On a majority of the teams across the country, Kameron Williams or Lenzelle Smith Jr. would have a shot at being the best dunker on the squad, but the undisputed dunking-championship belt for Ohio State goes to Sam Thompson.
While we already got to see Thompson show off his skywalking abilities in the video accompanying Smith's slide, there may not be a better way to get ready for basketball season as a Buckeye fan than watching a montage of just a handful of Thompson's dunks.
Thompson may be the best dunker in the country, and with a larger role on this year's squad he will finally get the chance to show the nation outside of the Big Ten's borders just how entertaining he is to watch.
Follow and interact with Ohio State basketball writer Scott Polacek on Twitter @ScottPolacek.