Ohio State Buckeyes vs. Buffalo Bulls Complete Game Preview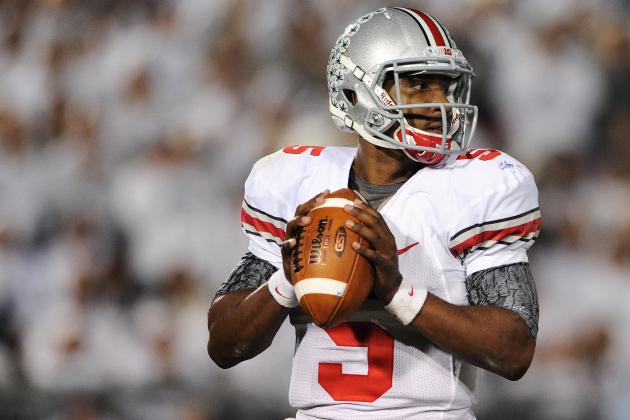 Patrick Smith/Getty Images

Date: Saturday, Aug. 31
Time: Noon,. ET
Place: Ohio Stadium, Columbus, Ohio
TV: ESPN2
Radio: Ohio State football radio affiliates. Buffallo football radio affiliates.
Spread: Ohio State by 36 points (via Rusty Miller of the AP)
The No. 2 Ohio State Buckeyes open the 2013 season on Saturday in Columbus by taking on the Buffalo Bulls in the first-ever meeting between the schools.
Ohio State enters riding the nation's longest winning streak at 12 games last season and with Heisman Trophy candidate Braxton Miller behind center. The Buckeyes are hoping to kick-start a run to the 2013 national title game.
Buffalo, meanwhile, is coming off a disappointing season in which it went 4-8, but the Bulls ended the year with some momentum by winning three of their last four games.
Although the Buckeyes and the Bulls have never previously met, Ohio State head coach Urban Meyer and Buffalo head coach Jeff Quinn faced each other as coaches in the 2010 Sugar Bowl. Meyer led the Florida Gators to a 51-24 rout over the previously unbeaten Cincinnati Bearcats and Quinn, who had been serving as interim head coach after Brian Kelly had left to fill the vacancy at Notre Dame.
Begin Slideshow

»
Bleacher Report's Michael Felder is predicting a big win for the Buckeyes, but he expects Braxton Miller to exploit Buffalo's defense with two big targets in the passing game.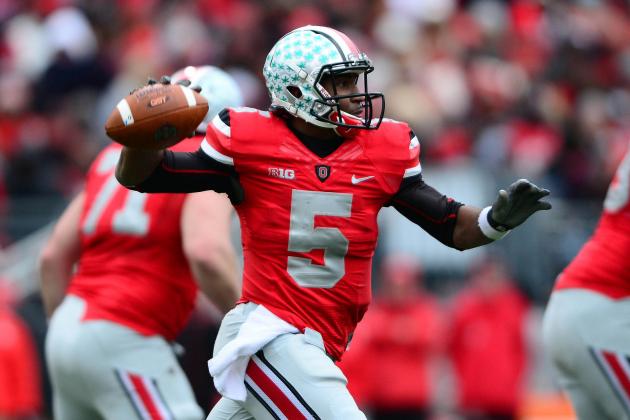 Andrew Weber-USA TODAY Sports

As 36-point favorites, Ohio State won't have to execute its game plan perfectly to pull out a victory.
The Buckeyes will want to get in a groove throwing the ball to loosen up Buffalo's unique defensive package, which features three linemen, three linebackers and three safeties. Running won't be easy against that kind of look, so Miller will have to be on point in the passing game.
Defensively, the Buckeyes will be without All-American cornerback Bradley Roby, who was suspended one game by head coach Urban Meyer for an offseason incident. Sophomore Armani Reeves will start in place of Roby.
The Buckeyes will also be breaking in six new starters in their front seven, including all four on the defensive line. That young defensive front will need to dominate an overmatched Buffalo offensive line.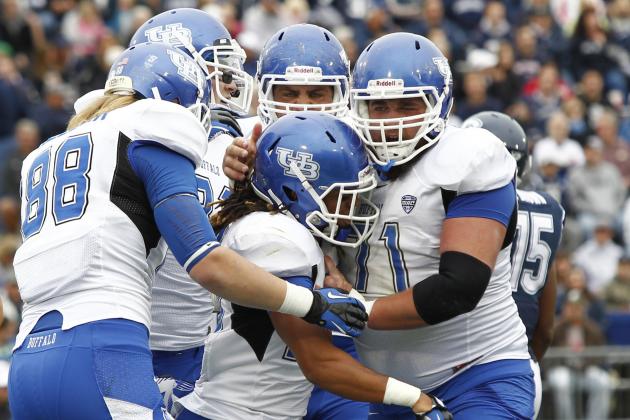 Mark L. Baer-USA TODAY Sports

Buffalo will need to play its best game to keep things close on Saturday.
The Bulls return 17 starters, so it won't be an inexperienced team taking the field—just one that is overmatched.
A Buffalo defense that is replacing only three starters will have its hands full with the Buckeyes' attack, mainly with the speed on the perimeter. Buffalo will need to be aggressive with its blitzing, using its unique scheme to confuse Ohio State's offensive line.
The Bulls' offense has to hope that Ohio State again struggles defensively to start the year, as it did in 2012. If the Bulls can hit a couple of big plays in the passing game and force turnovers on the other side of the ball, they'll be able to keep things interesting.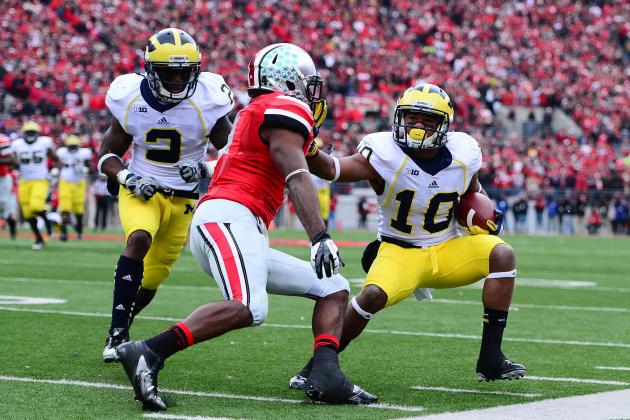 Andrew Weber-USA TODAY Sports

Freshman phenom Dontre Wilson is, without question, the player to watch offensively.
Ohio State players and coaches have spent much of the offseason raving about Wilson's playmaking ability and the 4-star prospect will see the field early as a kick returner, running back and H-back.
Buckeyes fans have been reading about Wilson all fall, but they'll finally have the opportunity to see what he can do firsthand against Buffalo.
Even though Ohio State has four new starters on its defensive line, all eyes will be on middle linebacker Curtis Grant. The former 5-star prospect came to Columbus with a ton of hype, but Grant has yet to live up to it in his first two years with the Buckeyes.
The coaches are expecting that to change this season. After losing his spot on the defense last year to converted fullback Zach Boren, Grant showed resilience this spring and regained his starting role.
Ohio State's reloading efforts will be dependent on whether Grant can play at a high level.
The Buckeyes' Week 1 depth chart can be found here.
All recruit rankings per 247Sports.com.

Kevin Hoffman-USA TODAY Sports

Buffalo has one of the nation's best linebackers in Khalil Mack, a 6'3", 248-pound senior out of Fort Pierce, Fla.
Mack piled up 96 total tackles last season, including 21 tackles for losses to rank No. 4 nationally in that category according to Buffalo's website. Mack's play has garnered a lot of attention, as he has been named to the preseason watch lists for the Nagurski, Bednarik, Lombardi and Butkus awards.
Mack is so good, in fact, that many expect him to be selected in the first round of the 2014 NFL draft.
His ability to get into the backfield to pressure the quarterback and blow up running plays could give the Buckeyes some problems.
Alex Neutz, a 6'3", 205-pound wide receiver, poses a legitimate threat to Ohio State's defense.
Neutz was one of the most consistent receivers in the country last year, catching 65 passes for 1,015 yards and 11 touchdowns in just 11 games. Neutz produced those numbers despite being the only legitimate option at receiver, as he was responsible for more than 42 percent of Buffalo's receiving yards.
With Bradley Roby's suspension at Ohio State, Neutz will be going up against first-time starting cornerbacks Doran Grant and Reeves.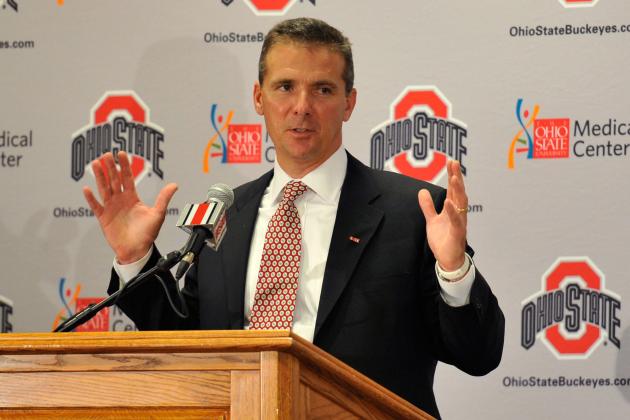 Jamie Sabau/Getty Images

Ohio State coach Urban Meyer (via Bill Rabinowitz of The Columbus Dispatch):
I'm hoping that we leave that field Saturday, obviously with a win, but you feel good about the fundamentals of your football team. If you do that, that's a real positive. It took us awhile last year.
Buffalo Coach Jeff Quinn on Playing Ohio State (via Elton Alexander of The Plain Dealer):
Our kids are going to line up, and they're going to play. Our kids have played against Tennessee, Georgia and Baylor. We know we're going to be challenged, but we will compete at the highest level for four quarters.
Ohio State left tackle Jack Mewhort on the Buckeyes' freshmen (via Rusty Miller of the AP):

There's a lot of speed that just got infused into the program with these guys coming in to go with all the great skill players that we had here. There's a quicker edge to us than a year ago.
Buffalo quarterback Joe Licata on playing Ohio State (via Joey Kaufman of The Columbus Dispatch):
It's going to be a challenge, but we're going in there to play the game. They still put their pants on one leg at a time. They're still kids. They're our age.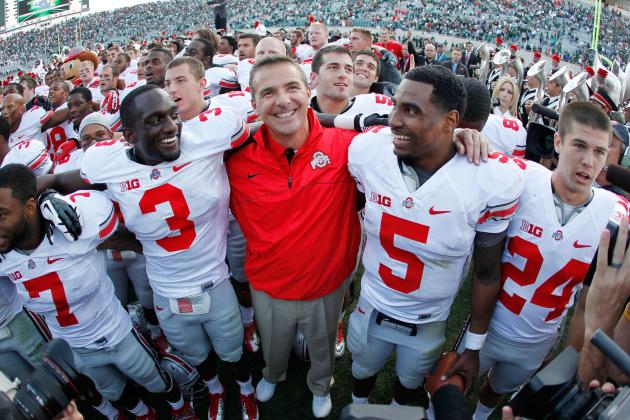 Gregory Shamus/Getty Images

Ohio State will come right out of the gate and score touchdowns on its first three possessions, building a 21-0 lead that will effectively put the game out of reach for Buffalo.
The Bulls will settle in a bit in the second quarter, putting together two drives that end in field goals, but the Buckeyes will answer with two consecutive touchdown drives to end the half.
Ohio State will add two more touchdowns in the third quarter before pulling Braxton Miller and most of the starters. Miller will finish the day completing 18 of 23 passes for 280 yards and two touchdowns with 85 rushing yards and another touchdown on the ground.
Dontre Wilson will put on a show in the fourth quarter and take an option 60 yards for a touchdown. Wilson will finish the game as Ohio State's leading rusher with 125 yards on just 12 carries.
The Bulls will have better luck against the Buckeyes' second-team defense, scoring 10 fourth quarter points to close out the game.
Final score: Ohio State 56, Buffalo 16
David Regimbal is the lead Ohio State football writer for Bleacher Report.
Follow him on Twitter @davidreg412.