Cody Rhodes Will Become One of WWE's Top Stars Before Year's End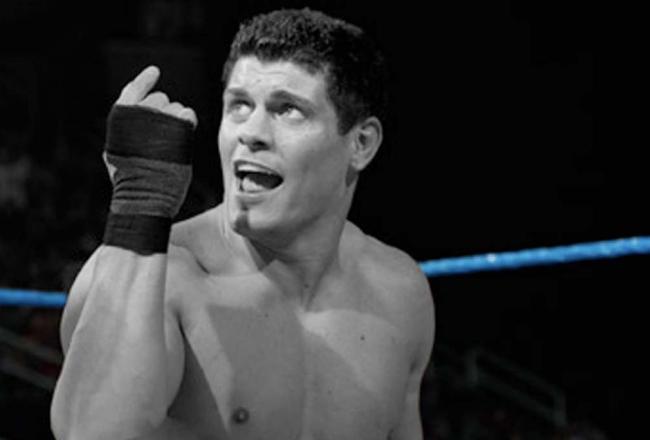 codyrhodes.net

There are a million platitudes that could describe how great Cody Rhodes is, but you already know how good Cody Rhodes is. If you don't, then you're not paying attention.
Cody Rhodes is finally starting to be booked the right way again, and before 2013 is out, Cody Rhodes will be one of WWE's top stars.
Rate Cody Rhodes from 1-5 stars
The term "top star" can mean many things.
What it means here is that Rhodes will be a main event regular by the end of 2013. He will be in World Title matches regularly and he will be booked as a top "babyface" on SmackDown.
Rhodes and Damien Sandow are still feuding, and when Sandow eventually cashes in, you know Rhodes will claim that his two consecutive victories over Sandow should grant him an automatic title shot.
It isn't just being a great wrestler that makes Rhodes great.
There are a lot of factors that go into a WWE Superstar's success. There might not be an exact science or formula behind it, but there are definitely boxes that get checked off on a list of attributes a WWE Superstar must possess.
Wrestling Ability
One of the best parts about Rhodes is his consistency. He never seems to have a bad match, and he always makes everything he does look easy.
There are so many Superstars who seem to have a regular speed and a PPV speed. Rhodes always performs at his best, and it makes him stand out from the rest of the roster. There are other guys who are like that, and they are usually the guys at the top.
CM Punk and Daniel Bryan are not where they are because they are the most charismatic. It's because they put on the best matches every single night instead of once a month.
Rhodes is becoming one of those guys.
He can wrestle you down to the mat, take you down with a punch, or go up top for a moonsault. Rhodes really is the Swiss Army knife of wrestlers.
Mic Skills and Charisma
Rhodes is a very intelligent guy who can be pretty entertaining in the right situations, but whenever he is on commentary you can tell he is more comfortable than when he is talking to a crowd.
But that doesn't mean he can't cut a promo.
Rhodes has had plenty of great exchanges with everyone from DX to Chris Jericho to Triple H.
Rhodes might not be the most charismatic Superstar in wrestling history, but he does pretty well for himself considering he doesn't have a goofy gimmick from which to get material.
Some wrestlers can get through a promo by pulling material from their character, whether it's a stupid catchphrase or a personality quirk. Other than the period where he wore a plastic mask, Rhodes has always been a pretty plain guy.
All he had that made him stand out was a moustache, and even that's gone now.
Rhodes only has himself to rely on for his promos, and he does a great job.
His babyface run is going to be very interesting to watch; we haven't seen him as a babyface since his days of teaming with Bob Holly.
Hopefully fans continue to take to him like they have since he turned.
The Look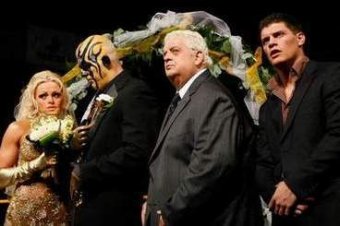 Some wrestlers have broken the mold, but there is no denying that having the right look can make or break your career in WWE.
Rhodes doesn't have to worry in this category.
He is a good-looking guy with a well-defined physique. He stands out as being in better shape than anyone else in his family, that's for sure.
His Pedigree
Cody Rhodes is the son of Dusty Rhodes and the brother of Goldust. You couldn't make a funnier-looking combination of gimmicks for a family photo if you tried.
But his family is known for more than being weird, they are known for being great wrestlers.
Dusty Rhodes is a legend who had memorable runs in both WCW and WWE. Goldust is, well, he's Goldust. There's nobody else like him, and there probably never will be.
Cody might seem like the normal one in the group, but his family heritage also ties him to the history of the business more than most. His family tree doesn't make him a good wrestler, but it helps fans connect to his character when they can associate him with someone else they loved watching.
Let's say someone who has not watched wrestling in several years has a child who starts to watch wrestling. Naturally, the parent starts to watch with the child every so often. One day they see Cody Rhodes name appear on the screen and they go, "Hey! I used to watch Dusty Rhodes."
Making that kind of connection across generations is the type of thing that makes wrestling fans start to watch again after giving it up for a long time.
It might not be fair that family connections can help you get a job, but it happens everywhere. No line of work is free of nepotism.
He's A WWE Guy
When you sign a WWE contract, you may as well forget all you previous accomplishments in wrestling, because they mean nothing. You won't be billed as a former ROH or TNA champion.
You are a rookie when you sign that contract, plain and simple.
Rhodes didn't have to worry about shedding a bad indy rep or having people ignore his other accomplishments, because he is a WWE guy through and through.
He was signed by the company in 2006 when he was just a 21-year-old accomplished amateur wrestler who grew up in the business. Vince must have been salivating when they signed that deal.
WWE was able to build Rhodes into their ideal image of a wrestler and they did it in a very short amount of time. Just over one year after signing with the company, he made his Raw debut.
Some guys spend years in the indy circuit, and then a few more in developmental before ever seeing a spot on the main roster.
It took Rhodes 13 months.
Cody Rhodes is on a path to becoming a World champion. It's not a matter of if, it's a matter of when.
Thanks for reading, feel free to share your thoughts below, and follow me on Twitter @BR_Doctor for random thoughts on wrestling and stuff that's not wrestling.
This article is
What is the duplicate article?
Why is this article offensive?
Where is this article plagiarized from?
Why is this article poorly edited?