Duke Basketball: 5 Things That Should Worry Blue Devils Fans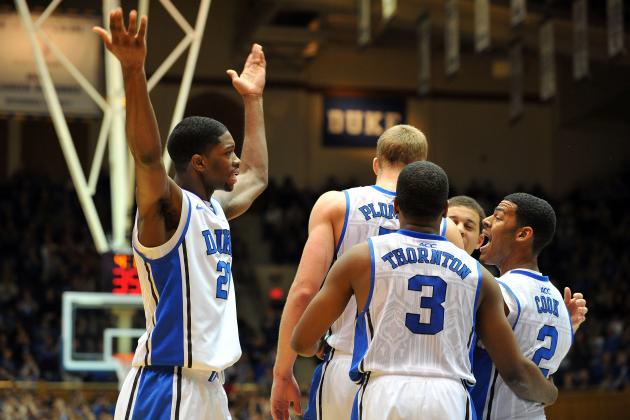 Lance King/Getty Images

The Duke basketball machine is expected to keep rolling in the 2013-14 college basketball season.
The Blue Devils will likely enter the season ranked in the top 10 in the polls and be viewed as a favorite to reach the 2013 Final Four. It will be one of the deepest and most versatile teams Mike Krzyzewski has had in Durham in quite a while.
But the 2013-14 Blue Devils will not be invincible or unstoppable. Although the team projects to be very strong, it will still have some potential chinks in the armor.
The following list looks at the five biggest things that should worry Duke fans.
Begin Slideshow

»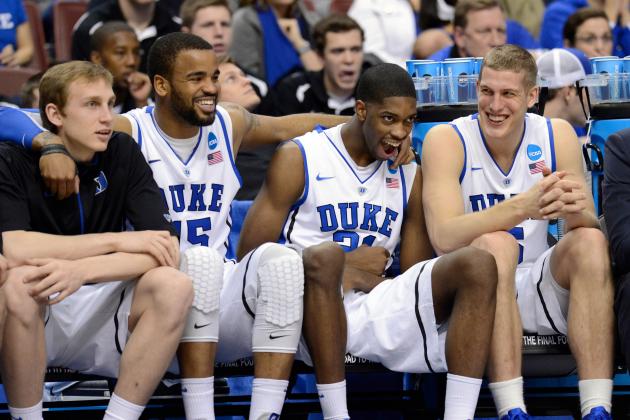 Eileen Blass-USA TODAY Sports

Much has been made about the newcomers that will be part of the Duke roster next season. Jabari Parker headlines a talented incoming freshman class, and Rodney Hood is expected to make a significant impact as a transfer from Mississippi State.
The team also gets Andre Dawkins back as a fifth-year senior after he redshirted last season and spent the year away from basketball for personal reasons.
Mike Krzyzewski always places a heavy emphasis on communication and trust among his players, and it could take some time for this group to adjust and become comfortable with each other.
For a young team with so many players who will be learning their roles, creating strong chemistry is crucial to Duke's success.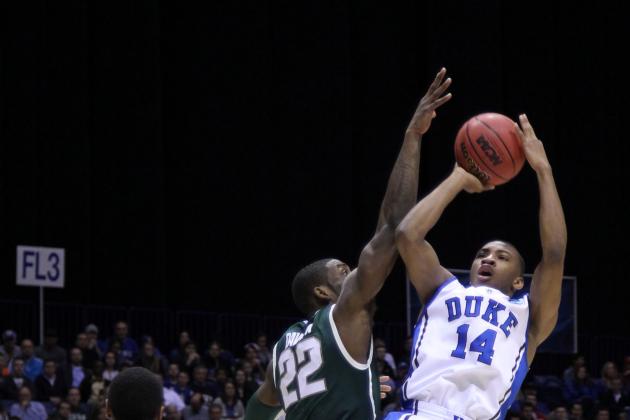 Brian Spurlock-USA TODAY Sports

Last season, Duke was able to depend on three senior leaders who had a tremendous amount of experience.
Ryan Kelly and Mason Plumlee were part of Duke's national championship team in 2010, and Seth Curry was a fifth-year senior who never backed down from the big moment.
Now, those three have moved on and other players will need to step up to fill the void that's been left.
The hope is that Jabari Parker and Rodney Hood will live up to the massive amount of hype they've both received, but that's never a guarantee, particularly with the expectations and pressure of playing at Duke.
Just as it could take this group some time to develop chemistry, it could also take the players some time to adjust to being Blue Devils.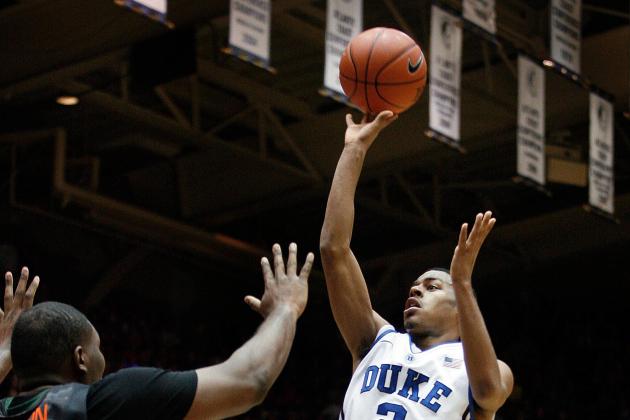 Mark Dolejs-USA TODAY Sports

Mike Krzyzewski certainly won't suffer from a lack of weapons this season. If anything, there's more concern about whether there are enough shots to go around to all of the talented players on this roster.
Quinn Cook, Rasheed Sulaimon, Jabari Parker, Rodney Hood and Andre Dawkins all appear to be guys who could lead the team in scoring on any given night.
It will be interesting to see how Krzyzewski handles this offensive firepower in critical moments of close games.
Will one player emerge as the go-to-guy when the team needs a big basket? Will it be a case where plays are designed for whoever is hot at that time?
Last season, Seth Curry was the guy who wanted the ball in his hands and could deliver when the Blue Devils needed it most. Now, it's time for someone else to step in and fulfill that role.
Jamie Rhodes-USA TODAY Sports

What Duke does in the post next season will be the biggest question Krzyzewski must answer.
Bleacher Report's C.J. Moore looked at the different options Duke has for its fifth starter and believes Marshall Plumlee will emerge as the best option if he can stay healthy.
A strong case could also be made for Amile Jefferson, who played well in limited minutes last season, and Josh Hairston offers the most experience in the group.
However, none of these three have proven they can provide consistent results when receiving a significant amount of playing time. Duke will need at least two of them to be reliable next season in order for the team to not having a glaring weakness in the paint.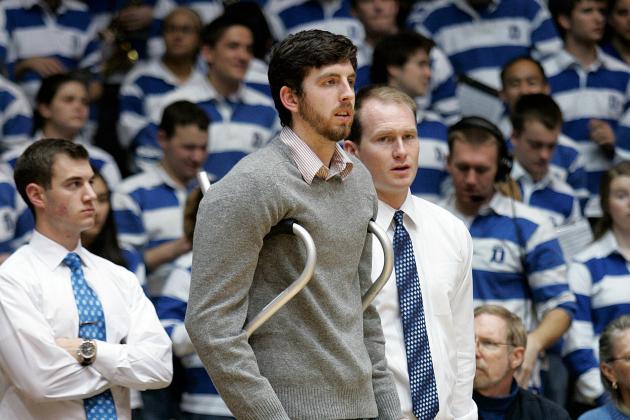 Mark Dolejs-USA TODAY Sports

Injuries have certainly taken their toll on the Blue Devils over the past few seasons.
Kyrie Irving's injury completely changed the complexion of the 2010-11 season, and Seth Curry and Ryan Kelly both battled nagging injuries last season.
While Duke certainly has plenty of depth entering the 2013-14 season, that can all change very quickly when injuries arise.
Jabari Parker struggled with a foot injury between his junior and senior years in high school, and Rodney Hood received a major scare when he injured his Achilles over the summer while trying out for the World University Games with USA Basketball. Fortunately, both players appear to be entering this season at 100 percent.
Duke needs them to stay that way throughout the season.