One of the most baffling discussions surrounding the United States men's national team for the past year became even harder to figure out earlier this week.
Veteran right-back and assumed starter—if healthy for the 2014 FIFA World Cup—Steve Cherundolo suffered another injury setback with his club Hannover.
A report from MLSSoccer.com stated on Tuesday that Cherundolo underwent a minor knee cleanup, which is an event that continues his very long road to full fitness that has lasted for some time now.
With Cherundolo set to be on the sidelines once again for the next set of CONCACAF World Cup qualifiers in early September, the player who will fill the right-back role is turning into quite the mystery.
Steve Cherundolo set for another knee surgery. 2014 World Cup is 317 days away, but keeps getting further away for him. #USMNT

— John D. Halloran (@JohnDHalloran) August 19, 2013
Kicker reporting Steve Cherundolo needs 2nd surgery on injured knee, which all but rules him out of next #usmnt WCQs: http://t.co/s1CT6hKbxS

— Franco Panizo (@FrancoPanizo) August 19, 2013
The obvious replacement for the 34-year-old veteran of three World Cups would be Timothy Chandler, who also plies his trade in the Bundesliga with Nurnberg.
However, Chandler's commitment to the Yanks has been lukewarm at best, and that is honestly being too nice about the situation.
Chandler's exclusion from the 23-man squad for the match against Bosnia and Herzegovina—featuring a group of mainly European-based players—shows that he is currently not in the plans of manager Jurgen Klinsmann.
With the German-based duo out of the picture for now, Klinsmann must turn his head elsewhere to find someone who is able to play the position with enough skill to defend well against the Yanks' two biggest rivals in the qualification process, Costa Rica and Mexico.
The first realistic option would be for Klinsmann to hand Brad Evans another start at the position where he surprisingly ended up during the summer.
The 28-year-old usually is employed as a midfielder by the Seattle Sounders of Major League Soccer, but he has been used at right-back during his recent spell with the national team.
Evans repaid Klinsmann for his faith in Jamaica back on June 7 when he scored a late match-winning goal that helped spur the current three-match winning streak in the final stage of qualifying.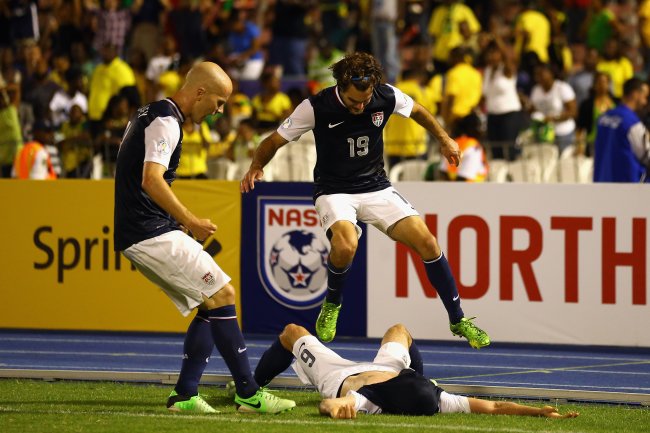 Streeter Lecka/Getty Images
Evans could see competition from Michael Parkhurst, who has been on the outside looking in of the starting lineup for quite some time now.
If Parkhurst is entered into the matchday squad by Klinsmann, it would be seen as a massive shock, as many American fans feel that the 29-year-old is not capable of handling his own in such a big match.
Parkhurst may be included in the squad for the two matches, but he will most likely be there as an emergency option at best.
With Evans out of position and Parkhurst being a liability, Klinsmann has the option of turning to MLS and handing Real Salt Lake's Tony Beltran a shot.
Beltran was included in the 2013 CONCACAF Gold Cup squad, but he barely made an appearance on the pitch—with Parkhurst taking a spot in the starting 11.
Who is the Best Choice at Right-Back For the United States?
If Beltran could not even jump over Parkhurst on the depth chart for the Gold Cup, one has to believe that he will not leap over the FC Augsburg defender for the qualifying matches.
That leaves Klinsmann to choose between the two best options at right-back, Geoff Cameron and DeAndre Yedlin.
Cameron has lost out on a chance to start at center-back due to the strong performances of Matt Besler, Omar Gonzalez and Clarence Goodson this summer.
The 28-year-old Stoke City player was employed at right-back in his club's English Premier League opener against Liverpool on Saturday, and he is expected to play at that position for the majority of the season.
Cameron is the conservative pick, but if Klinsmann wants to be bold and choose to throw a young player into the fire, Yedlin is the choice.
Yedlin, who at 20 is making a mark on MLS with the Sounders this season, has not played for the United States yet in his career, but his potential inclusion in the squad is gaining traction with American supporters.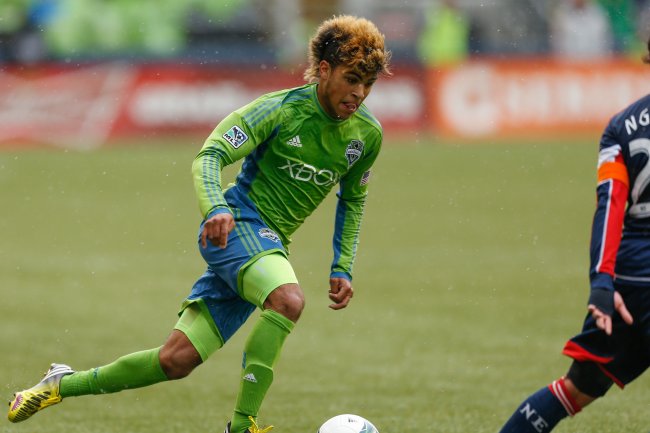 Otto Greule Jr/Getty Images
Klinsmann has shown that he has no problem calling up young players and giving them a chance to prove their worth, with John Anthony Brooks and Aron Johannsson being the latest examples during the team's friendly wins over Bosnia and Herzegovina.
Yedlin represents the future of American soccer and the gains that MLS has made in youth development, but the stage could be too big for him, especially in the massive trip to Costa Rica on September 6.
There is no doubt that Klinsmann has a plethora of options at the right-back position, but whether any of them are good enough for him is debatable.
That being said, look for Cameron to be the favorite to start against Costa Rica and Mexico with Yedlin or Parkhurst included in the squad as his backup.
What should the United States do at the right-back position?
Comment below or leave me a comment on Twitter, @JTansey90.