Predicting What the New York Yankees' Starting Lineup Will Look Like Next Year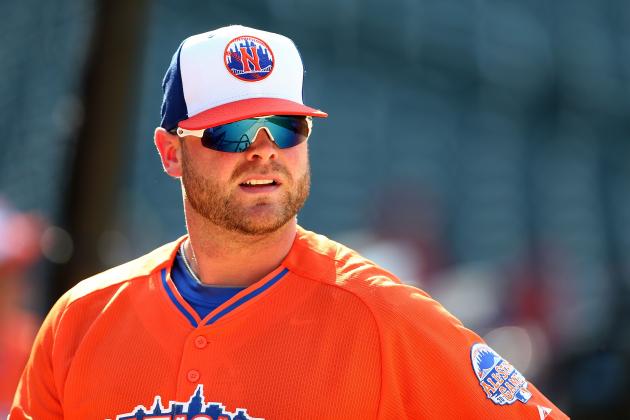 Elsa/Getty Images

The New York Yankees will enter the offseason with 12 players eligible for free agency.
Many of those players will not be returning to the team.
The Yankees will look to plug holes with available free agents while staying true to their goal of staying under the luxury tax, as David Waldstein of the New York Times reported in March.
What will help the Yankees is that many of the big-ticket free agents available are outfielders.
That is a position where the Yankees have so much depth, they will more than likely have to part with Curtis Granderson.
The Yanks witnessed firsthand this season what their offense looks like when their aging starters end up on the DL.
They will keep position versatility in mind when they look to fill the spots on their roster that are empty because of departing free agents.
The Yanks are never shy when it comes to getting a player they truly want. This offseason may be a little different, as the most attractive free agent is one of their own.
Begin Slideshow

»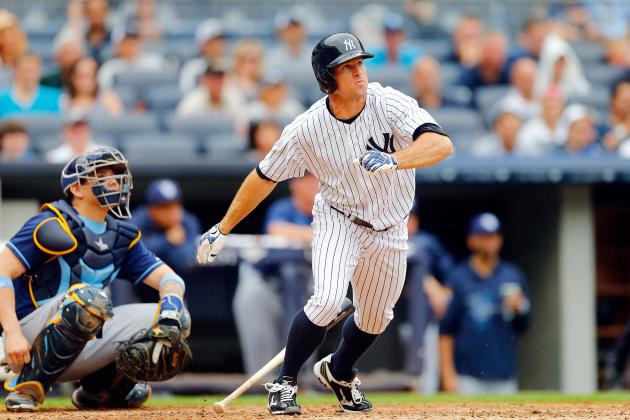 Jim McIsaac/Getty Images

Brett Gardner will be entering his final season of arbitration-eligibility next year and will be a very affordable option.
He also has been one of the most reliable Yankee starters this season.
His .271 batting average is on par with his career average.
The concern for keeping Gardner in the leadoff spot is his low on-base percentage, but he is still the fastest Yankee.
Despite his stolen bases being down on the year, he gives the Yankees their best threat on the basepaths, and when he is on, he is a dynamic runner.
Next year will be a contract year, so Gardner will have the extra motivation to not only show the Yankees all the tools he has in his shed, but the rest of the league as well.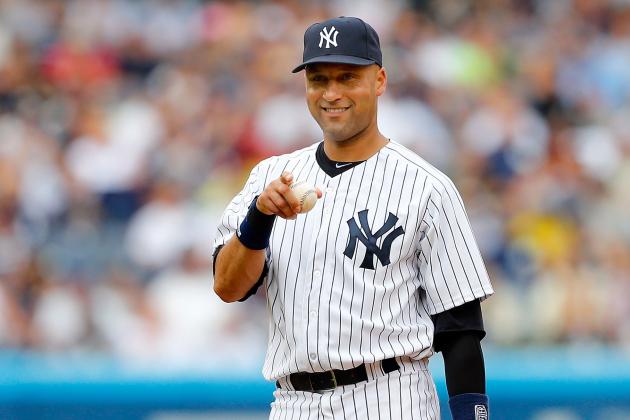 Jim McIsaac/Getty Images

Derek Jeter would love nothing more than to forget this season ever happened.
"This whole season has been a nightmare," he said to Scott Miller of CBS Sports.
Because of his almost non-existent season, it seems very unlikely Jeter turns down his $8 million player option for next season.
The only way I see Jeter not taking is option is if he agrees to a new contract extension with the Yankees, in which he would take a pay cut next season.
Regardless, Jeter will be a Yankee for life, and he belongs back in his natural spot in the lineup—batting second in front of the team's best hitter.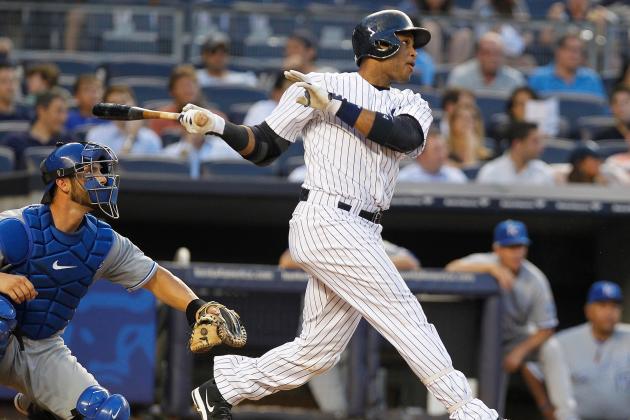 Mike Stobe/Getty Images

Robinson Cano is by a good margin the best player available in this season's free-agent crop.
Joe Sheehan of SI.com believes Cano has a case to become the first-ever $30 million man.
That news has to terrify Yankees management. They want to keep Cano; they need to keep Cano. But they do not want to be burned by another long contract.
Both sides have tremendous leverage. Cano has the fact that he is the Yankees lineup. He is a perennial All-Star and MVP candidate.
The leverage for the Yankees is that they are one of only a few options for Cano.
The good news for Cano is the deep pockets of the Los Angeles teams will be in the mix and begin a bidding war.
When it is all said and done, the Yankees will do what they have to to re-sign Cano and make him the centerpiece of their lineup for years to come.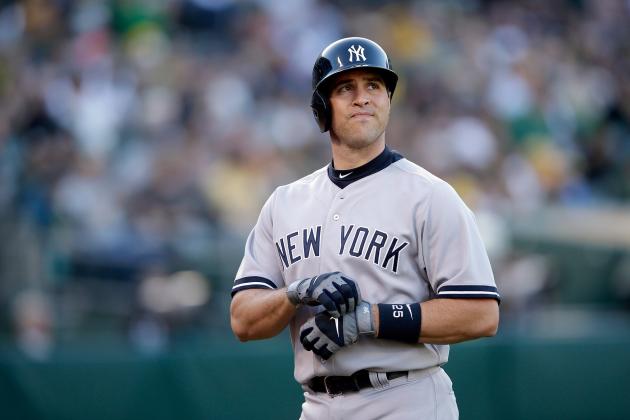 Ezra Shaw/Getty Images

Like Derek Jeter before him, Mark Teixeira has also had a complete loss of a season.
Teixeira had season-ending wrist surgery back in early July, but he should recover in plenty of time to be ready for spring training next season.
Teixeira still has three years left on his $180 million deal and isn't going anywhere anytime soon.
The worry for the Yankees going forward is that this injury hasn't sapped all of Teixeira's power.
Gone are the near-.300 batting averages, so if Tex can't maintain his usual upper-30s power, this contract will get even uglier.
The Yanks are stuck with him, and plugging the switch-hitter into the middle of the lineup can allow them to keep a balanced lineup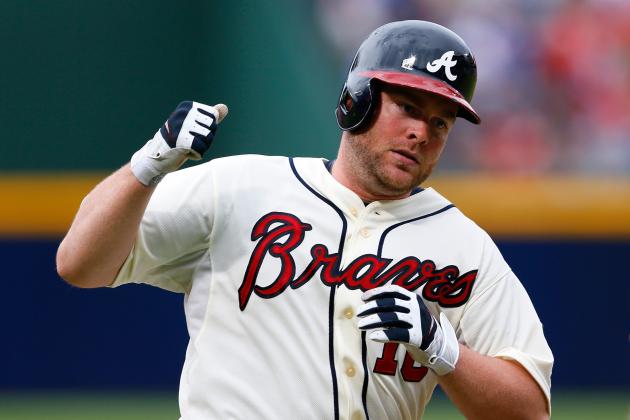 Kevin C. Cox/Getty Images

This is the first of what I predict to be a pair of new faces to the Yankees lineup next season.
This could be tricky for the Yankees, as Brian McCann may come with a too high of a price tag.
McCann is a big-time power bat at a super-thin position. The Yankees don't typically invest in offense at that position, but I feel like that has more to do with being spoiled for years of great play from Jorge Posada.
This season more than any before, the lineup suffered with a weapon behind the plate.
McCann will be only 30 years old, and if the Yanks can get a discount on him because of his injury history, he would be an excellent addition.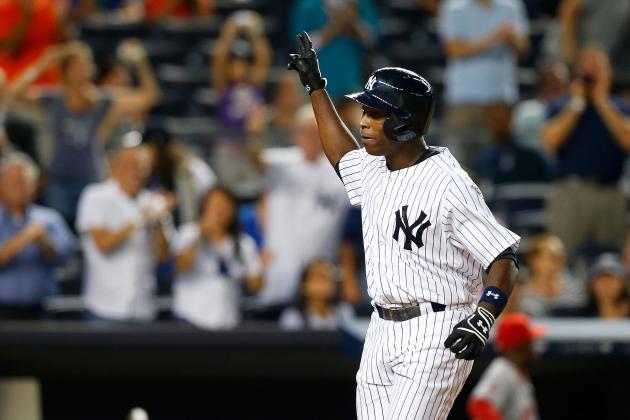 Jim McIsaac/Getty Images

Thanks to the Chicago Cubs' willingness to pay the majority of Alfonso Soriano's contract just to get rid of him, the Yanks will get to play him next season at a very reasonable $5 million.
Since rejoining the Yankees via a trade, Soriano has simply been crushing the cover off the ball.
Soriano was just named American League Player of the Week, after hitting five homers and 18 runs batted in during a seven-game stretch.
The Yankees should not expect this type of production all the time, as he is much more of a streaky hitter at this point in his career.
Regardless, Soriano will provide an excellent source of power from the right side of the plate.
Always a fan favorite, Soriano's return is a pleasant sight, and having him for a full season will be a joy regardless of his production.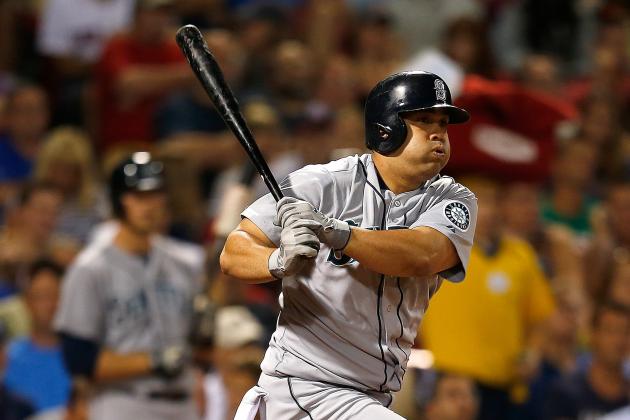 Jim Rogash/Getty Images

Kendrys Morales is the other new face in the lineup, and the perfect tool to be the full-time designated hitter.
Morales is a .283 hitter and only 30 years old.
Morales would be the Yankees' third switch-hitter in this lineup, which is a luxury many teams would like to afford.
Morales has more pop from the left side of the plate, which would play well in Yankee Stadium.
Morales will be a very hot target this offseason, and it's possible the Seattle Mariners look to extend him.
Morales would completely balance out the bottom of the lineup and give Tex a breather at first on occasion.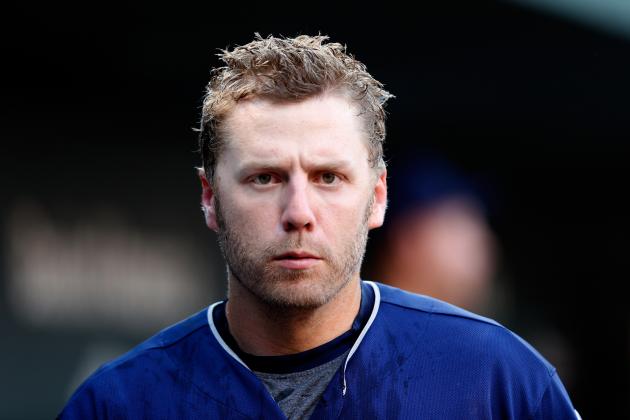 Rob Carr/Getty Images

When Mark Reynolds agreed to play for the Yankees earlier this month, he was given the chance to audition for a spot on the roster next year.
As you can see, I expect him to not only be in the lineup next year, but take over as the Yankees starting third baseman.
In all likelihood, Alex Rodriguez will miss most, if not all of 2014 due to the suspension handed to him for his involvement with BioGenisis.
If Rodriguez is suspended, the Yankees will save over $20 million. Keeping Reynolds would be a cheap option for them to replace him with.
Reynolds is nothing special and strikes out a lot. Everyone is well aware of that, but when you are filling pieces and cutting cost, the Yanks should get someone who specializes in one category.
In this instance, it's power, and Reynolds has plenty of it. Having a guy who can hit over 30 home runs batting eighth in the lineup and making around $4 million is better than most teams.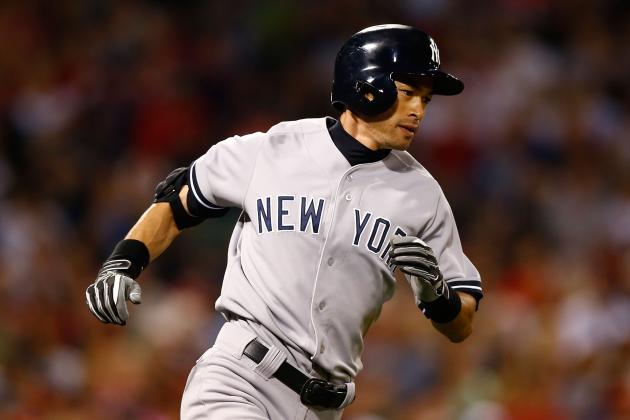 Jared Wickerham/Getty Images

The New York Yankees are probably regretting giving Ichiro Suzuki a two-year deal this past offseason.
With free agents like Shin-Soo Choo and Jacoby Ellsbury, the outfield position is the one area this free-agency class actually has depth in, and the Yankees are full staff there.
Ichiro's .271 batting average and .307 on-base percentage this season are the lowest of his career.
His 17 stolen bases are also trending to be the lowest of his career.
There is a good chance if Vernon Wells isn't cut that Ichiro sees a little time shared time with him.
Truthfully, Ichiro may be looking at his last season in baseball, but there aren't many other teams in baseball that will have a No. 9 hitter as good as Ichiro in their lineup.